West Ham Tv
Declan Rice: In my Academy days I think I missed every penalty I took!
Declan Rice was loving life in leading West Ham United to a belated Valentine's Day victory over Sheffield United on Monday evening.
A day after the worldwide celebration of love and affection, Rice and close pal Ryan Fredericks were both on target at London Stadium, with the captain netting the first penalty of his senior career to set the Hammers on course for another important win.
Speaking to West Ham TV, the England international revealed he could not remember the last time he scored from the spot before hailing his teammates' performance in blunting the Blades.
Another big performance and another big win…
"It was a top performance. I think before the game we went into it knowing what was at stake and where we could go and I think it was a really good performance.
"The West Ham of last year would have probably drawn that or lost that game, if I'm being honest, but this year we've reality chanced the mentality and the desire and the quality.
"Everything has gone up another level and that's why we are where we are in the table now, so let's keep that going."
Weirdly, being awarded a penalty inside the first ten minutes and then having it overturned by the VAR gave Sheffield United a lift and we did well to weather the pressure they created after that moment and got our noses in front before half-time, which was massive?
"Definitely. The first one was such a long wait and we've learned now as players now that the longer it goes on, it's probably going to be overturned. They then went on and had a bit of dominance in the game but then we got a foothold again and the penalty before half-time was a real boost and to score it, my first for the Club, was a real buzz."
You take everything in your stride, but did your knees go wobbly before taking that penalty?
"Do you know what? I was more nervous for the first one than for the second one. It's a weird because I've never taken a pen in the Premier League before but I've kind of got a routine where I take a couple of deep breaths to compose myself and visualise the ball hitting the back of the net.
"I knew my chance would come to take a pen and I'm just happy I scored because in my Academy days I think I missed every one, so to be on one and score was a real buzz!"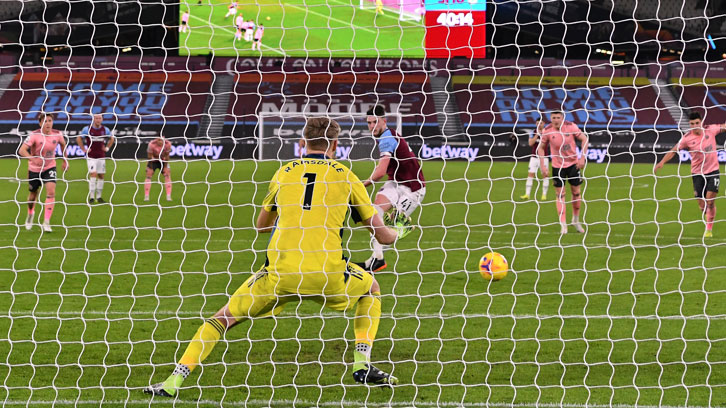 When was the last time you took one, then?!
"The last penalty I took… (thinks long and hard) Actually, I'll tell you a little story! When I was in the Academy, we used to go to tournaments and we used to get to finals and, no lie, I've had three penalties to win three different tournaments and missed every time."
Did you tell David Moyes that before the game?
"No! But now it's about composing myself and visualising it and practising them in training. Obviously when Nobes is on the pitch, he takes them, but I need to be ready as if you don't practice them and have the mentality that you're going to hit the back of the net then you aren't going to score.
"I had to change that and I did, so I'm buzzing to have scored."
And it was nice of Jesse to come up and give you a bit encouragement before taking it, too!
"Ha! Obviously he wanted it as he'd won the pen, but I'm on the pens so I said to him 'The gaffer and Kev [Nolan] will batter me if I don't take this and say I'm getting bullied and all sorts and I can't have that', so he said 'All right'.
"I don't want to one of those who goes over and tries to look like the big guy and takes the ball off him. I'm not like that. I'd have been happy for him to take it, but I had to take it and luckily enough I scored."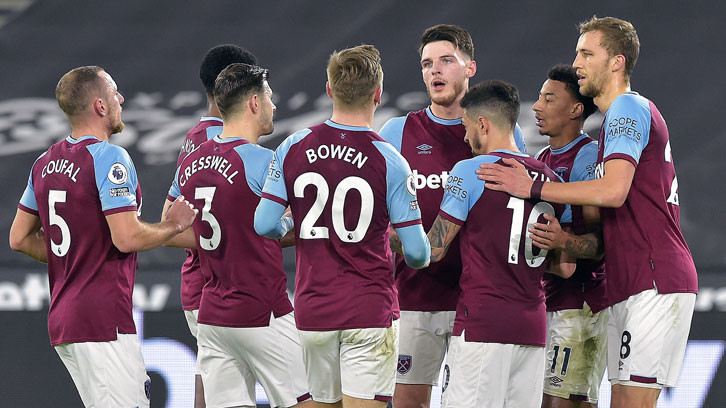 Lukasz then made a big save from David McGoldrick before Issa got the second…
"Yeah it was a big save and another clean sheet for him and massive for us and then big Issa scored. It was a top performance from him, considering he hadn't played in a while, but that's the type of squad we've got now where they can come in and put in a top performance."
Then, right at the end, your best mate Ryan gets a goal too!
"It was Valentine's Day yesterday and obviously it's nice that Ry and I were on the same pitch and both scored tonight!"
So, Tottenham at home up next on Sunday and we want to stay where we are, right up near the top of the table?
"I don't think we should fear anyone. Clubs should be fearing us now and they should be coming here thinking 'We've got a game on our hands and it's going to be tough'.
"Spurs are a great side, but we're equally as good. We'll have a little rest now and be ready to go again on Sunday."