The 2020/21 season has been a unique experience for Mark Noble for many reasons.
Not only has the lifelong West Ham United supporter had to endure football without his fellow fans present due to the ongoing COVID-19 pandemic, but he has also found himself out of the team on a regular basis for the first time in 15 years.
But, rather than lick his proverbial wounds, the Club captain has taken huge pride in the Hammers' strong campaign, which has seen them rise to challenge for a top-six Premier League place and reach the last-16 of both domestic cup competitions.
Noble led the Irons into their Emirates FA Cup fifth-round tie at Manchester United on Tuesday evening where, despite another committed all-round performance, they were edged out by an extra-time goal.
For the 33-year-old, the 12th appearance at Old Trafford of his illustrious career was one to savour, as he knows a 13th is not guaranteed.
Speaking to West Ham TV after the game, Noble reflected on the game and a season to be proud of, and urged his squad-mates to do everything possible to finish it on a high.
You might think I'd be sick of the sight of Old Trafford after all these years, but it's quite the opposite, really. You look around and what a place to play!
As a kid you dream of playing here and I've been lucky enough to play against Manchester United a lot of times and sitting in the dressing room after, I just felt gutted because we went there, apart from the first 25 minutes when we gave the ball away too much, we did what we have done all season, we took it to extra-time and gave Manchester United a proper game of football.
When you look at the firepower they were able to bring off the bench, the likes of Bruno Fernandes, Edinson Cavani, Luke Shaw and Scott McTominay, it's tough at times, but I thought the lads were brilliant, I thought we played really well in the second half and in extra-time.
It's sad because I'm not going to get to play there too many times again, so it's a real shame.
I've said it and I'll keep saying it that people get caught up with the fact I've played in the team pretty much since I came in, and you don't get to play the amount of games I have for West Ham without playing week-in, week-out, but it's been so nice actually coming out of lockdown and watching the way the boys have played, being involved in that, seeing players like Dec, who came through underneath me as a kid, big Tom, who is one of the nicest guys you'll ever meet, Vladi coming in.
I can tell you probably no West Ham fan in the world knew who Vladi was and now everybody knows who is because he's been phenomenal for us.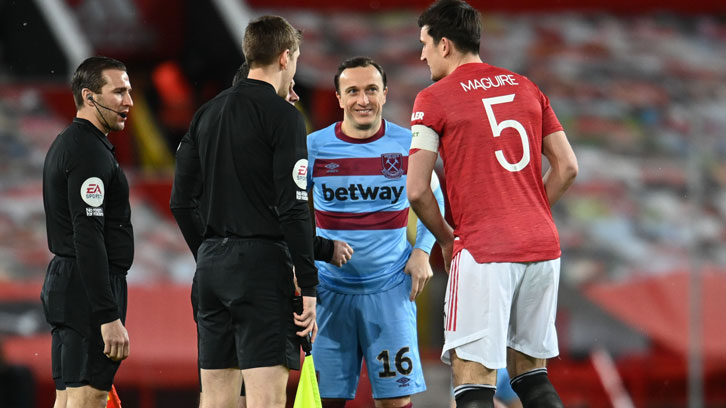 Being a part of that and being able to captain these players in this time has been fantastic and, as I've said before, I'm 34 in May and have not got too long left, so I'm going to enjoy every minute of it.
To play out there at Old Trafford for maybe the last time, because whether I'll play here next year I don't know, and playing at the Theatre of Dreams, I'm just gutted for all the West Ham fans and the boys are gutted because it was a good game of football, end to end, we gave everything and walked off with nothing left.
Now, we need to concentrate on getting into the European places. That's our main aim now, to keep winning and getting into good positions and to push this Club on to be the best it can be.