Academy
Keenan Forson: I can't fault the U23s' effort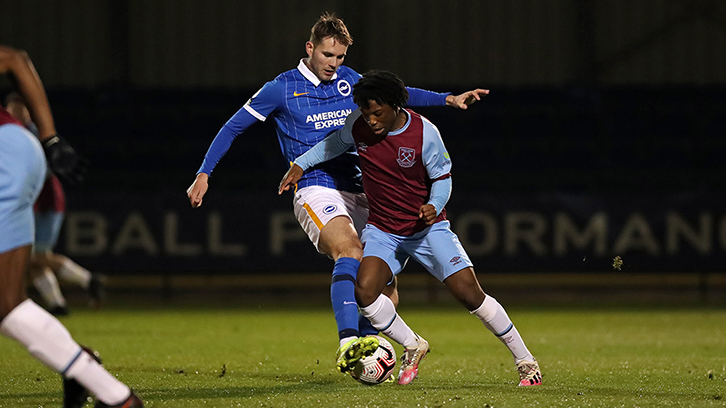 West Ham United U23s were dealt some harsh lessons on Friday evening, but midfielder Keenan Forson was proud of how they dealt with the setbacks.
The tone of the 6-1 defeat to Brighton U23s was set early on at the Amex Elite Performance Centre when a straight red card for defender Frederik Alves – awarded for a denial of a goalscoring opportunity – put the Hammers on the backfoot from the seventh minute.
The home team reacted to their numerical advantage the better, seizing control of the match with two quickfire goals before the 20-minute mark.
Although West Ham did have a brief spell of hope when they reduced the deficit to 3-1 just before half-time – Mipo Odubeko lobbing the goalkeeper following Forson's fine lofted through-ball – the game ran away from them once again in the second half.
Speaking after the game, 19-year-old central midfielder Forson felt that, although it was an evening where little went his side's way, they could at least take pride in their conscientious effort to overcome a significant disadvantage on the south coast.
"It was really tough, but I can't fault the boys' effort," he told whufc.com. 
"Unfortunately we did concede some sloppy goals, but I can't fault what the boys put in after obviously going one man down to the other team so early on. 
"It was just unfortunate. I did think their player was offside before [the red card], but we still kept going. It was just an unlucky night.
"I still feel like the boys stuck together, all working hard and trying to run extra for one another to make up for it. If anything, what we needed to improve on was our communication to just be more solid at the back. 
"If we'd have won our one-v-one battles, I feel like we could've just gone from there."
The dominant result was, in the end, a reflection of the game for a Brighton U23s team who utilised their numerical superiority to great effect in possession.
 
We just conceded sloppy goals so it's just something we can work on for next time. We have to move on to the next one

Keenan Forson

Having said that, the Hammers were impressive in the manner in which they rallied and tried to force their way back into the match, particularly in the second half where they created a good number of opportunities.
Forson reflected: "There were a lot of spells where we had chances we could've put away. I think I had a chance to shoot, for example. 
"There were good set-piece deliveries as well for us, so it was just unlucky that we couldn't make the most of them. 
"We went in the dressing room afterwards and reflected. On the one side, it was tough circumstances, which you can understand, but on the other side we said our performance was still sloppy and there were things we needed to improve on, like defending and winning our one-v-one battles. 
"We just conceded sloppy goals so it's just something we can work on for next time. We have to move on to the next one."
Such opportunity will arise when the U23s travel to Blackburn Rovers U23s in Premier League 2 on Friday 19 February.