Academy
Dmitri Halajko: U23s didn't meet the challenge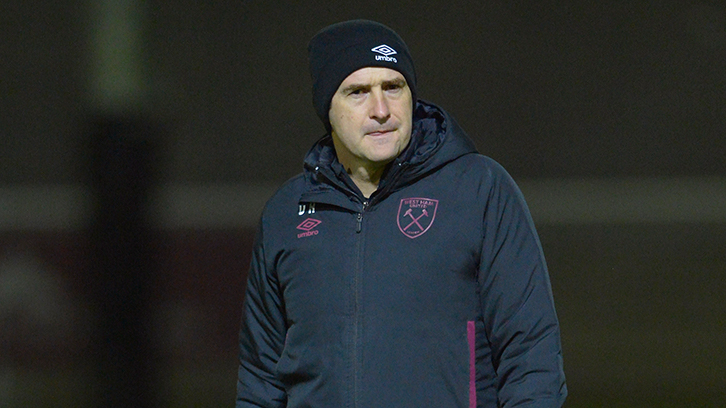 West Ham United U23s must reflect candidly on their heavy defeat to Brighton & Hove Albion U23s on Friday evening, lead coach Dmitri Halajko admitted.
The Hammers were struck a telling blow after just seven minutes at the Amex Elite Performance Centre when centre-back Frederik Alves was dismissed for clipping the heels of Danny Cashman.
The referee judged it to be a case of denial of a clear goalscoring opportunity, despite many present feeling the Brighton No7 was offside.
Blessed with a man's advantage from the opening moments of the game, Brighton took control of the match soon after, netting three times before the break.
A fine lofted pass from Keenan Forson – and exquisite lofted finish from Mipo Odubeko – gave the young Hammers a glimmer of hope before half-time, but the Seagulls extinguished that optimism with a fourth strike moments after the restart.
West Ham did manage to mount a number of promising attacks as the half wore on, but Brighton were ruthless on the counter and added a further two to their tally in the closing stages.
"Obviously, a really disappointing and challenging night," Halajko summarised. 
"We lost our most experienced and oldest player, a centre-half – a really influential position – on six minutes. I thought it was an offside decision as well, which makes it even more disappointing, and then we struggled to come to terms with being a man down. 
"It took us too long to adjust to that. They scored two quick goals and from that, we had to go and try to chase the game. We did manage to get back into the game – 3-1 at half-time and it was a really good goal that we scored. 
"At half-time, we felt that we did manage to claw our way back into it, but then in the second half they really made their extra man count on the counter-attack, and some quick passing moves went through us too easily. 
"We've ended up on the wrong end of a scoreline you don't want to be on the wrong side of."
 
The only way we'll learn from it is if we hold our hands up and say it was a real challenge out there tonight... and we didn't meet it

Dmitri Halajko

Challenges are key to the development of every young footballer, stretching them and testing them to push their limits.
Circumstances rarely come more challenging than those the young Irons faced in the downpour of Friday evening.
Halajko continued: "It was a challenge, and we didn't succeed or meet that challenge tonight. 
"We've got to be honest about that because the only way we'll learn from it is if we hold our hands up and say it was a real challenge out there tonight – a tough, tough challenge – and we didn't meet it. We didn't exceed it. 
"We were below what we needed to be, and that's what happens. You end up on the wrong end of the scoreline and then you're in a place where none of us want to be."
Halajko was pleased that his side managed to mount several spells of sustained pressure in the second half, despite the player deficit, but was honest in his assessment that they serve as scant consolation in such a heavy defeat.
"I thought we had a spell in the second half where we were actually on top and had a couple of chances – our best spell," he said.
"Just as we had that spell, though, we had two chances we didn't take, and then they went down the other end and scored, taking the wind out of our sails. That was a real killer blow for us.
"There were spells when we were in the game, but we can't be happy with the result or happy with the performance overall. There were some things which went against us which shouldn't have, really."
West Ham United U23s will now look to mount a response when they travel to Blackburn U23s in Premier League 2 in a fortnight's time.