Ryan Fredericks' eventful 2020/21 season continued with an outstanding performance to help keep Jack Grealish quiet – again – in Wednesday's 3-1 Premier League win at Aston Villa.
The No24 kicked-off the season in David Moyes' side before suffering a hamstring injury and losing his place to new signing Vladimír Coufal. Fredericks returned to the side when the Czech was rested at Southampton after Christmas and helped the Hammers to keep a clean sheet, only for a positive COVID-19 test to then rule him out.
Now recovered from both injury and illness, the 28-year-old was handed a right-sided midfield role at Villa Park, and responded by combining with Coufal to stifle Grealish and force the hosts' captain to move away from his regular outside-left position.
I came in to give Vladi a bit of help and we did good job doubling up on Jack Grealish

Ryan Fredericks
"It was a bit of a change of position, but I've played there many a time, so it was nice to come in and help the boys and it was a good performance all round," he told West Ham TV.
"Obviously Jack Grealish has created the most chances in the Premier League and he's a very good player, so I came in to give Vladi a bit of help and we did good job doubling up. I think he went a spent a bit of time playing centrally and on the other side because he wasn't really getting much of the ball, so we did our job.
"I tried to help the team on the other side of the game going forward with a few crosses, so we're happy."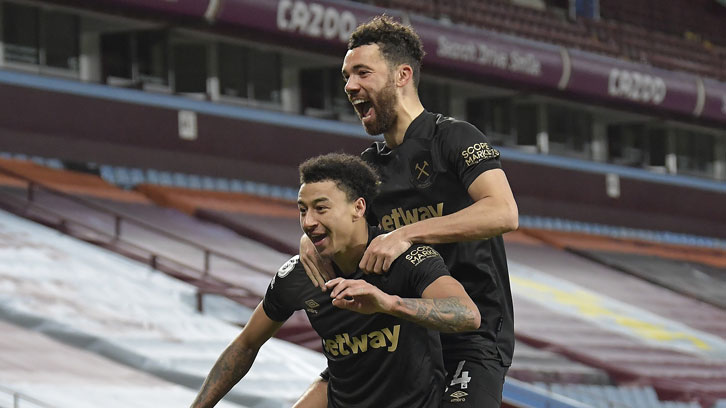 For Fredericks, it was another personal victory against Grealish, having previously helped Fulham defeat Villa in the 2018 Championship Play-Off final at Wembley, and the West Ham player admitted he relished his latest battle with the England international.
"We've had a few tussles over the years!" he smiled. "I know what it's like as a winger to have someone following you around and kicking at your heels, as Vladi was doing tonight, but with those sorts of players that's what you've got to do!"
While Fredericks might not have played as much as he had hoped this season, for one reason or another, his last four starts have yielded seven Premier League points, an Emirates FA Cup win, three clean sheets and just one goal conceded, showing David Moyes he can be relied upon whenever he is required.
"It's been a strange old season," he admitted. "I was playing at the season playing then pulled my hammy and Vlad has come in and has been brilliant and credit to him, he hasn't put a foot wrong. I came in against Southampton and done alright, then I got COVID, so it's been an up and down season!
"But, as a footballer, you always got to be ready to come in and play whenever you can. I'm not going to complain when I'm out of the team, but I want to be in the team and playing football, as every footballer does."