Interviews
Pablo Fornals: West Ham's family feeling is a key to our success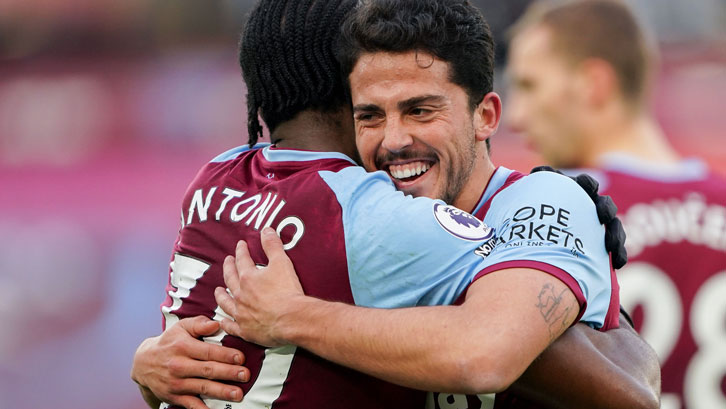 Few players embody West Ham United as closely as Pablo Fornals.
The Spanish midfielder is hard-working, talented and has a hunger to improve with every training session and game he plays for David Moyes' Hammers.
Signed from Villarreal in summer 2019, Fornals has appeared in 56 of a possible 59 Premier League matches and started 19 of 21 top-flight games this season, illustrating the strong faith manager David Moyes has in both his character and ability.
Speaking ahead of Wednesday's trip to Aston Villa, the 24-year-old said the atmosphere around the Club and strong spirit among the squad has helped him fulfil his potential in Claret and Blue.
I think we are a small but good family and that's one of the reasons for our success this season

Pablo Fornals
"I try to be a happy Hammer!" he laughed. "I'm really happy here, not just on the pitch but outside the pitch as well with my teammates, the fans and the staff.
"Off the pitch, I'm an open person and try to speak with everyone and try to learn some words of French, Italian and English every day, making jokes. I think we are a small but good family and that's one of the reasons for our success this season.
"On the pitch, I try to take small things to grow my happiness with a good tackle or a good pass. I try to be confident about small things. When I score, I'm really happy. I am trying to improve my goalscoring and I want to give giving goals for the Club and to help the team with my goals as well."
Of course, one thing about football that the No18 does not enjoy is losing matches, as West Ham did for the first time in 2020 on Sunday.
The 3-1 home defeat by Liverpool ended West Ham's six-match winning run, Fornals says Wednesday's fixture at Aston Villa will give the Hammers a chance to measure themselves against another team hoping to secure a strong Premier League position in 2020/21. 
"We were disappointed after the game but, knowing they are a great team and won the Premier League, we were disappointed because we had the chance to pass them and get closer to the leaders, but we knew it wasn't easy to beat them," he explained. "We were disappointed, but not as disappointed as if we had lost to another team.
"But the beauty or the worst thing about football is you don't have time to think about yesterday because we have another game in two days, so we just need to think about Aston Villa and trying to beat them, to keep our positive mind and try to get the three points.
"I think it will be massive for us [to get back to winning ways on Wednesday], as they are a great team and are close to us [in the table] and have played two less games, so it could be a good point to see where we want to be in the future in this Premier League."
Wednesday's 8.15pm kick-off at Aston Villa will be screened live in the UK by BT Sport 2 and across the world by the Premier League's international broadcast partners.