Evening Standard correspondent, Official Programme columnist and lifelong West Ham United supporter Ken Dyer pays tribute to one of our all-time greats, Sir Geoff Hurst, who celebrates his 80th birthday today...
As a football journalist, I have very been fortunate over the years, to have met and talked with many of our great game's outstanding talents.
It's curious though, that the interviews which invariably gave me some of the greatest thrills were with those players you watched, as a supporter, many years earlier.
Sir Geoff Hurst is one of those players. As a youngster, I stood in the old Chicken Run at Upton Park and watched one of West Ham's all-time greats score so many of his goals.
Wednesday 8 December marks Sir Geoff's 80th birthday so it seems right and proper I happily devote this column to a man who, during his 14 seasons at West Ham, scored the extraordinary total of 249 goals in 502 games.
No-one who is remotely interested in football will not be aware of his hat-trick heroics of England in 1966 but I wonder how many of those Hammers fans of a certain age, were among the Upton Park crowd of almost 25,000 who witnessed Sir Geoff's remarkable six-goal haul in the 8-0 annihilation of Sunderland in October 1968.
I was there in an unaccustomed position high on the North Bank (the new East Stand was under construction, I remember), as Sir Geoff became the second West Ham player, after the prolific Vic Watson in 1929, to score six goals in a competitive game.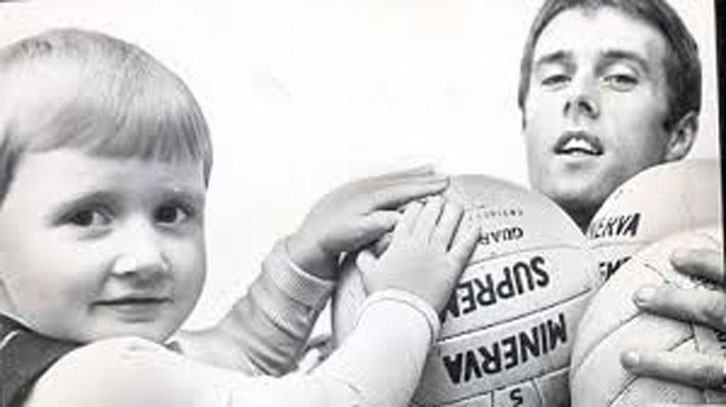 Sunderland's bemused goalkeeper Jim Montgomery said afterwards: "I've never felt so helpless in my life" and having been beaten eight times in 58 minutes, you could see why.
The West Ham striker even admitted after the match that he had handled the ball for his first goal. "I'm not too bothered though," he said. "I've had plenty of goals ruled out in the past which should have counted."
If things had turned out differently, Sir Geoff could easily have forged a similar career at either of the two Manchester clubs.
Born in Ashton-under-Lyne near the great northern metropolis, the young Hurst could easily have forged a successful playing career at either United or City, had not his family moved south to Chelmsford when Sir Geoff was six.
His football skills were honed in the Chelmsford streets while his first West Ham trial didn't go well after he arrived too late after getting lost on the London Underground.
West Ham gave him another chance, though, and must have impressed since Sir Geoff began to train at the Club twice a week and was eventually offered a job on the ground staff.
"I travelled home to Chelmsford every evening covered in green paint that first summer," he recalls, "but I didn't mind. Perched high up on a ladder, I remember looking down on the pitch and imagining what it would be like to play in front of a big crowd."
That dream certainly became a reality.
Sir Geoff made his senior debut as a midfield player but was then called 'left half' against Nottingham Forest in February 1960.
The following season he made six first-team appearances, but was also a good cricketer, playing alongside a young Bobby Moore for Essex schools and even making a first-class appearance for Essex in 1962, and was tempted to make that his sporting career.
The turning point came when Ted Fenton was replaced by Ron Greenwood in April 1961 and it was West Ham's new manager who became the biggest single influence in Sir Geoff's career.
Ron wasn't impressed but what he was seeing from his teenage midfield player. "You're a horrible defender," he said. "When the ball goes behind, you don't know where you are, where you're going or where you should be. We need to change that."
In September 1962, Sir Geoff arrived at Ron's office on the morning of a match against Liverpool, after being summoned there by his manager.
"I want you to play in an attacking role tonight," he said. "I won't hold it against you if it doesn't work. Will you give it a go?"
That short, sharp conversation was to change Sir Geoff's life.
Years later, Sir Geoff, who had by then left West Ham and was playing for Stoke City, was stopped by three shabbily dressed men at Euston Station.
"You're 'wasshisname', the golfer ain't yer?" asked the first one.
"No he ain't," said the second, "He's that footballer."
"Yeah," said the third. "You're that Geoff Hurst. I remember because when you got those three goals. I was away at the time."
"Somewhere nice?" asked Sir Geoff politely.
"Not really," said the third. "Pentonville. I remember it 'cos when your third goal went in, we had a great celebration and smashed up the cell!"
It was a privilege and a pleasure to see Sir Geoff earlier in September when he was at London Stadium for the unveiling of the statue to celebrate West Ham's European Cup Winners' Cup triumph of 1965.
My own Sir Geoff Hurst story goes back many years, to when I was a young sports reporter on a local group of newspapers.
The sports editor knew Sir Geoff, who was working for a car warranty at time, well and sent myself and a colleague up to report on West Ham's match at Coventry City.
"Here," said the sports editor, throwing me a set of car keys. "Drive up in that, it's one of Geoff's."
The car was a different class to mine so we thoroughly enjoyed the luxury.
Having left the M1 on the way back though, we managed to get lost in Enfield.
On the third time around the one-way system through the town, we were stopped by the police.
"We haven't a clue where we are officer," I said nervously. "Not to worry sir," he replied. "This your car?"
"No," I replied. "It's Geoff Hurst's."
I'll never forget the look on his face.
*Ken Dyer was writing in his regular column for the Official Programme. You can order your copy for Thursday's UEFA Europa League Group H tie with Dinamo Zagreb and back copies of all our 2021/22 issues here.