Kurt Zouma will not need the motivation of facing his former club when West Ham United host Premier League leaders Chelsea at London Stadium on Saturday lunchtime.
Instead, the Hammers' No4 cares only about helping his team end a run of three top-flight matches without a win and bounce back from the disappointment of conceding a late equaliser in Wednesday's 1-1 home draw with Brighton & Hove Albion.
Overall, West Ham have excelled since Zouma's summer switch from Stamford Bridge, losing just four of 21 games in all competitions to go into the weekend challenging the top four in the Premier League and through to the UEFA Europa League round of 16 and EFL Cup fifth round.
Next on a packed fixture list is a mouth-watering derby with the table-topping Blues – a club for whom Zouma made 151 appearances and won two Premier League titles during seven seasons in west London.
Ahead of the 12.30pm kick-off, seats for which are available from our Ticket Exchange, the 27-year-old sat down to talk to West Ham TV…
Kurt, first, we reflect on Wednesday's 1-1 draw with Brighton. How much motivation does that give the squad to bounce back to winning ways and kick on?
"I mean, we know that we wanted to win the last game. Obviously, when you play, you play to win, but we couldn't win the last game and obviously we're all disappointed with the result, but we still got a point.
"We cannot drop our focus because we already have another game on Saturday, and another important one."
How important is it, after the start we've made to the season, that we continue to keep our heads held high?
"The target is to win as many games as we can. We know we have got quality in the team, top players in the team and a manager who is helping us a lot and giving us all the directions that we need to follow.
"Obviously, there will be times when you don't win or you don't get the result that you want or you deserve and we have to stick together and keep doing what we're doing. I think the season up to now has been great. We have been doing well and we want to keep going."
The advantage of a busy fixture list is that we have another game on Saturday, and this one is against your previous club, Chelsea…
"It will feel special in a way because I've been there for so many years, but it's a football game and like all the other games I want to win this game for my team.
"I want to beat Chelsea because I want to beat everybody. I play for West Ham now and I'm very happy to be here. It's going to be a tough game as we know they have a lot of strength, but we have to use our strength to make them suffer."
We've got a strong record against the top teams at home this season. What's behind that?
"Teamwork and focus, I would say. Everybody knows what we need to do. We know that maybe we won't get much of the ball, but we have to stick together and make sure we fight for every first and second ball and when we get our chances, be clinical, while also staying strong at the back.
"I think we're motivated for every game. Like I said, the season has been great, we're playing well, we managed to get good results and the feeling from the game on Wednesday is that we're feeling disappointed, which is a good thing because we want to win every game and obviously we're going to be ready for Saturday."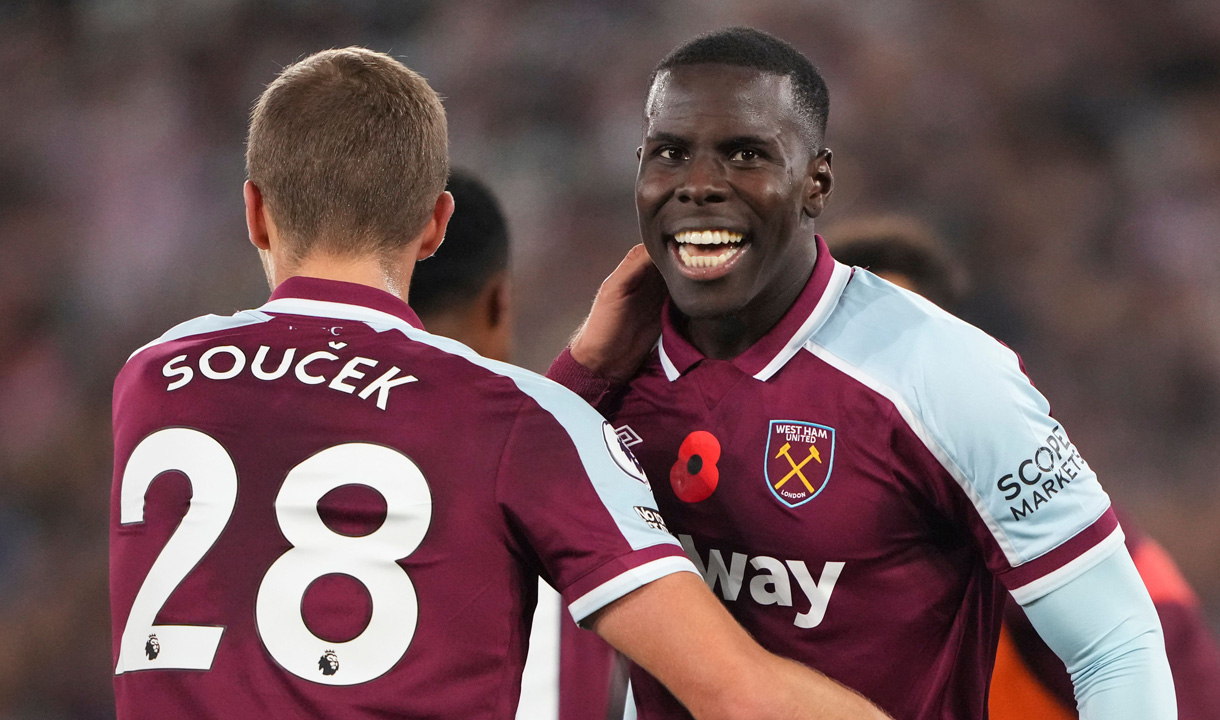 How important a role will the fans play at London Stadium when we host Chelsea on Saturday?
"A lot. We're going to be at home and we're going to need their support because it's a big derby, a big game for us. Obviously, we're playing against one of the best teams at the minute as they're top of the League. It won't be easy and for sure they will be very needed and very important."
You have been here three months now, so how have you settled in?
"I'm very happy to be here. I've met some great guys and I love the stadium. We have some top players, it's a family club and I really like the people around here. I felt very welcome from the first day when I arrived and, like I said, I'm very happy to be here."
Finally, how far can we go this season with this group of players?
"I mean, when you see the season we're having at the minute, I don't want to go ahead too much, but we can beat the top four and top six teams and that's where we are at the minute – we can compete with everybody.
"That's what we want, to be a competitive team and playing in Europe every season. Obviously, it starts from Saturday. It's going to be a tough game, but we feel confident we can get points from that."