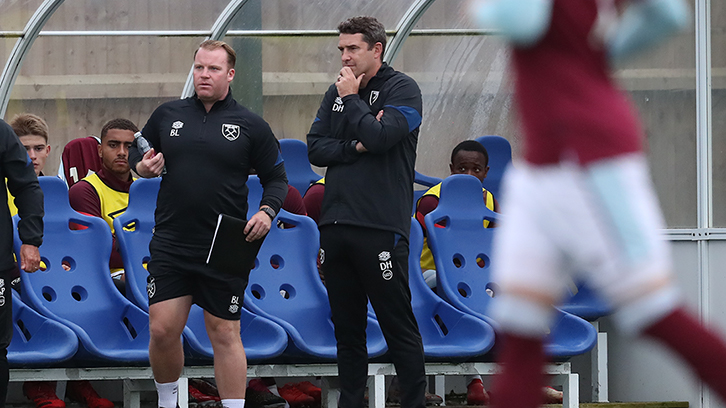 Lead coach Dmitri Halajko was disappointed to see West Ham United U23s' standards slip in a disappointing second half against Brighton & Hove Albion U23s on Friday evening.
After an exceptional display in the 6-1 win over Arsenal U23s on Monday, the Hammers were comfortable in the first half at the Amex Elite Performance Centre and warranted the lead that Mipo Odubeko's early volley granted them.
But the old adage of goals changing games rang cruelly true for Halajko's side when Ed Turns scrambled home from a corner for the Seagulls with an hour gone.
Brighton began to race away with proceedings mere moments later thanks to an Evan Ferguson penalty – conceded to a rash challenge inside the West Ham box – and a well-taken Marc Leonard brace, either side of Thierry Nevers' screamer of a consolation goal.
The 4-2 scoreline condemned the young Hammers to their first loss of the Premier League 2 Division 1 season, and left Halajko and his players ruing letting the momentum they had built up slide.
Halajko reflected: "For us, it was a good first-half performance and an unacceptable second-half performance. 
"After the first half, we came in and we thought we were the slightly better team, although we knew it was a close game. 
"In the second half, what we had to do was try and keep hold of our clean sheet and try and be really professional, not make any silly mistakes and retain the ball better. Unfortunately, we didn't manage to do any of those things, so we ended up on the wrong side of the result.
"The second-half performance wasn't at the levels that we've been at recently. They upped it in the second half and we didn't cope with that well at all. When you give away the first and second goals in such a sloppy manner as we did, you're not going to win games of football. We've really got to learn from that."
The second half in particular saw momentum shift between the two sides at rapid rate, but when it was behind the evening's hosts, the Seagulls proved more decisive with it.
 
I felt we gifted them the momentum and then didn't really find a solution of how to get out of that

Dmitri Halajko

"We need to control those momentum shifts," Halajko noted. "We let them happen to us. 
"When momentum shifted in their favour, be that from our mistakes in giving away sloppy goals or our soft turnovers of possession, Brighton got their tails up and got territory and we couldn't find a way to shift the momentum back into our favour. 
"I felt we gifted them the momentum and then didn't really find a solution of how to get out of that.
"The first half we were better than them, and we scored a really good goal. That was the other disappointing thing; the two goals that we scored we had to really work for, and they were two great goals. 
"The goals we gave away to Brighton were soft, and inexcusable really. The first half we were at our level – I still think we can get better than that, but it was a good level of performance – and the second half was just so far away from what we are, and that was unacceptable from us."
Looking forwards, Halajko believes his players will demand improvements from themselves as they work towards to a second London derby of the season at home to Chelsea on Sunday 29 August.
He concluded: "I want to see the lads control the momentum of the game better and do that by keeping the ball. We don't want any soft turnovers or sloppy turnovers, or we're going to get punished, because it's a good league with good players. We need to keep the ball. 
"We're always going to score a goal, I feel, with the attacking threat we've got, but what we've got to do is make sure we don't give goals away. 
"We've had two games now and in two games we've given away at least one sloppy goal. That can't continue if we want to progress."