Tomáš Souček was in jovial mood after helping West Ham United begin the 2021/22 Premier League season with a thrilling 4-2 victory at Newcastle United.
The Hammer of the Year was at his dominant best at St James' Park, scoring the Hammers' all-important third goal, covering every blade of grass for his team and partnering the influential Declan Rice in central midfield to good effect.
West Ham fell behind twice in the first half, but roared back to secure a scintillating three points courtesy of second-half strikes from Saïd Benrahma, Souček – who raced in to convert the rebound after Michail Antonio's penalty had been saved – and Antonio, showing the resilience and devastating counter-attacking quality that secured a top-six finish and 65 points last season.
And while Souček was delighted with a win and a goal, he playfully claimed he should also have been credited with West Ham's first equaliser, which instead went to Aaron Cresswell after the left-back's cross-shot flew past the midfielder's right boot and into the bottom corner of the Newcastle net.
Replays could not conclusively show whether he got a touch or not, and in truth the No28 said the come-from-behind success was far more important than any personal glory.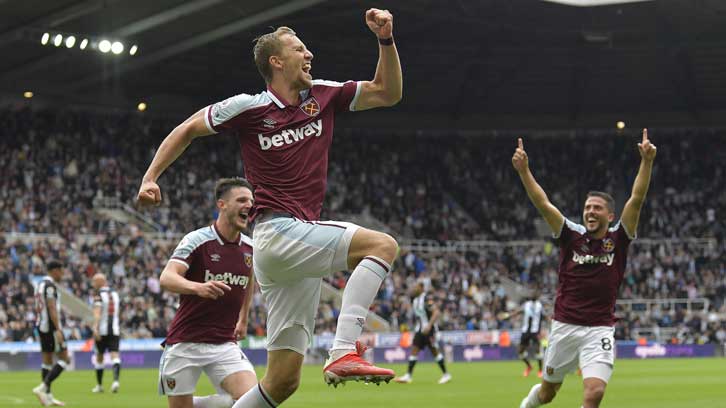 Tomáš, let's start with the big question... Our first goal, was it yours or Cress's?
"Of course it was mine! I talked with Cress about it and he's a defender so he wants assists so it has to be for me!
"I'm just joking! It doesn't matter who scored to me because this performance was great for us and how we played and how we kept the ball. Even when we were losing twice in the first half, we still played well and we deserved this win."
This team showed its character and resilience again after falling behind early on and then again just before half-time?
"Yes, yes, we came into the dressing room at half-time and said everything about how we wanted to play in the second half, the same way like we played in the first, and we showed it in the second half.
"It was finally a Premier League game with all the fans and emotion on the pitch, so this is what we missed and I'm happy we started with our first win."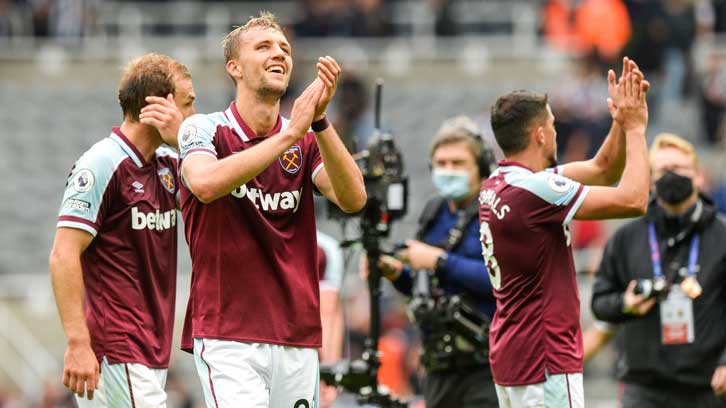 Michail saw his penalty saved, but when that happens you have to react quickest and that's what you did. It's basics, but it scored us a goal?
"Yes, Micky missed but this happens in football. All of us to continue for the second ball and I was there, I was prepared and I am happy that I could help the team by scoring the winning goal."
I saw you on the pitch after the game, celebrating with the fans, then you wiped your face with your shirt and looked very emotional?
"For me, it was emotional because it was a Premier League game with a full stadium and a great atmosphere and I look forward to the next game because I hope our fans are excited and we can show them the same level like today.
"I was emotional on the pitch for myself and for the guys and it's great."
How did you enjoy that atmosphere at St James' Park because it was really good?
"Yes, we missed it for maybe one-and-a-half years so it's great that's back and hopefully it will carry on all season. Like I said, it's proper Premier League with this atmosphere and hopefully we see many of these games."
Finally, this was a big performance and result for us on the opening day, considering we wanted to pick up where we left off last season, and the challenge now is to maintain this level?
"Yes, it's a great moment because it's a first win for us and we showed our ability and our confidence and we need to transfer it to the next game and I hope we will be successful."