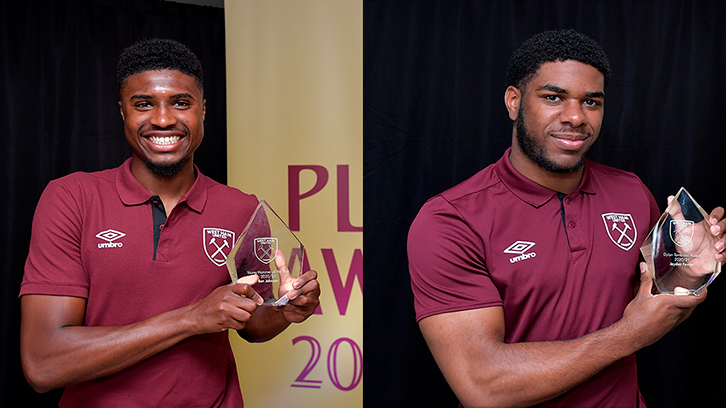 Ben Johnson and Jayden Fevrier have been named the 2020/21 Young Hammer of the Year and Dylan Tombides Award winners respectively.
Both young talents enjoyed landmark campaigns in Claret and Blue, with Johnson making a career-high 20 first-team appearances and Fevrier, a scholar last season, reaching double figures for U23s appearances and putting in several superb performances in the FA Youth Cup.
During the course of the campaign, 21-year-old full-back Johnson was also able to celebrate Premier League starts at Old Trafford, the Etihad Stadium and St James' Park, as well as his first professional goal: an accurate finish in the 2-2 draw against Brighton & Hove Albion on 27 December.
Dynamic 18-year-old winger Fevrier, meanwhile, fought back from a knee ligament injury the previous campaign to play a pivotal role in the U23s' fightback in Premier League 2 Division 1, also registering a further five goals and four assists for the U18s.
Neither player was aware of their achievement prior to being presented with their trophies by Academy Manager Ricky Martin on the Club's 2020/21 Player Awards broadcast.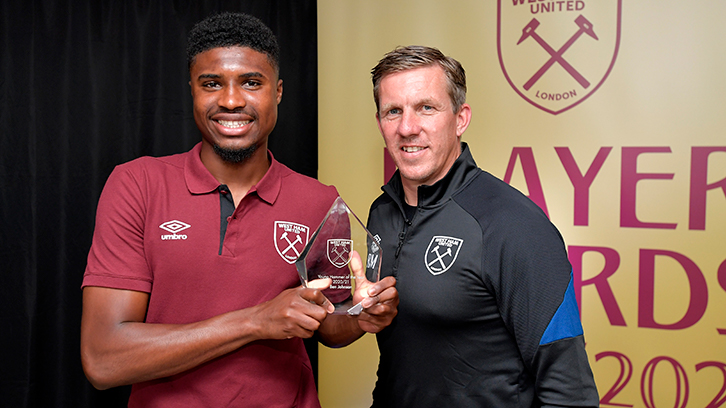 "That's actually a shock!" Johnson beamed. "You never expect to win an award like this. I'm just really proud to win this award.
"It's just an amazing feeling. The players that have won this previously, to see what they've gone on to do… obviously Declan Rice, James Tomkins and Jack Collison, look what they've done in their careers!
"I'm just trying to push on. I've not succeeded yet. I'm still at the start line so I just need to continue to work hard and give a hundred per cent."
Martin said to Johnson: "Last season, you were a credit to the Academy. We're really proud of you and what you achieved.
"You've got great talent and a great attitude. Everyone at the Academy wants you to succeed and hopefully get even more starts for West Ham United."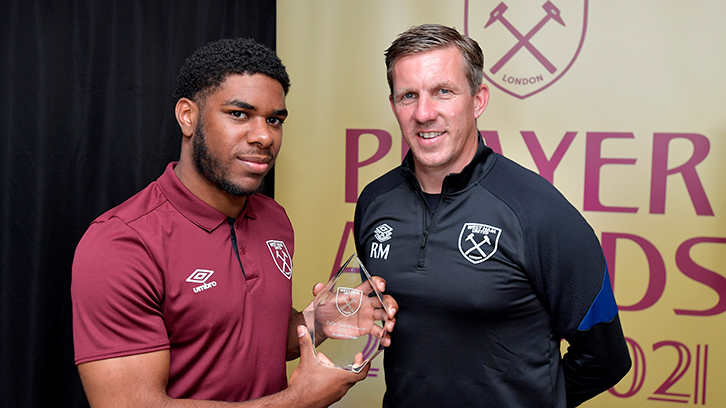 Fevrier added: "It feels good to win this award. I feel proud.
"Last season was good for me. It started off with a couple of injuries, but I picked up the pace and I performed well in the important games, helping us get through to the fifth round of the FA Youth Cup. 
"I just like to play true to my identity. I always say to myself that whenever I step out onto the pitch there's someone that hasn't seen me play before, so I want to give them the best impression of me. I like to impact the game, so if I can do that with a goal, assist or beating a man, I'll take that opportunity."
Martin said of Fevrier at the presentation: "Jayden's been brilliant. He started the season with the U18s and broke into the U23s, getting double figures in the amount of appearances.
"He broke in there and put in some really solid performances. When we look back, at the turn of the year when the U23s needed some results, it was some of our younger players who helped the U23s to get the results that got us over the line."
The Dylan Tombides award is given annually to the Academy of Football's outstanding Scholar, and is named in honour of the late West Ham United and Australia U23 forward Tombides, who tragically passed away at the age of 20 in April 2014.
Academy coach Carlton Cole surmised: "This is a special award, being named after the late Dylan Tombides. I am an Ambassador of the DT38 Foundation and I've seen the great work they do to create awareness of testicular cancer. 
"West Ham and the Academy are bonded together with the Foundation. When we see players like Jayden winning this award, it shows how much youth matters at West Ham, and that we will always remember Dylan and hold his name up in high regard.
"It's a big thing for the Club and for the Academy."
For more information about DT38 and the fight against testicular cancer, click here.