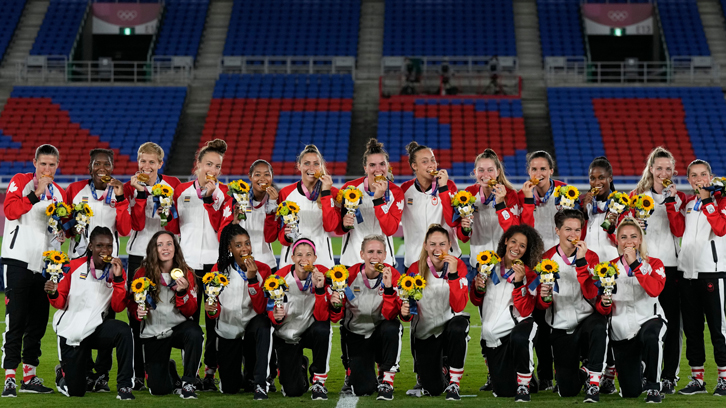 Adriana Leon and Canada clinched gold at the 2020 Olympic Games as her side beat Sweden on penalties in a frantic final match of the competition. 
The 28-year-old forward came off the bench soon after half-time and helped her side to get back into the contest having gone a goal down
The Canadians have had another impressive tournament at the Olympics, building on two consecutive semi-final appearances at London 2012 and Rio 2016. 
After an unbeaten group stage, Bev Priestman's side overcame Brazil at the quarter-final stage thanks to a penalty shootout win, before winning 1-0 against the United States, only their fourth win against their neighbours in 62 attempts. 
This time around, they faced off against a Swedish side that had won every match on their run to the final. 
Canada had the game's first opportunity, with Vanessa Giles heading high over the crossbar from a corner kick with seven minutes gone. 
Giles was involved again moments later, denying the Swedes with several blocks to keep the score line level. 
Fridolina Rolfo was next to have a go, but her curling shot was denied by Labbe. 
Sweden brokw the deadlock in the 34th minute – Stina Blackstenius finding the net from the middle of the box after a poor pass in midfield from the Canadians. 
In truth, Sweden deserved to be in front as the half-time whistle sounded, having had ten shots on goal to Canada's three.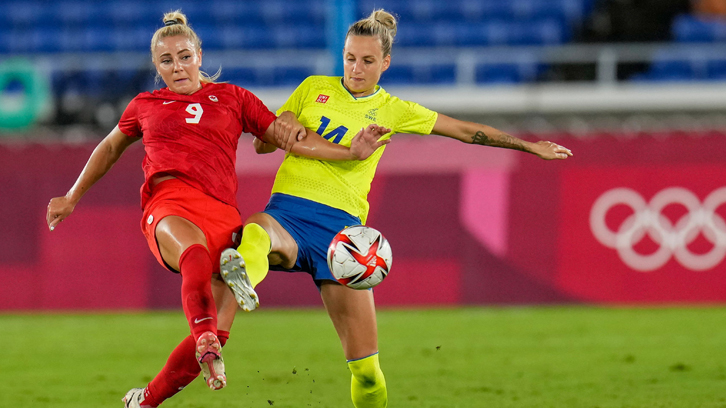 Leon entered the fray after the restart, replacing Manchester City's Janine Beckie and was immediately calling for a penalty after a tangle in the box, but the referee was unmoved. 
Canada showed a lot more attacking threat, and in the 66th minute, VAR awarded Bev Priestman's side a penalty kick after a foul on Christine Sinclair. Chelsea's Jessie Fleming dispatched from the spot to bring her side level. 
Sweden had a big chance to retake the lead with ten minutes to go but Rolfo couldn't convert from inside the area. 
Fleming almost won it right at the end, but her effort from long range was well saved and the match headed for extra time. 
It was a frantic 30-minute period where either side could have won it. Sweden had chances towards the end of the match, but the Canadians hung on to take the game to penalties. 
 
In a see-saw penalty shoot out, Julia Grosso converted the final spot kick to win gold for Canada, their first ever Olympic win.
Everyone at West Ham United is so proud of the efforts of Adriana during the tournament and congratulate her and her team-mates on their achievement.  
You can watch our Olympic star next season by purchasing a West Ham United season ticket! Click on the graphic below to purchase yours.