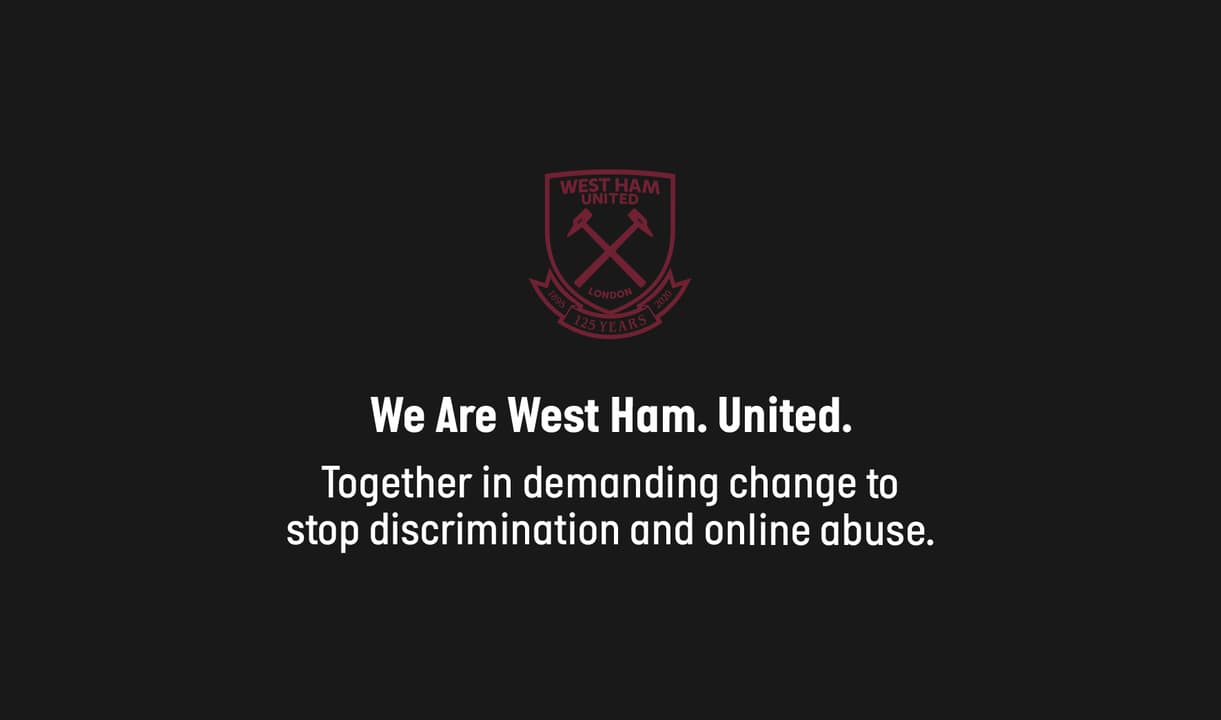 West Ham United will stand in solidarity with the Premier League, its fellow clubs, The FA, EFL, FA Women's Super League, FA Women's Championship, PFA, LMA, PGMOL, Kick It Out, Women in Football and the FSA with a boycott of social media channels next weekend.
From 3pm on Friday 30 April to 11.59pm on Monday 3 May, the aforementioned organisations will unite in response to the ongoing and sustained discriminatory abuse received online by players and many others connected to football.

The Hammers and its players will not post on its Facebook, Instagram, Twitter channels, as well as its Snapchat, Tik-Tok, YouTube and foreign-language social media accounts for the vast majority of the Bank Holiday weekend as English football comes together to emphasise that social media companies must do more to eradicate online hate, while highlighting the importance of educating people in the ongoing fight against discrimination.

While some progress has been made in filtering, blocking and taking down of offensive posts, and in assisting law enforcement agencies to identify and prosecute the originators of illegal content, West Ham United believes more can and should be done to rid the game of this blight.

Football acknowledges that, in isolation, a social media boycott will not eradicate the scourge of online abuse, but it does demonstrate the seriousness with which the game takes this ongoing issue and that it is willing to take proactive steps in this continued fight.

West Ham United, its fellow clubs and English football's governing bodies urge the UK Government to ensure its Online Safety Bill will bring in strong legislation to make social media companies more accountable for what happens on their platforms.
Ahead of the boycott, Women's first-team players Nor Mustafa and Laura Vetterlein reflected on their experiences of discrimination and why this blackout is important...
Have you ever experienced any form of discrimination?
Nor Mustafa: "One time I remember is when we played an away game for my old team, I played very well and scored a couple of goals. On my way to the locker room, a man in the stand yelled at me 'You f****** immigrant, go back to your country'. It wasn't nice to hear after a good game, but I just kept walking into the changing room and didn't say anything back. I could have done, but I knew that this guy was ignorant and there's something wrong with him."
Laura Vetterlein: "I haven't experienced it myself or ever seen it out on the pitch, but I know that I would always stand up for anybody who is faced with this abuse, whether it be team-mates, opposition players, coaches or staff. It's important that we all stick together and call people out that don't act in the right way."
What can we do to stop discrimination happening within our society? 
NM: "I would always stand up for my friends if they were being abused or having words shouted at them because I've experienced it myself. I was younger back then, but if it happened now, I would have confronted him about what he had said. When I was younger, my parents always told me to treat people with the same respect, regardless of gender, ethnicity, background, religion."

LV: "I would always stand up for anybody who is faced with this abuse, whether it be team-mates, opposition players, coaches or staff. It's important that we all stick together and call people out that don't act in the right way. 
"When I was younger, I would have maybe ignored it, but we can't do that. We need to highlight these issues, speak up and stick together. I don't want to play on a pitch or in a stadium where that abuse is taking place. No-one wants to accept it and when we don't take action, people get away with it. 
"If you're brought up in an environment where people are put in certain boxes, then you start believing that which is completely wrong. I think it's about getting the right education and knowing that we're all equal in this world.  Nobody is born a racist, it's all about your education and background."
How important is the boycott this weekend? 
LV: "I think the boycott can be really effective, the sporting world is a big community and if we all use our voices together as a collective to give this issue as much exposure as we possibly can. But it shouldn't be just one weekend or one boycott, this is just the start of raising the awareness, from there we need to continue to push for change."

NM: "It's good that we're doing this, and hopefully the social media platforms will take notice and actually do something about discrimination that occurs online. Nobody should have to go through this, and I hope that this will open the eyes of those platforms to make the change and stop these people getting away with being discriminative. 
"There needs to be a form of accountability, and once that is in place there is a consequence to what people are saying to others."
Fans who usually follow matches via our social media channels can find matchday coverage of our FA Women's Super League match at Aston Villa, plus the latest news updates, on our official website and App.