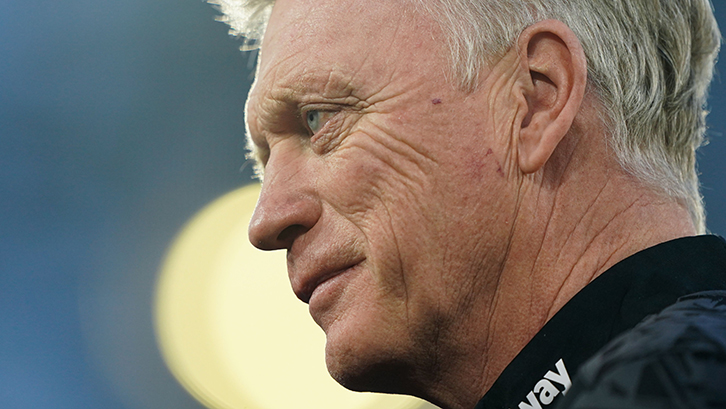 David Moyes believes the collective efforts of his players, his staff and West Ham United as a Club have all contributed towards him being named Manager of the Year at the 2020/21 London Football Awards.
The Glaswegian has overseen a magnificent turnaround in Premier League results this season, mounting and sustaining a push to finish in the upper echelons of the table which sees the Irons sit fifth with just five games left to go.
Results have seen the Hammers accumulate 55 points in the top-flight, setting them up to topple the Club record of 62 from the 2015/16 season, and giving them every chance of attaining qualification for European qualification for next season.
Nominated for the Premier League Manager of the Month award no fewer than three times this season, Moyes was announced as one of ten London Football Award winners at a virtual ceremony hosted by Alex Scott on Tuesday evening.
"I'm really pleased that I've been given the award," the manager smiled. "I have to say that when you come to London as a Scotsman, you rarely expect to pick up too many awards!
"I have to say that, with the level of the managers and the teams in London, it's a big achievement. It's a big achievement for West Ham United as well, because we're trying to win awards as a team.
"The players have done a wonderful job from the start and, apart from the opening couple of games of the season where we didn't win, we've been relatively consistent from the start right to this point.
"We've had some games this season where we've carried a little bit of luck in getting results, but I don't think there'll be any teams up near the top who haven't had that situation. 
"I want us to be consistent and regularly challenging the top teams. If we can do that here, then I'll see that as success for myself and West Ham. 
"I really appreciate this trophy and I'd like to thank everyone on the panel who voted. I'm really grateful for winning an individual award, which has come because of the all the efforts the players have put in over the last year."
The typically diligent Moyes attributes a lot of his success to the equally industrious backroom staff that support him: assistant manager Alan Irvine; first-team coaches Stuart Pearce, Paul Nevin and Kevin Nolan; and goalkeeping coach Xavi Valero.
The manager cites the example of the respective 4-0 and 3-0 wins over Wolverhampton Wanderers and Leicester City in the autumn as proof of their influence on the side's fortunes, having himself been absent in isolation after testing positive for COVID-19. 
"My staff are really, for me, the unsung heroes," Moyes confirmed. 
"Arguably two of our biggest wins this season came when I wasn't there, and Alan, Stuart Pearce, Paul, Kevin and Xavi did a brilliant job. They won 4-0 and 3-0 – that's fantastic and it shows you that, whatever happened, we'd keep going on. 
"My staff are my unsung heroes but individually, on the pitch, we've got a few as well. In the main, I want all the players to be on the big stage and show exactly what they can do."
In shaping West Ham's identity on the field, Moyes admitted his second spell at the Club – which he rejoined in late December 2019 – had also seen him evolve as a manager.
"You always hope and you always believe in your work," he explained. "You always believe the level of your training and the way you work will bring some success, and we have had that. 
"I've adapted myself and I've changed – a lot of things I do with the players now are different. I'm always looking to move on with what's going on. 
"I do think behind the scenes you've still got the things that can't alter: you need good training, you need good characters. Discipline needs to be excellent within the Club. We're trying to keep those things as much as we possibly can.
"In the meantime, I have to move the Club on, I have to move the group of players on, and I need to tell them 'we're not accepting just finishing outside the bottom three', we're not going to accept 'we're in a good position, let's just finish trying' – we have to keep ploughing on to try to get higher up the league.
"That's what I'm driving to the players – we're going again, me included, and we're all trying to do better."

Moyes reserved the most excitement, however, for the prospect of the Claret and Blue Army's return to London Stadium to witness his in-form West Ham United outfit in action.
"We can't wait to get supporters back," he confirmed. "I think what West Ham fans are going to see is a much different team, a much different set-up. 
"I can't say we'll win all the games, but I want to give West Ham supporters something they can be proud of. West Ham have got a massive support. The potential of West Ham is untouched in my mind. 
"There is much, much room to improve. I hope I'm the start of that and I hope that I'm the first part of the building blocks and we can go on to improve over many years now.
"The team's grown unbelievably this season in how they've played and how they've performed, and what we've got to try and do now is do that again. We've made such a big jump this year. My experience of this at Everton was when we made a big jump, then came down a little, but eventually we steadied up there. 
"I see a better future for this team, and we want to try and keep building it. I'm looking forward to supporters coming back and helping us build a new and better West Ham for the future."