Ryan Fredericks says West Ham United will pick themselves up from the disappointment of narrowly losing out to Chelsea on Saturday by setting themselves up for a big finish to the season.
The Hammers missed the chance to go back ahead of the Blues in the Premier League table as Timo Werner's 43rd minute goal separated the sides in a tight London derby, but with five games still to go, Fredericks is confident his side can go on to achieve their aims.
When West Ham faced Chelsea at home in the run-in last season, their aim was to secure their Premier League status, so to be fighting for European football – and indeed a UEFA Champions League place – this time around shows real progress for the full-back, and he does not want to let this situation slip.
"We were playing against a good team and I guess it shows how far we've come that we've played against Chelsea, a team in the semi-finals of the Champions League, and we're disappointed that we didn't get anything," the No24 explained.
"It was a bit of a nothing game really and there weren't many chances. Conceding on the stroke of half-time obviously killed us, but a draw might have been a fair result. They had a lot of the ball but not really in dangerous positions and we felt quite comfortable.
"We know how solid we can be and we've got good players who can play on the counter-attack, which we did at times. We didn't quite get that final pass, that final cross or shot, where we would have liked it.
"We're gutted but there are still games left."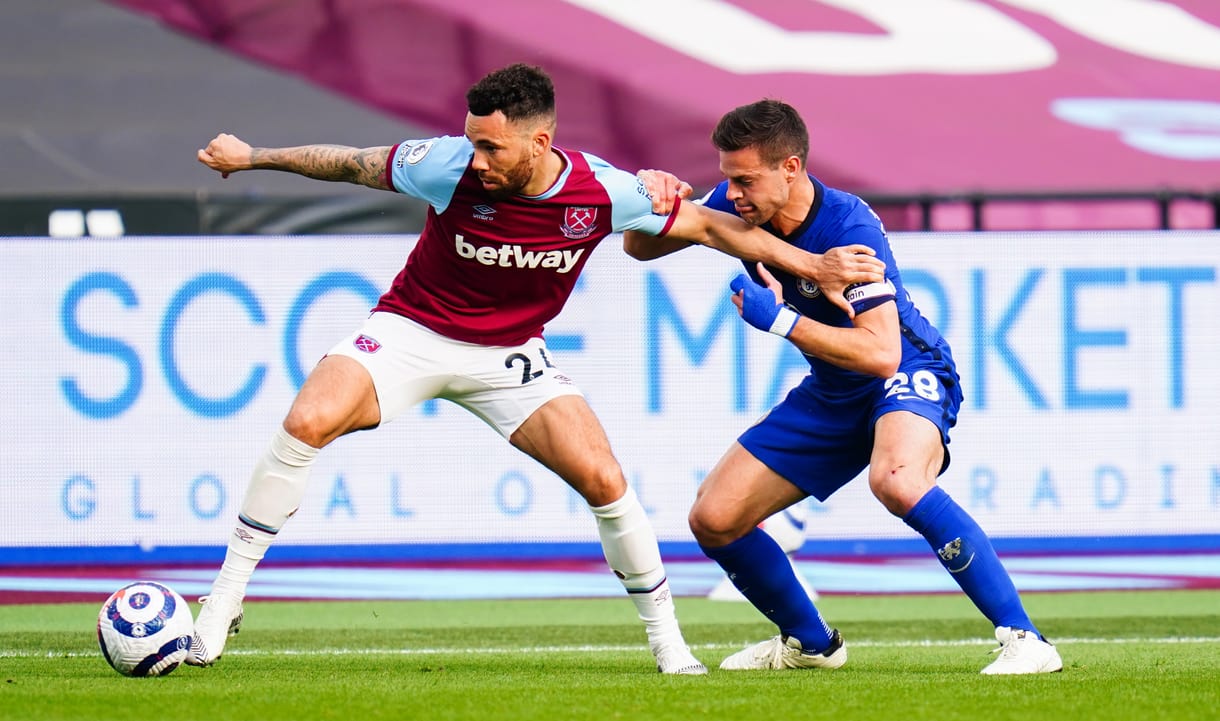 The Hammers have more than a week to recover and prepare for their next outing, at Burnley on Bank Holiday Monday, and Fredericks says they will be giving it their all to get over this setback.
He continued: "We're in a lot better position than we were last season – it's nice to be able to watch results at the top of the league affecting us rather than at the bottom of the league – but we don't want to just be up there and fall away in the last five games.
"We're up there and we want to be in the best competition next season.
"We know if we win every game, that we're probably going to make the top four, so that's what we're going to aim to do.
"We've been in every game this season, so we know if we do our stuff and set up well like we always do, we've got a chance."
It shows how far we've come that we've played against Chelsea, a team in the semi-finals of the Champions League, and we're disappointed that we didn't get anything

Ryan Fredericks
The Hammers' chances on Saturday were not helped by a harsh sending-off nine minutes from time for Fabián Balbuena, who saw red after a VAR review by referee Chris Kavanagh deemed his follow through on a clearance, which caught Chelsea defender Ben Chilwell, to constitute serious foul play.
Fredericks was disappointed for his teammate, believing there wasn't much else he could have done in that situation.
"I don't understand really," he added. "Playing football for the past ten years, you know there's nowhere else you can put your leg after kicking the ball. To kick the ball you have to follow through, otherwise it's going to go about ten yards.
"If the player wants to dive in and try to win the ball they're going to get touched. Nobody on the pitch appealed for anything, Chilwell himself didn't appeal for anything. Yes, he was hurt, but we know as footballers that's not a foul and definitely not a red card.
"It is what it is, he got sent-off. We were still in the game after that and it's just disappointing."