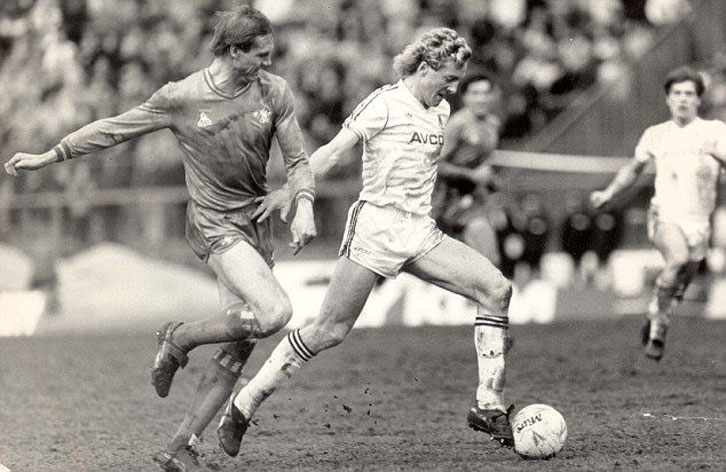 West Ham United legend Frank McAvennie has backed David Moyes' squad to summon the spirit of the Boys of '86 when they take on Chelsea on Saturday evening.
It is 35 years since McAvennie and his title-chasing teammates travelled to Stamford Bridge and thrashed the Blues 4-0, with the Scot scoring twice, in addition to sensational goals from Alan Devonshire and Tony Cottee.
Fast forward to 2021 and the present-day Hammers may not be challenging for the championship, but they are still in with a great chance of securing the highest league placing since John Lyall's side finished third in 1986.
I do see a similarity to what we did in 1986 – and the West Ham team this season

Frank McAvennie
"We were terrific that day against Chelsea at Stamford Bridge", McAvennie told Ken Dyer in Saturday's Official Programme, which you can read for free here. "Alan Devonshire scored a tremendous first goal midway through the first half. Tony Gale still insists it was an assist by him because he just touched a short free-kick to Dev, who hit a wonder strike.
"Dev had great balance. It was a muddy pitch that day, but I remember looking at him at half-time and he had a couple of tiny mud splashes up his socks. He didn't go down once – used to glide over the pitch.
"Tony Cottee scored a couple in the second half and I managed one. The final score line didn't flatter us really. We scored 54 goals between us that season – I netted 28 with Tony scoring 26.
"Honestly, I thought I would score in every game back then and that hasn't happened to me, either before or since. In the end, Tony and I would have a laugh about who would score the best goal! It was just incredible.
"It just showed the foresight that John Lyall had then because, although we played two up, I would come short which many teams do now. They have names for everything. For example, they call it a high press now, but we were doing that in 1986.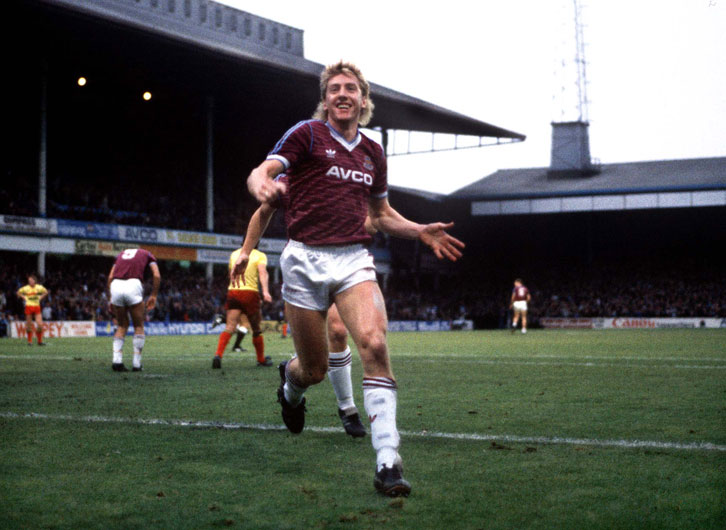 "I knew a few of the Chelsea boys, players such as Doug Rougvie, Kerry Dixon, who didn't play that day, Pat Nevin, Joe McLaughlin and David Speedie. There were some really prolific double acts in those days – Dixon and Speedie; Lineker and Graeme Sharp; Kenny Dalglish and Ian Rush – plus Tony and myself.
"It was a great achievement to finish third that year but to be honest, we should have won it. Our biggest rivals had bigger squads than us and we played a lot of games, including three games to beat Ipswich Town in the FA Cup and then two against Manchester United before finally losing in the quarter-final to Sheffield Wednesday just three days afterwards.
"It just caught up with us and in our final game of the season Everton beat us 3-1 to finish second, behind champions Liverpool, with us third, just four points behind them.
"Gary Lineker scored that day and won the Golden Boot with 30 goals for the season. I was a couple behind him, but he used to take penalties – I didn't!"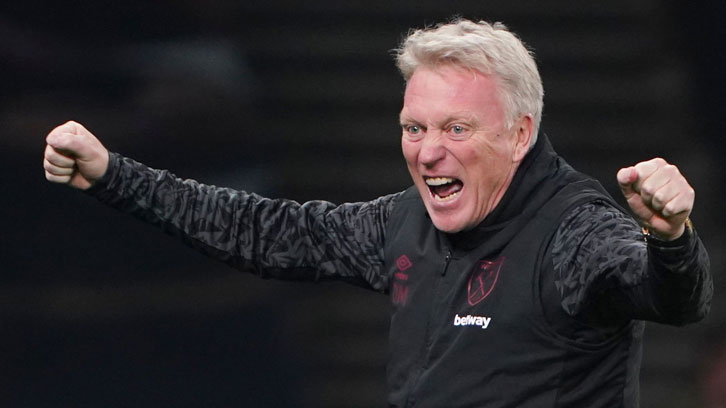 Now 61, Glaswegian McAvennie has been an avid follower of Hammers matches on TV during lockdown and he is thoroughly enjoying his former team's success.
"I do see a similarity to what we did in 1986 – and the West Ham team this season," he observed. "We had a great bunch of lads and we really enjoyed every game and I can see that when I've watched West Ham games this season. They also play with smiles on their faces and you can see they relish every game.
"It's a pity the fans can't enjoy it with the players, but I know they are there in spirit.
"It's just unfortunate we've suffered a few injuries now because it has meant we've had to change the way we play a little. The injury to Declan Rice has been a big blow because, when he gets his legs moving and goes on those runs forward, he is a joy to watch.
"David Moyes has also signed some wonderful players – Tomáš Souček, Jarrod Bowen, Vladimír Coufal – and Jesse Lingard on loan. I was asked, just before he came to West Ham what I thought about the potential move. 'Put it this way,' I said, 'I would love it if West Ham had the Jesse Lingard of three years ago'. That's exactly how it has turned out. Jesse has had a new lease of life and he's back in the England squad – and who would have thought that? Not even him. I really think he looks happy and I would love him to stay.
"I'm really pleased for David Moyes. He's a good man and doing a great job along with his staff. Whatever formula they're using, it's working."