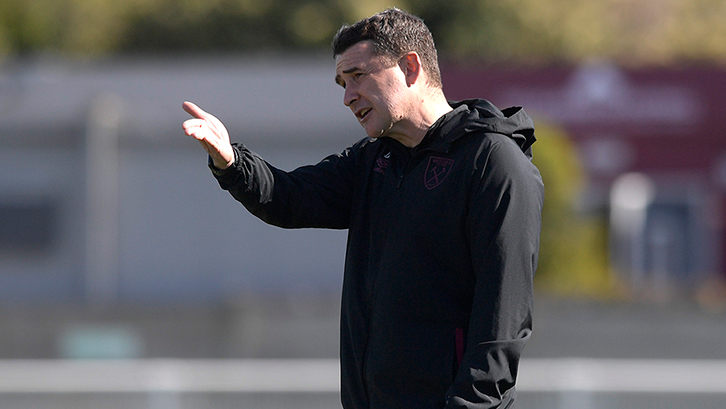 West Ham United U23s lead coach Dmitri Halajko could have no complaints about the magnitude of the effort his side put into Friday afternoon's defeat against Manchester City U23s.
The newly-crowned Premier League 2 Division 1 champions visited the Hammers' Rush Green Stadium in impressive form, but the young Hammers could consider themselves ultimately unfortunate to have lost the game after putting in a strong overall display.
Felix Nmecha's seventh-minute penalty kick ultimately proved the difference on the day, with Liam Delap missing a spot-kick for Manchester City midway through the second half.
Despite West Ham's U23s giving every ounce of effort they had, working hard to close down space and shut down City's signature passing game, the full-time whistle eventually sounded on their first defeat in six league matches.
Halajko reflected: "It was a really good game and a really close game. I thought our effort and our application were outstanding. 
"I thought the lads gave it everything they could physically, and we made it hard for City to control the game because we pressed them, apart from for their goal, for the rest of the game. I thought we gave it everything. 
"In terms of the game itself, our quality in the final third probably let us down. We probably had enough entries into the final third to have got something on the scoresheet. 
"We didn't manage to do that, and that's probably the bit of quality that's let us down a bit today, but the effort, the commitment and the way they went about the football match I thought was really impressive."
The course of the game saw the young Hammers concede from a penalty kick for the third time in their last four matches – as well as give away, albeit in contentious circumstances in both cases, a tenth and eleventh penalty in Premier League 2 this season.
Halajko admitted: "I think there have been a few of those where we've maybe put our bodies in where they don't need to be. 
"I don't think many of them have been clear-cut penalties, but I think we've given strikers the opportunity to go down when we've waved a leg or put a body across them, and they've taken those chances to go down, which is clever forward play from them and naïve defending from ourselves. 
"I think we can just be a little more cautious inside the box and not give people the opportunity to jump into us."
Prior to Monday's game, Manchester City U23s had already been crowned Premier League 2 champions for the season, having run away with the title after scoring a division-high 68 times in just 21 games.
Yet West Ham were ambitious in their outlook from the off and put in a showing which belied the two teams' league positions – albeit ultimately one which saw them stay 12th in the table, inside the drop zone on goal difference with two games left to go.
Halajko concluded: "I think there are aspects of the game the players can be really proud of, for sure. 
"The intent and the bravery that they showed to go toe-to-toe and really cause City problems I think is something to be proud of, but then we need to do the other part of it, which is make sure that when we win the ball back, we have the quality to hurt them. That's the bit that was missing that we need to improve on.
"Effort-wise, intent-wise, commitment-wise I don't think we could have asked for any more than they gave. I thought we were really brave and really aggressive, and they were struggling to contain our intensity. 
"A bit more quality in our game probably makes the difference when it comes to turning a defeat into a win."