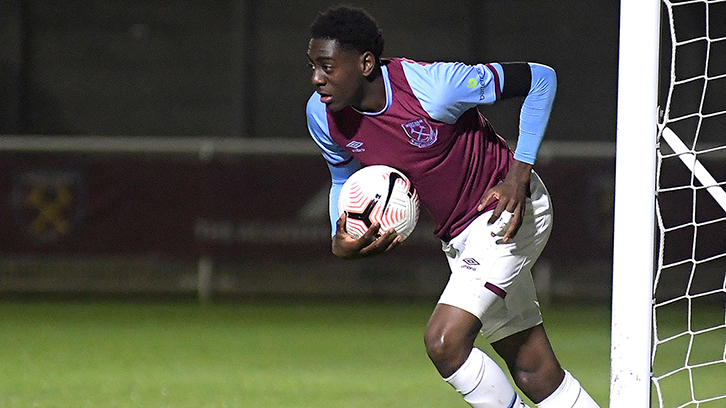 Tottenham Hotspur U18s 1-1 West Ham United U18s
U18 Premier League South, Tottenham Hotspur Training Ground, Tuesday 20 April 2021
West Ham United U18s put in an improved second-half display to claim a 1-1 draw away at Tottenham Hotspur in U18 Premier League South on Tuesday afternoon.
Following their exit at the FA Youth Cup fifth-round stage and the inclusion of numerous youth team players in the U23s squad on Monday, U18s lead coach Kevin Keen named a much-changed side for the trip to their London rivals' training ground.
Only five of Friday's starting eleven began the game against Spurs, with starting opportunities arising for Junior Robinson, Brendan Thomas, Isaac Evans, George Earthy, Gael Kileba and Divin Mubama.
The young Hammers looked rusty in the opening exchanges, and could consider themselves fortunate to only go in at the interval 1-0 down, with Tottenham hitting the woodwork three times inside the first half.
Spurs defender Maksim Paskotski saw his shot deflected onto West Ham goalkeeper's Krisztian Hegyi near post inside the opening quarter-of-an-hour, with the Hungarian also being called upon to make a fine stop from Romaine Mundle.
Yet the visitors' luck ran out after 17 minutes when an in-swinging ball from the right fell at the feet of Roshaun Mathurin, who took his opportunity with aplomb.
Tottenham continued to lay siege to the West Ham goal, with captain Michael Forbes called upon to make a couple of good blocks and Tottenham's Yago Santiago and Jordan Hackett hitting both post and crossbar respectively within a couple of minutes of one another.
The Hammers could have gone in at half-time with an unlikely level scoreline when Forbes was picked out at the back post by Sonny Perkins' free-kick, but the ball bounced off the crossbar and over.
When West Ham re-emerged following the interval, however, they looked a different team.
Within minutes, midfielder George Earthy had a fine individual effort fly narrowly wide, before the Irons were awarded a penalty when Hackett handled inside the box.
Mubama, who netted against Arsenal on Friday and scored a hat-trick in the game before that, a 4-1 league win over Reading, demonstrated his confidence by sending Spurs stopper Adam Hayton the wrong way to level matters.
The final half-an-hour proved an end-to-end affair, with Hegyi making a number of brilliant saves, most notably from Mundle's attempted chip and Jamie Donley's close-range header.
In the offensive third, Mubama enjoyed the Hammers' best chance after going clean through, one-on-one – but his effort was this time smothered by Hayton, and both teams were ultimately forced to settle for a point on the day.
 
The result, in the end, was immaterial. Our second 45 minutes was so different to the first. The response to the half-time team talk was exactly what we were looking for

Mark Phillips

"The first 20 minutes were as bad as we've played this year, if I'm honest," assistant coach Mark Phillips told whufc.com.
"We didn't get to grips with the game, and should've been three or four-nil down at half-time – they were by far the better team in the first half. 
"Hegyi played well in goal, and there were a few other good defensive blocks from Forbes at the back which kept it down to 1-0. 
"We had a few words at half-time, just reminding players of what good attributes they've got and their responsibilities, and we totally changed the game in the second half. We were really good, equalised, and from then on really should have won the game.
"The result, in the end, was immaterial. Our second 45 minutes was so different to the first. The response to the half-time team talk was exactly what we were looking for.
"It was the sort of game where we left there with a 1-1 draw and it felt a little bit like a victory. It was quite a pleasing day in the end, and I told everyone that, as much as I pointed out the facts at half-time, I wanted to give them a good 'well done' after 90 minutes, because their effort and commitment in the second half was excellent."
The Hammers' youthful line-up continued to feature plenty of schoolboys and first-year scholars, a running theme throughout the season which has helped progress fledgling talents further up the Academy of Football's age groups.
For Phillips, however, it is important that the players who are handed the opportunity go on to grasp it and, in doing so, finish the final three league games of the season strongly.
The assistant coach confirmed: "If you went through every team in our league this year, we would be the youngest in terms of average age, which is good. 
"That's what it's about – playing schoolboys and first-year scholars – and we've done a good job of that, but you can't just say we're doing that and accept getting heavily beaten by a fellow London team. That can't happen. 
"I was really pleased with a young team, and people coming back from injuries, really stepping up to the mark in the second half to prevent that.
"The remaining teams we're playing are at the lower end of U18 Premier League South. We've got Norwich on Saturday, who are obviously going to be coming for us after we beat them heavily in the Youth Cup, and then we've got Southampton and Leicester.
"Can we remain undefeated until the end of the season – those last three games? That's our challenge. It doesn't mean we'll win every game, but we want to move towards the middle of the table."
West Ham United: Hegyi, Robinson, Thomas (Bates 62), Laing, Forbes (c), Evans, Woods, Perkins, Earthy (Heal 67), Kileba (Coddington 54), Mubama
Subs: Shala
Goal: Mubama 53 (pen.)
Booked: Perkins, Thomas