David Moyes admitted first half mistakes and a late lapse cost his team in Saturday's 3-2 Premier League defeat at Newcastle United.
West Ham United fell two goals and a man down in five calamitous minutes just before half-time, having more than held their own for the opening 35 minutes.
First Craig Dawson was booked after being caught out by a wayward pass, then sent-off for fouling Joelinton after taking a loose touch in the build-up to Newcastle's opener, which saw Issa Diop put Allan Saint-Maximin's shot through his own net.
Lukasz Fabianski then dropped Matt Ritchie's corner, allowing Joelinton to score and leave the Irons with a mountain to climb, but climb it they did with a superb comeback capped by Diop's header and Jesse Lingard's penalty – given after a review by referee Kevin Friend for handball by Ciaran Clark.
But just when it looked like the Londoners would have an unlikely point to take back down south, Newcastle substitute Joe Willock headed Ritchie's left-wing cross past Fabianski to secure a win that will likely keep Newcastle in the Premier League.
West Ham, meanwhile, will need to regroup ahead of their final six matches, but manager Moyes has every confidence his squad will do just that.
I didn't think we deserved to be 2-0 down, but we did because of our mistakes.
We made a couple of horrendous mistakes today, which has not been like us really, but anyway, we showed great character after half-time.
The players put themselves in a position to be brave with the ball and how we decided to play. We didn't alter too much, but we decided to play with one less centre-back and just tried to push on in the same fashion.
We earned our right to be back in the game because we were very good. We did a lot of good things, but it was the last ten minutes.
We got to 2-2 and maybe the momentum changes as Newcastle think 'my goodness, we need to try and get back on this' and I'm disappointed we didn't stop the cross or defend the header at the back post, so those things all come into it a little bit.
Some of our passing could have been slicker and could have been quicker and we miscontrolled one.
The sending-off was a disappointing situation because I don't think it was necessary and even that, we stopped the first shot and it ended up with an own-goal going in.
Then the second one it was just a mistake but, look, these things happen. We have to move on, we've been very good, so we'll try not to make too much of it and see what happens.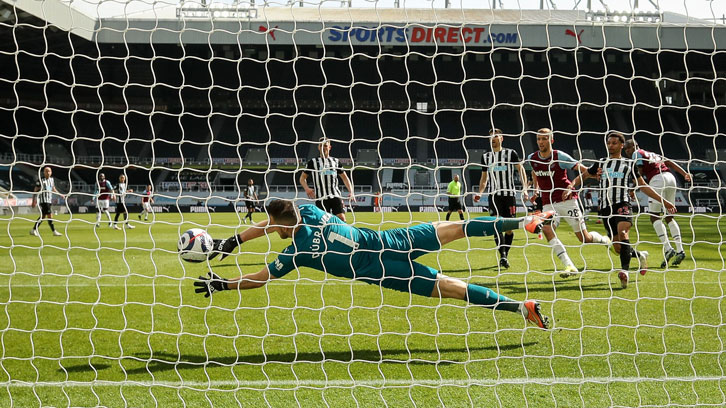 I thought we dominated the game in the first half as well as the second and it was only our own doing that cost us.
I thought we had the ball and most of the play but we just couldn't just find a killer pass or a clever bit of play in the early part of the game to get ourselves in front.
But I couldn't fault the players for what they're doing because they've been doing brilliantly.
We go again. I'm not going to make a big deal about it, like I said.
We know we've lost a game we'd like to have won, but we're also just off a really good win over Leicester and a really good win at Wolves, so we'll move on.
We've got some big games to come up and we want to take them full on and give the same effort and commitment.