Mark Noble was delighted to pick up all three points against Leicester City on Sunday afternoon. 
The West Ham United captain made his 400th Premier League appearance for his side as they got the job done with a 3-2 win over Brendan Rodgers' Foxes. 
Just as they had against Arsenal and Wolverhampton Wanderers in recent weeks, the Hammers found themselves 3-0 up, with a brace from Jesse Lingard setting the east Londoners on their way. 
Jarrod Bowen had added a third straight after the interval, before Kelechi Iheanacho found the net with 20 minutes to go. 
The Nigerian was on target once again to set up a nervy final ten minutes at London Stadium, as David Moyes' side found themselves in familiar territory. 
But, after losing Aaron Cresswell and the skipper to injury, and a number of nervy moments in the closing stages, the Hammers held on for another fantastic victory. 
West Ham moved back into the top four and closed the gap on their opponents to just a point, as Noble reflected on a superb victory. 
Mark, you've said many times during your 400 Premier League appearances that it's all about the result, and it was today, wasn't it?
"The final result is always what matters at the end of the day. If you have a look at our last three games, I don't know what the fans are like watching at home, but the last 20 minutes have not been nice for us. We were playing against a top team this afternoon, with some top players. The first 60 minutes was incredible from us, and what a great result."
Like you said, the first 60 minutes was fantastic, we made Leicester a lot worse than we know they are. We kept the ball well and had them all over the place, didn't we? 
"We knew coming into the game how good Leicester are, they've shown that with their league position and we started so well again. We were sharp and on the front foot, the boys were fantastic. 
"Then we go 3-0 up and they get a goal, from the 65th minute onwards, I thought that we were sloppy, but sometimes when you're in the lead or 2-0 goals up like we were against Wolves, you naturally tend to sit back. We've got to get better at keeping the ball under pressure and trying to fight the natural urge to sit back."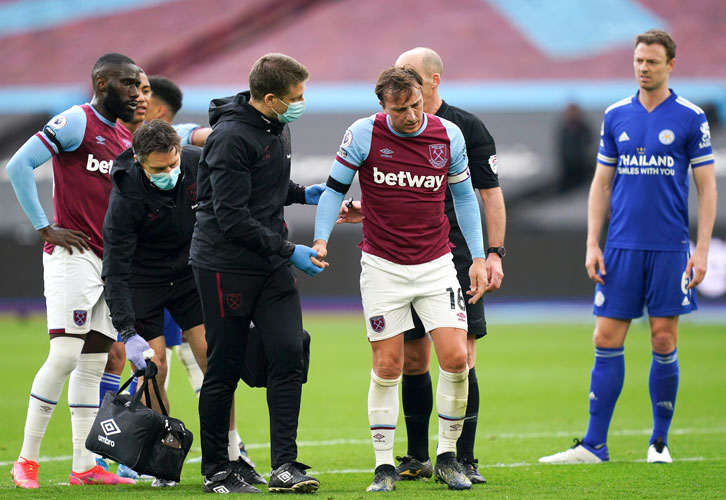 The three goals were of good quality. The first from Jesse Lingard is a great finish and Jarrod makes a great run and gets the ball away at the right moment... 
"As much as Jesse's goals were fantastic, I had a bet with him when he first came to the club that if he scored eight goals, I'd pay for a night out for him and a stay in the Corinthia Hotel [in central London], so it's going to cost me a few quid! He's been fantastic for us hasn't he!
"We missed Michail and Dec today, but the boys that have come in have done a fantastic job for each other. To have got a point against Arsenal and then to get wins against Wolves and Leicester is a fantastic set of points against tough opposition."
How are you after coming off with what looked like an arm injury? 
"I'm a bit sore. I remember making a block tackle on the edge of the box and I felt something, it's my elbow that's sore, but I'm hoping I'll be okay for next week."
We go to Newcastle next week, then, and we've got seven cup finals to go?
"Seven to go and we're taking it one game at a time. Newcastle got a fantastic result today against Burnley, so it won't be an easy match up there. 
"It just shows you when you're in the position that we find ourselves in now that, the relentless pursuit of points that you need to pick up. Chelsea and Arsenal won yesterday so we go above them but it's all about next week."