Brian Dear has visited Chadwell Heath – the home of the Academy of Football – to speak to schoolboys and scholars about the legacy of West Ham United's favourite son, Bobby Moore, on what would have been his 80th birthday.
Dear became close friends with Moore during their time as West Ham teammates in the 1960s, and both were in the side which won the European Cup Winners' Cup in 1965.
Sitting down with a group of bright footballing prospects, aged between nine and 16, Dear led a question and answer session about Moore's life, achievements – and the 'West Ham Way' the No6 not only came to embody, but define.
In doing so, Dear was able to highlight the legendary centre-half's unparalleled journey from the facilities where the Academy schoolboys were sat at Chadwell Heath, to the very pinnacle of the game: becoming a FIFA World Cup-winning captain at Wembley.
"It's great to be here today," Dear reflected. "It's fantastic how kids are really so interested in Bobby, and how much Bobby's still part of football. It was brilliant talking to all the different ages of young footballer about him.
"It's good for the kids to show their respect because, every time a World Cup comes around, Bobby's still the icon to everyone who lifted that trophy at Wembley in 1966."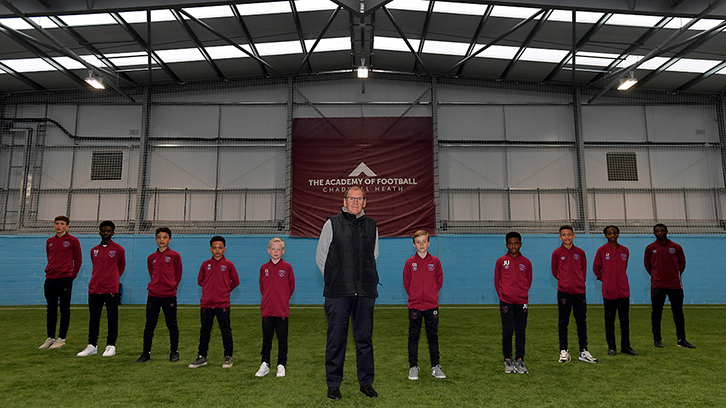 Dear's anecdotes during the discussion showcased how Moore, nearly 30 years after his tragic death, is immortalised at West Ham United, and continues to provide a legacy for the young players at the Club trying to follow in his footsteps.
Among the topics Dear fielded questions on were first impressions of Moore; the defender's debut against Manchester United, a 3-2 win in September 1958; favourite games and memories of the unique character; and what Moore was like not just as a captain, leader and teammate, but as a friend.
His stories revealed not only how Moore's debut came about – with fellow defender Malcolm Allison actually suggesting him as his replacement following illness – but included plenty of examples of how Moore, as a captain, would talk his teammates through any nerves or doubts they would have, always leading by example.
"Bobby Moore had to work hard as a young player," Dear recalled. "Unless you were playing with him, sometimes you didn't see those qualities: his composure and his reading of the game. He wasn't the quickest man in the world, but his mind was good. 
"Ron Greenwood used to say the hardest things in football were the easiest, and the easiest were the hardest. Bobby used to always find the best way to do things. He was very confident and saw things before they happened. He was always in control.
"He was immaculate in everything – his dress, his demeanour with people, and his football was the same. When we were in the dressing room, after the game, he used to stand on the bench – he wouldn't put his trousers on the floor in case they got dirty! 
"We went to Liverpool in 1963 and we had a very young side – it was Dave Bickles' first game, and Liverpool's side was phenomenal. Bobby coached him all the way through the game and we ended up winning 2-1.
"He was a great role model."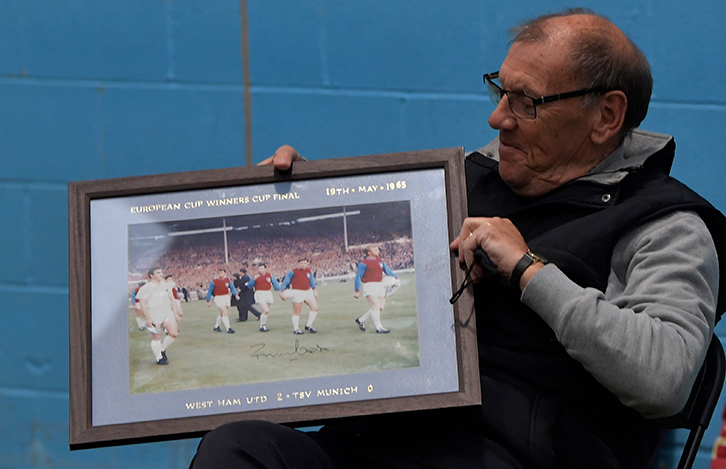 Dear became close friends with Moore after the striker joined West Ham in 1958, the same year that the centre-half made his first-team debut against Manchester United at the tender age of 17.
"After that first period, that's when we began to become friends," Dear told the schoolboys. "We were all mates. You are all different ages at the Academy, but you all know one another, how you play, what you do – it's the same as us.
"Bobby was a bit shy. Once he felt comfortable with you, that was it. You had everything he could give, and he'd give everything to you. He was an amazing fella."
The duo went on to play alongside one another through the Club's golden era of the 1960s, with both players starting the match that marked West Ham's finest hour: the European Cup Winners' Cup triumph in 1965.
Dear and Moore were also inseparable off the pitch, enjoying a close friendship for over three decades before the icon's tragic passing on 24 February 1993, at the age of just 51.
"Life goes on after you've lost dear friends, but Bobby had his time and enjoyed himself," Dear smiled.
"As long as people don't forget him, everything will be fine, because he was a one-off – an absolute gentleman to be around. 
"I'm just so proud to have played with him and been his friend. I had lots of good times with Bob – lots of good times. 
"He was a great, great person, and people who met him don't know how lucky they are."
Dear concluded by telling the schoolboys: "You would have loved him if you'd have met him. 
"He was a wonderful, wonderful man, and you lads should be very proud that you're involved in the Club that he was a part of."