Academy
Dmitri Halajko: U23s can be proud of their performance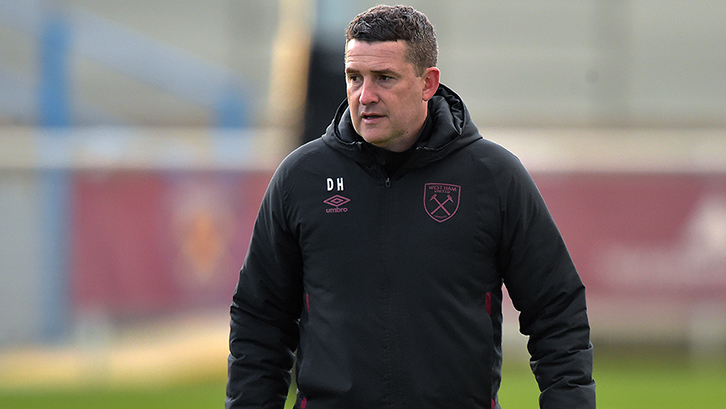 The fact that West Ham United U23s left the field against Premier League 2 reigning champions Chelsea U23s with even a tinge of disappointment at a 1-1 scoreline was indicative of the quality of their performance on Tuesday evening.
Up against a strong south London academy outfit, the young Hammers were combative, creative and well-drilled throughout – an amalgamation of qualities that saw them come with 15 minutes of taking all three points at Rush Green Stadium.
The Hammers had earned the advantage that Kai Corbett's well-taken finish had given them on 56 minutes when the forward swept home Emmanuel Longelo's low cross.
They then twice came close to doubling their lead, with Mipo Odubeko hitting the inside of the post from distance, Mesaque Dju having his rebound effort superbly saved, and Freddie Potts seeing a close-range effort blocked after a goalmouth scramble.
As the game wore on, Chelsea pushed higher up the pitch, claiming a late equaliser through George McEachran from the penalty spot after Jamal Baptiste had felled Valentino Livramento.
Yet West Ham U23s lead coach Dmitri Halajko believes his young charges can take plenty of encouragement from the overall display, with the point gained closing the gap to Leicester City U23s – who sit just outside the relegation zone – to three points.
"I think it was a performance we can be proud of," Halajko told whufc.com "We're happy with how hard we worked and the chances we created, and I think we probably deserved a better result than we got.
"They had a lot of the ball but we contained them to having it in the areas we wanted them to have it, where we felt we were still in control of the game. 
"We hit the inside of the post at 1-0 up and had a bit of a goalmouth scramble too, but Chelsea just got back into it at the end.
"We're happy with what we've achieved tonight."
The Hammers had made a late change to their line-up when goalkeeper Joseph Anang, initially named as a substitute, was brought into Halajko's starting eleven.
 
We're in good form and that really comes from our good training

Dmitri Halajko

The shot-stopper's professional performance made an impression on Halajko, along with those of the four U18s players who started a development squad fixture that was played at a high level – a promising sign for the future of the Academy of Football.
Halajko explained: "I thought Joe was excellent because he was only told that he was playing shortly before kick-off. He got dropped in last-minute and showed brilliant professionalism. 
"We had four youth team players on the pitch, and for four youth teamers to start a game of that level, and hold their own and do well, was impressive. 
"Kai worked ever so hard and got his goal, Mipo hit the inside of the post and worked hard, and Freddie and Jamal looked steady throughout. 
"Obviously, Jamal might be disappointed in the tackle that led to the penalty, but apart from that, the four youth team players can be really pleased with their performances at this level."
Following a 1-1 draw against Liverpool and a 3-1 win over Leicester, with five points in their last three league games under their belts, Halajko believes his team are gaining momentum at just the right time of the season.
He concluded: "We're in good form and that really comes from our good training. 
"We've had a good training load, whereas earlier in the season we had to have a few breaks due to COVID complications, which stunted us at times, or we had a few injuries which kept on holding us back.
"The last six weeks have been a good spell of training where we've had a consistent load, a consistent schedule, and that's really helped the lads get into a more positive momentum, fitness and quality on the ball – which has started to show in our matches."
Next up for Halajko's development squad is a trip to Manchester United U23s on Friday evening.