David Moyes was all smiles after seeing his West Ham United squad score a record-equalling seventh away Premier League win of the season at Wolverhampton Wanderers.
The Hammers raced into a three-goal lead for the second top-flight game in succession but, unlike at home to Arsenal last time out, they held onto their advantage this time around to secure a 3-2 victory and three important points to climb back into the top four.
Jesse Lingard scored the first, played a part in the second, which Pablo Fornals finished from Arthur Masuaku's cutback, before laying on the third for substitute Jarrod Bowen, who had replaced the injured Michail Antonio.
Wolves pulled one back before the break through Leander Dendoncker's powerful header and another after when replacement Fábio Silva shot into the bottom corner, but West Ham held on to leapfrog Chelsea, Tottenham Hotspur and Liverpool in the standings ahead of Sunday's home fixture with third-place Leicester City at London Stadium.
It was an unbelievable game of football!
We'll keep it going. The boys are doing a brilliant job. We're getting a wee bit threadbare at the moment, as you can see, but it didn't show for periods of the game.
If it's to do with commitment and courage and bits like that, we've got bundles of that.
We scored three scintillating goals. They were so good. Jesse and Micky were a handful for them and the boys did a good job.
I was concerned we had been giving up a few opportunities, which in the end led to them getting a goal just before half-time, so was thinking it was deja-vu, here is Arsenal coming all over again!
But we managed to keep them out, just about, and get a result.
We were worried about their speed, when you think about the speed Adama Traoré's got and Pedro Neto's got, so we had a real concern about them, but I've got to say Jesse's speed was there too.
He showed a bit of old-fashioned dribbling and used his speed to get away from people.
I said to him at the end that he's made a big difference and I don't give praise too easily, but I certainly gave it to Jesse tonight.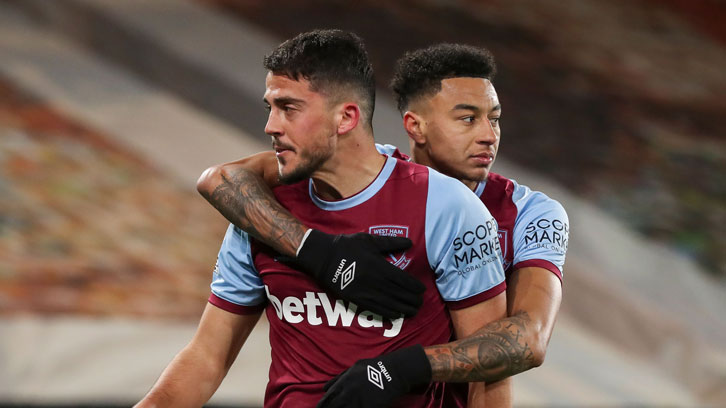 We needed Pablo's goals at the start of the season and last year and we needed Jarrod's goals earlier this season.
And I thought Jarrod played really well as a centre-forward in the period after Mick went off, so I'm pleased because we're going to need them all at the moment as we're just beginning to run a little bit low in the tank.
Mick felt his hamstring a little bit and we've just got to hope it's nothing too bad, but if you're a West Ham supporter know you all about Mick's hamstrings, so we've got to be really wary of it.
We've been relatively fortunate this season up until now. We've had Dec and Tomáš available for most games and had Micky away during the Christmas period, so I'll be disappointed if we lose him again.
If Jarrod plays as well as he did tonight up front, then that'll help us, but we're just beginning to run a little bit low on bodies at the moment.
We're not a fluke now. We've now got ourselves into a position with eight games to go.
Maybe tonight I was thinking how good it would be to get into a position, but when you hear people talking about West Ham being in fourth, let's be fair, you'd have thought nobody in their right mind would have said that at the start of the season.
But we've got here and we want to prove them wrong now. We want to do a good job, we want to hang in, we want to be professional, we want to play well and score goals when we can.
It would just be nice if they could make it a bit easier for their manager on the bench, that's for sure!
It's magic, though! We keep it going. We're in April now and we're still hanging in there with the top clubs.