Having returned to pre-season training last week, fresh-season spirits are high amongst West Ham United U18s, lead coach Kevin Keen has confirmed.
Six days into their preparations for the new 2021/22 campaign, a large group of youth team players made the journey north to Loughborough University to link up with the Academy of Football's week-long training camp.
There, training on a pitch adjacent to West Ham's U23s, Keen's U18s have undergone a multitude of productive sessions to prepare themselves for the campaign ahead, developing the principles that every Academy player should embody on and off the pitch.
Off it, the U18s have had opportunities to get to know one another through informal quiz and games nights, as well as continue to build up their fitness in the state-of-the-art gymnasium and swimming pool facilities.
A number of the youth team also had significant spells on the pitch in the U23s' first pre-season friendly, a 4-1 win over Loughborough University on Saturday afternoon.
As the camp draws to a close this weekend, U18s lead coach Keen told West Ham TV about the numerous benefits the experience will have afforded his young players...
 
You've been back in pre-season training with the U18s for just over a week now. How good is it to be back out there on the grass?
It's brilliant to come away. It's fantastic that the Academy have spent a little bit of money and have been able to get the U18s group up to Loughborough so we can have that little camp away from Chadwell Heath where you really get to know the lads. 
It's a fantastic experience and a really good learning opportunity for the players.
What will the players have taken away from being out of east London for a few days, living and training together at Loughborough University?
It's about laying out the principles of the U18s and how we want to play, what the West Ham Way is and how we do things at this Football Club, especially for those new lads coming in. 
Also, when you're away from Chadwell Heath and you're together 24/7, the lads have that little bit of bonding time, that camaraderie. They find out who the funny staff members are who you can tell jokes to, and who you've got to be a little more serious with – all that sort of stuff comes out because you've six days away, together in that bubble.
Those are the main things to get out of the camp for me: finding that little bit of togetherness, which is one of the Academy's mottos, but also finding those principles – this is how we want West Ham U18s to play, and this is how we want to represent the Football Club. That's really important.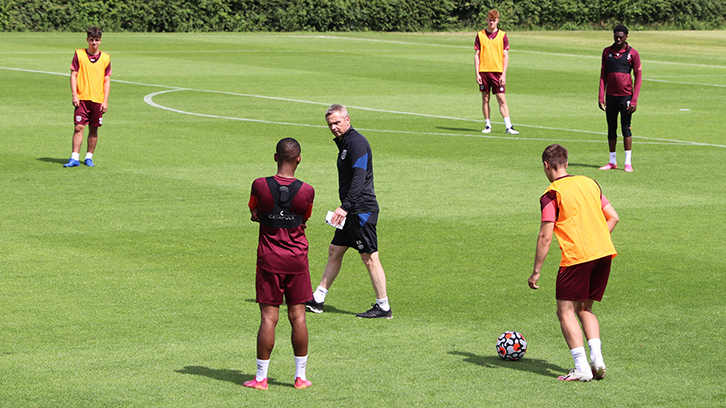 What are your thoughts on the facilities here, and the benefit they've offered to our players?
I think it's absolutely fantastic – it's Premier League standard. There are certain clubs I've worked for in the lower leagues who'd love to have facilities like this. 
The gymnasium for all the physical work is incredible, the pitches are like bowling greens, and it's a real pleasure to be here. I think Loughborough University are very lucky to have these facilities.
There are plenty of fresh faces in the U18s in Loughborough, including new scholars who stepped up as U16s last year. How much potential do you feel this group has?
They're pretty good. I think we've got a really good intake coming in as first years this year, with some differences. 
We've got some really aggressive defenders, and then we've got two or three really talented attacking players. That's refreshing for me – I like those attacking players, those creative players, because that's the sort of player I think I was. 
As well as that, we've got three U16s with us in Loughborough. They're not even coming in this year, but hopefully will be coming in next year, and are really talented. They're going to boost the youth team this year. 
We had a lot of U16s play for us last year, and I think these three U16s will also contribute to the youth team over the coming season.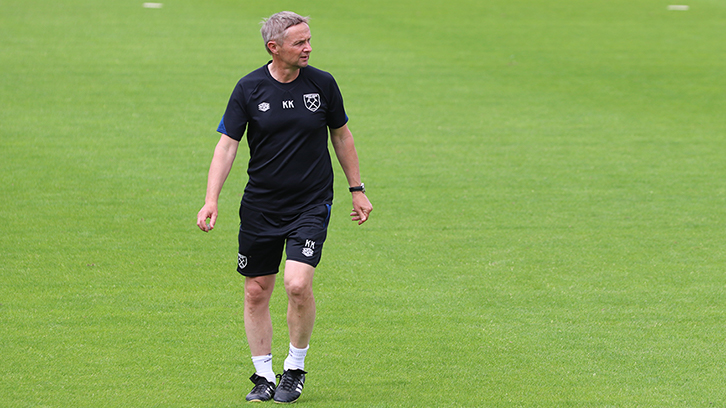 How highly do you hope these lads will be aiming in the coming season? 
I want us to win more games than last year. I think we under-performed a little bit last year and were unlucky in some games, but you can only be unlucky so many times.
I would like to hope – and I'm sure the players will be setting their goals – to finish higher than we did last year [tenth in U18 Premier League South]. I would like to think we can at least finish in the top half of the table.
The really positive side of me hopes we can do even better than that. In my first year back, 2019/20, we finished runners-up. It would be nice if we could get somewhere in and around that.
As a youth team, we've worked out we're going to be in five competitions this year: there's the U18 Premier League, the FA Youth Cup – they would be seen as the two main competitions – but then we've also got an U18 Premier League Cup, an U17 Premier League Cup, and an U17 London Cup.
That's five opportunities there. I've already mentioned to them that it's been a while since anyone within the youth team picked up a medal, so let's be bold, believe and say 'let's have a real go at trying to win something'.
Part of this week is building that camaraderie and principles, to try and achieve something like that this year.