Through undertaking an intense training camp at Loughborough University, West Ham United U23s are building up to their first pre-season friendly of 2021/22 against on Saturday afternoon.
The young Hammers will take on the University's football club in the Academy of Football's first warm-up exercise of the fresh season.
Ahead of the game, we caught up with U23s lead coach Dmitri Halajko to discuss the week-long endeavour, and his hopes for Saturday and the season ahead...
 
Dmitri, having been back a couple of weeks, what are your thoughts on the progress of the lads so far?
We're really happy. We came back two weeks earlier than most teams did to try and get ourselves in good physical shape and try and get a head start. 
We've certainly done that. The lads physically look great, and the football is improving with every passing week so we're in a really strong position so far. 
Hopefully it gives us a really strong base – that strong physical base to work from. We should be a little bit fitter and a little bit stronger.
That's a really good foundation so we're able to work harder, earlier, and we can hopefully build and build and build.
What were the overall goals for coming to Loughborough this week?
The first two weeks, when we came back early, we really wanted to get the players' fitness to a really good base level. This week, however, is all about the footballing philosophy that we have at the West Ham United Academy and embedding that into the players. 
We've got six sessions, three in possession and three out of possession, and we break that up into top, middle and back thirds of the pitch. We have our principles of how we work at West Ham United within those. 
It's all about teaching the lads that, developing that, and getting those good habits into their game. Towards the end of the week, we have our matchday against Loughborough University team, where we hope to see those principles in action.
There must be some tired legs out there then, but what has the mood in the camp been like so far? 
It's been excellent. We've been having three sessions a day: the first one is normally in the gym at 7.30am, and then they have a session in the morning at around 10.30am and another session at around 2.30pm, mixed in with meetings as well. It's a jam-packed day.
They're getting tired, but that's great – that's exactly where we want them. We want to push them, and they've responded really well to it. Every day they've been up bright and early and ready to go. I've got no complaints about their enthusiasm and appetite for the work so far.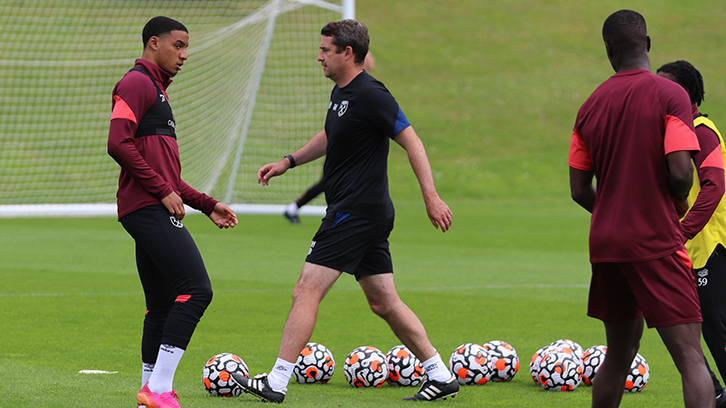 How have the likes of Armstrong Oko-Flex and Thierry Nevers – our new signings – settled in? 
They've settled in really well. They're really getting used to how we play and what it is we expect at West Ham United, and we're seeing that every day.
We've got a great bunch of players who have made the new guys feel right at home and already, straight away, they seem integrated within the group, which is fantastic. 
And good is it to have players like Harrison Ashby and Ossama Ashley, who missed lengthy spells of last season, back in the mix?
They're good footballers. They've worked really hard in this time to get themselves back physically. 
They've come back into the group and look really strong, so we can't wait to have them back.
Looking to build on last season, just how talented are this group, and how high should they be aiming in Premier League 2 and the cup competitions?
I think it's a strong group. It's a slightly bigger squad than last year at this point in time, and a slightly older group. 
Last year, we were very young as an U23s team, and hopefully those same players now have more experience under their belt in this second season and should really establish themselves. 
Whereas last year they were maybe just learning and starting out, now this is the season to really establish themselves and start to dominate games even more.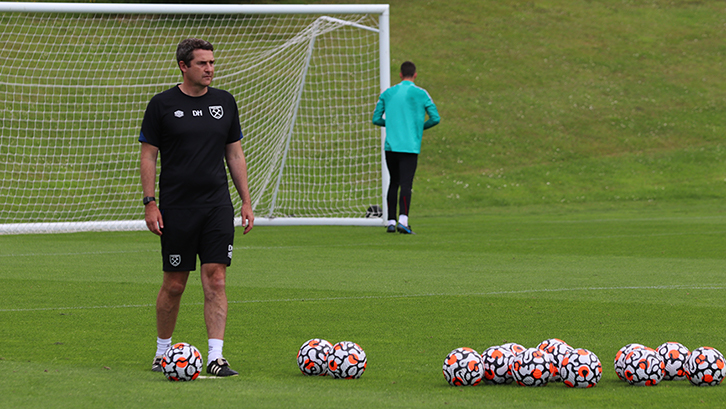 What are you looking to see from our U23s' friendly match against Loughborough University on Saturday afternoon?
Some of the principles we've been working on. We have our Academy principles of how we play and we break that up into areas of the pitch – in possession and out of possession. 
We've been working on those all week so hopefully some of those come out in the game. If they do, that consolidates some of the hard work that we've done this week.