Thierry Nevers is a young man ready to make his mark.
The 19-year-old forward, who formally completed his move to West Ham United last month after nine years with local club Reading, is encouraged by the opportunities that led to seven Academy of Football players making their first-team debuts last season.
In his first interview with West Ham TV, the young winger – who is also a threat playing through the middle – spoke of his excitement at wearing Claret and Blue in training for the first time.
Dmitri Halajko's U23s squad returned to training in late June and departed east London on Monday morning for a week's training camp at Loughborough University, whose football club they are set to face in their first pre-season friendly on Saturday afternoon.
 
I just want to be better than I was when I came in, on and off the pitch – mentally, physically, technically

Thierry Nevers

Among the young Hammers' number is Nevers, who is hoping to use the U23s' pre-season programme to once again sharpen the goalscoring edge which has already seen him net nine times in 25 appearances as a teenager at Premier League 2 level.
"It's all coming, it's all coming," the forward admitted, when asked if his move had sunk in yet. "Maybe when the season starts it will all come in, but it's a good opportunity for me.
"I didn't really have an off-season; I was just trying to perfect a few tweaks and keep my levels up so I can be ready for this pre-season period.
"It [pre-season] has been tough, I'm not going to lie – but good tough. My body's getting used to it, even though I'm sleeping half the time I'm not here! But it's good.
"I just want to be better than I was when I came in, on and off the pitch – mentally, physically, technically.
"Here, they're good lads, with good quality on and off the pitch. They're very focused and that's all I can ask for: good, welcoming people. It's been the same with my coaches."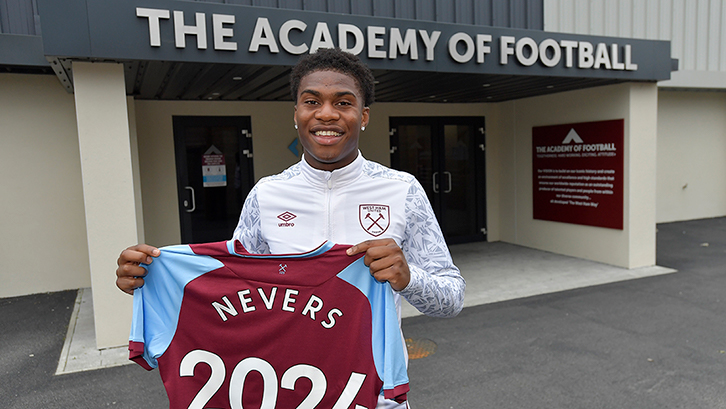 Berkshire born and raised, Nevers' family connection to Reading extended also to his uncle, who coached him through his early life as an academy player.
"I'm not sure of the ins and outs, but I know he was in the Reading academy system and he was well known," Nevers explained. "Unfortunately he couldn't make the next step, but obviously he's teaching me what to do right so I can make the next step.
"Obviously some of my family didn't want me to leave home, but it has to happen, so they were happy and excited for me!
"It's been good there, learning on and off the pitch, and now to be here at West Ham United today is a blessing."
Nevers is a thoughtful young player who admires not just the quality, but also the conscientiousness of other players.
Such a commitment to improvement could well open the doorway to similar chances to impress for the young forward, Nevers believes.
He added: "Looking at players who've been through what I hopefully can go through, [I look up to] players like Cristiano Ronaldo, Thierry Henry and Neymar. They've got character, they bring character, and they entertain – they bring numbers to the game. They're good players to learn from.
"It's good that the Euros have been on every couple of hours! It keeps me up, keeps me watching and keeps me learning about football – that's all I can ask.
"There's always a pathway, wherever you go. I believe that life is what you make it. You can either complain about things, or you can get through barriers and come out of it well.
"I feel like there are a lot of opportunities here, with the first team as well and with regards to the Academy and what they've done. There are opportunities here with the Academy if you can just keep it right and keep performing well, on and off the pitch.
"I feel like I'm ready to wear my heart on my sleeve. I feel welcomed here, so I'm excited."