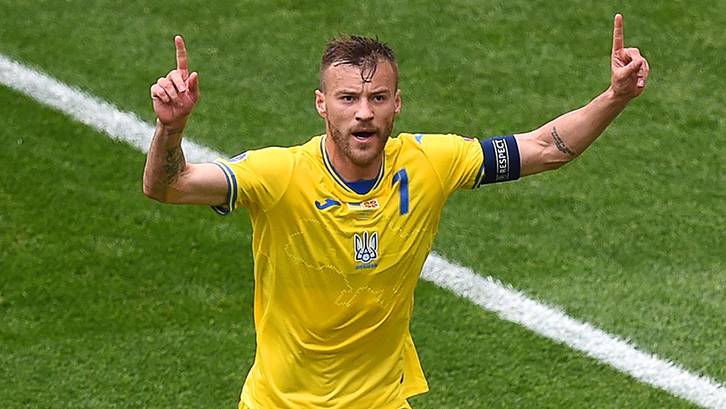 West Ham United players Andriy Yarmolenko, Tomáš Souček and Vladimír Coufal have all reflected on the achievements of their respective nations at UEFA Euro 2020 with pride.
The trio all made a significant impact for their national teams at this summer's tournament, reaching the quarter-final stage before defeat on Saturday left Declan Rice – playing for England – as the last Hammer standing at the Euros.
For Ukraine captain Yarmolenko, that exit came at the hands of Rice and England – the Three Lions proving the dominant side in a 4-0 victory in Rome.
At full-time, however, Yarmolenko, his teammates and manager Andriy Shevchenko soaked up the adulation of the travelling support, who had witnessed their team advance from the group stages of a European Championship finals for the first time in their history. 
Scoring twice – including a 30-yard Goal of the Tournament contender in his team's opening game against the Netherlands – and assisting another two goals over five appearances, Yarmolenko has deservedly earned widespread plaudits in the process.
Speaking to the Ukrainian Football Association, the 31-year-old felt the promptness of Harry Kane's fourth-minute opener for England ultimately left his team with too great a mental deficit to recover.
 
I think that reaching the quarter-finals is a great achievement for our team. That's why I congratulate our fans with such a result

Andriy Yarmolenko

"I think the England team deservedly won," Yarmolenko reflected. "I congratulate them and wish them good luck in the future. 
"We were probably broken by a fast-conceded goal. We had our tactics and strategy for this game, but when you go a goal down in the fourth minute, everything breaks down at once, and you have to rebuild.
"But nothing can break us – we have a great team. We know how and why we are able to play. Despite the defeat, I am proud to be in this team. 
"I think that reaching the quarter-finals is a great achievement for our team. That's why I congratulate our fans with such a result.
"I think we did well at the Euros. Of course, we could have played better in some matches, but in general I am satisfied with the result. We lasted longer in the tournament than teams such as Germany, Portugal... Yes, we lost, but we lost to one of the best teams in the world."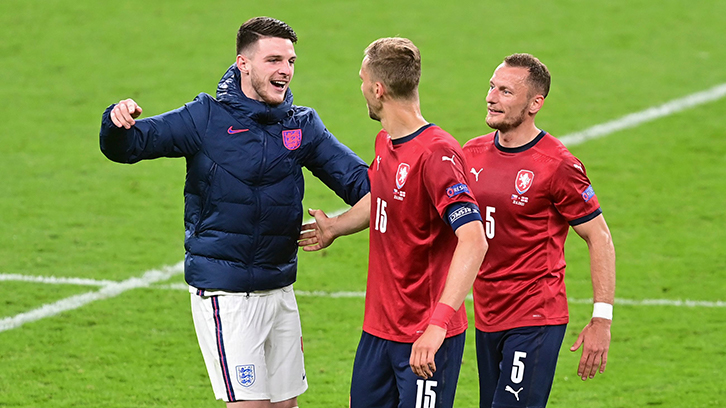 West Ham teammates Souček and Coufal, meanwhile, could consider themselves unfortunate to have also exited the competition at the quarter-final stage after a tense 2-1 defeat to Denmark.
The Hammers both played the full 90 minutes in Baku, and indeed were ever-presents throughout Czech Republic's strong run to the last eight of the competition.
Both players picked up assists in their country's opening 2-0 win over Scotland, with full-back Coufal also assisting what ultimately proved to be Patrik Schick's consolation goal in Saturday's defeat.
After finishing third in Group D, Czech Republic went on to eliminate the Netherlands in the Round of 16, an impressive counter-attacking display yielding a memorable 2-0 victory.
And while both Souček and Coufal were disappointed to have suffered defeat at the quarter-final stage to the Danes, both players took to social media to express their pride at the culmination of their nation's Euro 2020 footballing journey. 
 
I feel disappointed. I am proud of every member of our team. One chapter ends and the other begins again. We have shown great quality and I believe that it will be another motivation for our future. I love to wear the Czech jersey of the national team ?? Thanks for your support? pic.twitter.com/ywVbA3dZpS

— Tomáš Souček (@tomassoucek28) July 4, 2021
After every defeat you have to get up and play again to be a winner next time …very proud of our team and stuff …thank you to everyone for good tournament ?????? pic.twitter.com/bbvp4oXKs8

— Vladimír Coufal (@Coufi5) July 4, 2021

West Ham's Euro 2020 representation continues when Declan Rice and England welcome Denmark to Wembley for a semi-final match which kicks off at 8pm on Wednesday 7 July.