Our look through West Ham United's history through letters takes us to U...
Upson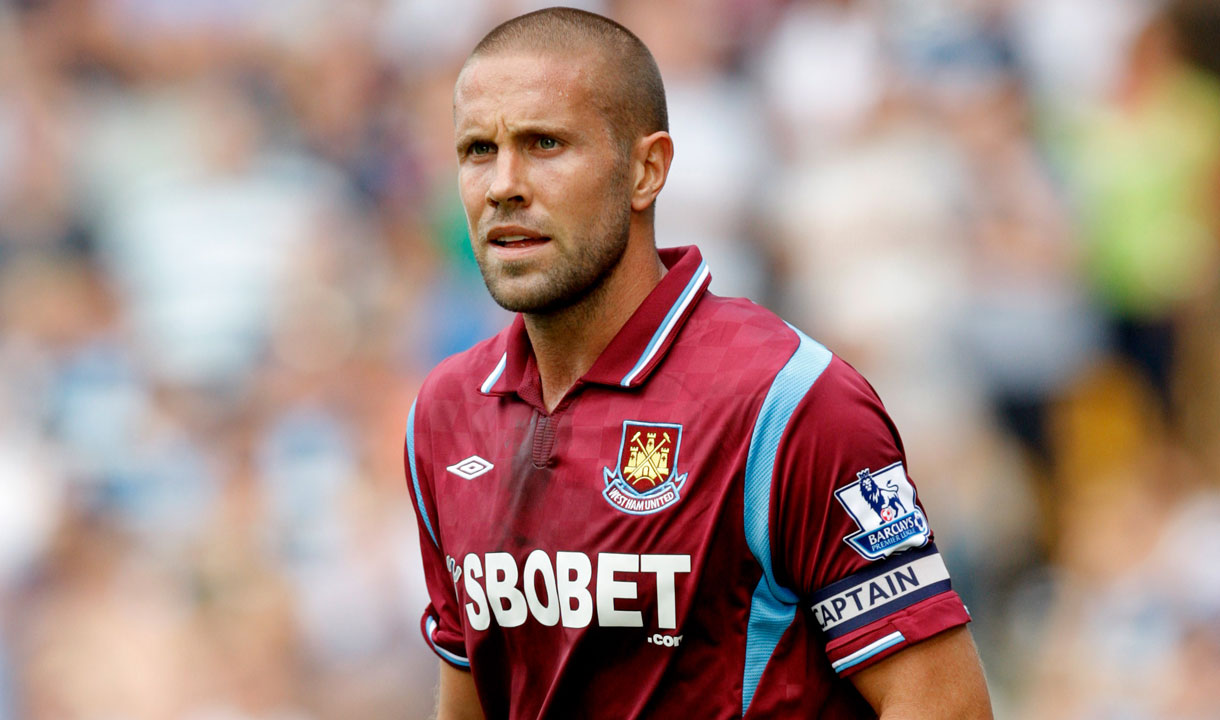 Matthew Upson was the last West Ham United player to wear the No6 shirt before it was retired in memory of the late Bobby Moore in July 2008.
A left-sided centre-back, Upson began his career with Luton Town before signing for Arsenal as a highly-rated teenager in May 1997 for an eye-catching £2million fee.
Upson's opportunities at Highbury were limited and, after making just 57 appearances across five-and-a-half seasons, he joined Birmingham City in 2003. There, he enjoyed regular Premier League football for four years.
In January 2007, with West Ham battling relegation, Alan Curbishley signed Upson for a reported £6million, only for the defender to be injured on his debut, then again in his comeback match, and miss the run-in that concluded with a miraculous escape from relegation.
However, Upson did enjoy a relatively injury-free run over the final four seasons of his career in Claret and Blue, only for it to end in relegation at the end of the 2010/11 campaign.
However, his form in previous seasons was good enough to warrant England recognition and he earned 14 of his 21 senior caps while with the Hammers.
He also scored both of his England goals while a West Ham player, with both coming against Germany – the first in a friendly win in Berlin in November 2008 and the second in the controversial FIFA World Cup Round of 16 defeat in Bloemfontein, South Africa, in June 2010.
After leaving West Ham, Upson spent a season with Stoke City in the Premier League before dropping into the Championship with Brighton & Hove Albion, where he won Player of the Year honours in 2013/14.
Spells with Leicester City and Milton Keynes Dons followed before Upton retired from playing in 2016. He is now a broadcast pundit.
Upton Park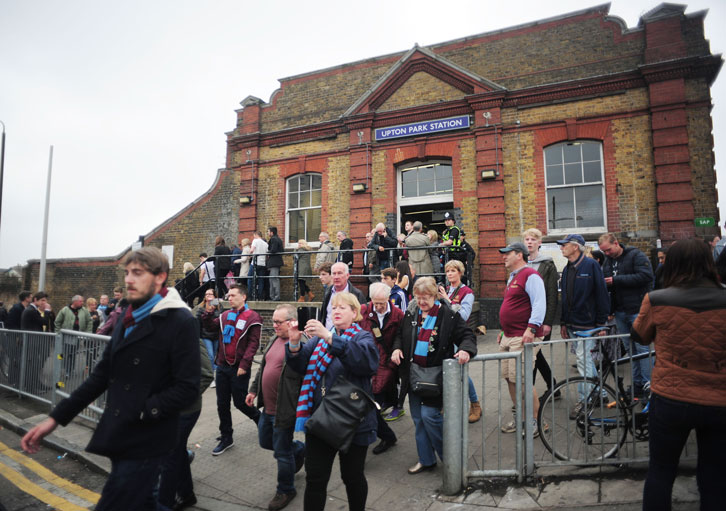 Upton Park is the name many people incorrectly give to West Ham United's former home of 112 years, the Boleyn Ground.
In fact, Upton Park was not the name of the stadium, but of the area in which the Boleyn Ground was situated, and of the London Underground station that served millions of supporters during the Hammers' time being based there.
The term 'Upton Park' first applied to a housing estate situated to the east of West Ham Park that was developed in the 1870s and 1880s. The estate took its name from the adjacent village of Upton with the suffix 'Park' added for marketing reasons.
As a consequence, the area surrounding the station became known as Upton Park rather than the term being limited to the original housing estate.
The estate's developers also paid for a new station to be built which was named after the estate, which opened in 1877, and it was initially served by trains on the London, Tilbury and Southend Railway (LTSR).
The District line service to Upton Park began in 1902, when the line was extended from Whitechapel to Upminster, and the Hammersmith & City (at that time named the Metropolitan line) followed in 1936. LTSR services were withdrawn in 1962, leaving Upton Park to be served solely by Tube trains.
Road-wise, Upton Park's main thoroughfare is the bustling Green Street, which runs from Forest Gate in the north to Barking Road in the south.
The Boleyn Ground was situated at its southern end, on the eastern side close to the junction with Barking Road, on a patch of land that the Club initially rented from the Catholic Church.
The site was also home to Green Street House, where King Henry VIII's second wife Anne Boleyn was rumoured to have lived as a young woman. The red brick building was nicknamed 'Boleyn Castle' due to its design including a turret and the name was later attributed to the football stadium which was developed nearby.
The Boleyn Castle was demolished in 1955 after falling into a state of disrepair, but by then it had appeared on the Club's Official Programme and players' blazer badges.
In 1964, it was added to a special crest on the players' shirts for the FA Cup final, and it appeared again on a similar crest for the European Cup Winners' Cup final the following year.
In 1968, the Boleyn Castle was added to the crest full-time and it remained there for 15 years before being removed in 1983. It was reinstated in 1985 and remained part of the crest in a variety of different designs until 2016, when the crest was replaced by a new, modern design featuring the Club's traditional Thames Ironworks crossed rivet hammers.
Upton Park, and more specifically the junction of Barking Road, Green Street, Boundary Road and Central Park Road, remains home to The Champions (or The World Cup) sculpture, which depicts West Ham's three 1966 FIFA World Cup winners Bobby Moore, Geoff Hurst and Martin Peters, along with Everton's Ray Wilson celebrating and lifting the Jules Rimet Trophy aloft at Wembley.
Now part of the London Borough of Newham, which also houses London Stadium, Upton Park was originally part of the County Boroughs of East Ham and West Ham.
Following the departure of West Ham from the Boleyn Ground in 2016, the site was redeveloped into a new community of nearly 850 homes and other associated facilities named Upton Gardens. In recognition of the site's heritage, the streets on the development have been Shipbuilding Way, Ironworks Way and Thunderer Way (HMS Thunderer was a battleship built at the Thames Ironworks & Shipbuilding Company in 1911), while developer Barratt's on-side office is in Academy House.
Finally, Upton Park FC was a football club based in West Ham Park, but which was unrelated to West Ham United. While they did not enjoy great success in the Football League, Upton Park did represent Great Britain at the 1900 Summer Olympic Games in Paris, France, where they won the Gold medal!
West Ham Park was also the venue for the first ever FA Cup goal, scored by Jarvis Kenrick for Clapham Rovers in a 3-0 victory over Upton Park on 11 November 1871. The club folded in 1911.
Uruguay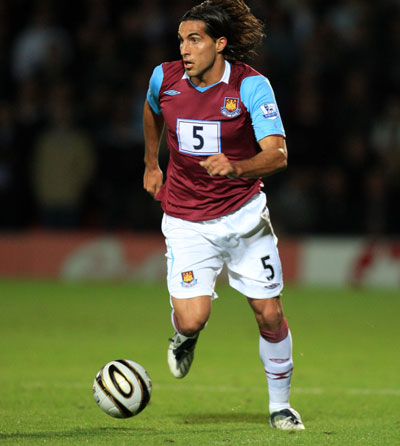 Two Uruguayans have played first-team football for the Hammers – Walter López and Diego Poyet.
López was an attacking left-back in the Arthur Masuaku mould who had already played in Argentina, Uruguay, Spain and Mexico before arriving at the Boleyn Ground in summer 2008, aged 22.
With new manager Gianfranco Zola in charge, López found first-team opportunities hard to come by after making his debut in a League Cup defeat at Watford in September 2008. With Herita Ilunga preferred at left-back, he made five substitute appearances in the Premier League before departing after just one season.
López returned to Uruguay with Cerro before continuing his nomadic career with spells in Italy (twice), Romania, Uruguay (again) and Paraguay (twice) before returning to Italy for a third time in 2016, when he joined Benevento.
After stints with Ternana and Salernitana, now 36, López is playing with Italian Serie C club Triestina, who he joined in February this year.
Poyet was born in the Spanish city of Zaragoza, where his footballer father Gus was playing, in April 1995.
A deep-lying midfielder, Poyet moved to London with his family when Poyet joined Chelsea in 1997, then Tottenham Hotspur in 2001, and he began his own career with Charlton Athletic.
After winning Player of the Year honours with the south London club in 2013/14, despite playing only 23 times, Poyet moved across the River Thames to West Ham.
However, like López before him, he found football hard to come by in Claret and Blue, and made just ten appearances across two-and-a-half seasons, while also being loaned to Huddersfield Town, MK Dons – where he was a teammate of David Martin – and back to Charlton.
Half of his ten appearances, and his finest moment, came in the UEFA Europa League qualifying rounds in the summer of 2015, when he rolled in the winning penalty to complete a shootout win over Birkirkara in Malta.
In early 2017, Poyet's contract was terminated and he joined Argentine club Godoy Cruz. Later the same year, he moved to Cypriot side Pafos, where he made 26 appearances during the 2017/18 season – his last as a professional.
Still just 26, Poyet retired as a professional at the age of 24 and is now on his father's backroom staff at Chilean club Universidad Católica.
West Ham have never taken on a Uruguayan club side, but they have tackled the Uruguayan national team!
The fixture was the Hammers' fifth and final game at the Kirin Cup in Japan. Played in Nagoya on 4 June and striker Dave Swindlehurst scored the Irons' goal in a 1-1 draw.
Despite bring held by West Ham, Uruguay went through to the final, where they were beaten by Brazilian club side Santos.
Uxbridge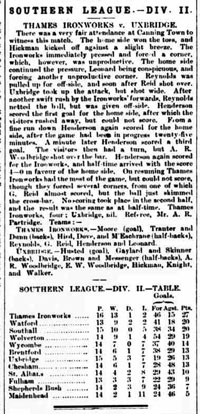 Thames Ironworks FC took on Uxbridge twice in Southern League Division Two during the 1898/99 season.
Founder members of the division in 1894, Uxbridge FC was originally founded 150 years ago in 1871, but folded just three years later. The club was reformed in 1879 and even produced two future England internationals and FA Cup winners – with Wanderers – in brothers Frank and Hubert Heron.
The first meeting with Thames Ironworks, who had joined the Southern League after being crowned London League champions in 1897/98, was played in Uxbridge on 8 October 1898. George Gresham was on target for the Ironworks, but it was the home side who came out on top, winning 2-1 in front of a crowd of 2,000.
Ironworks had better fortune in the return fixture, played at the Memorial Grounds on 18 February 1899. Then, centre-forward Robert Henderson set a Club record by becoming the first player to score four goals in a single game as the east London side ran out 4-0 victors.
Despite that setback, Uxbridge went on to reach the final of the 1898 FA Amateur Cup, where they lost to Middlesbrough at Crystal Palace.
Nicknamed 'The Reds', Uxbridge have since competed in a succession of different non-league divisions over the last 120-plus years and are now members of the Isthmian League South Central Division. They are also four-times winners of the Middlesex Senior Cup.