Reaction
Alan Irvine: It was a brilliant performance from start to finish
Alan Irvine was brimming with pride after watching West Ham United match their biggest-ever Premier League win at London Stadium with a 4-0 thrashing of Wolverhampton Wanderers.
With David Moyes isolating after testing positive for COVID-19 in midweek, the assistant manager took his place in the technical area, while receiving directions and feedback from his fellow Scot via telephone and first-team coaches Stuart Pearce and Paul Nevin.
The unique mode communication clearly worked perfectly as the Irons put together their most-complete performance of the season so far, capped by two goals from Jarrod Bowen, one from substitute Sebastien Haller and an own-goal scored by Wolves striker Raul Jimenez.
Speaking to West Ham TV, Irvine was naturally pleased with the way the players responded to uniquely challenging circumstances to see off a strong Wolves side...
I'm absolutely delighted as it was a brilliant performance from start to finish.
Everything we worked on over the last couple of weeks, not just this last week when David hasn't been around, seemed to work and the lads took onto the pitch, both in possession and out of possession.
We were thrilled with the performance and delighted with the result and we'll probably look back and think maybe we could have got more.
That was against a very good side and we limited Wolves to very few chances on the night. We know how dangerous they are up front.
They have real quality going forward, but our lads did a fabulous job.
We know Jarrod Bowen is capable of scoring goals.
We knew that before he came, but he's had to get used to playing at this level week-in and week-out, which isn't easy.
He's a lad we're delighted with. He's great to work with on a day-to-day basis and he works on his finishing every day and I mean every day and we feel as if he has got a very good future here.
Fabian Balbuena was absolutely fabulous against very good forward players.
Wolves have real quality up front and I don't think he put a foot wrong all day. He was fabulous but this was a whole team thing. Every single player made a great contribution including the ones who came on.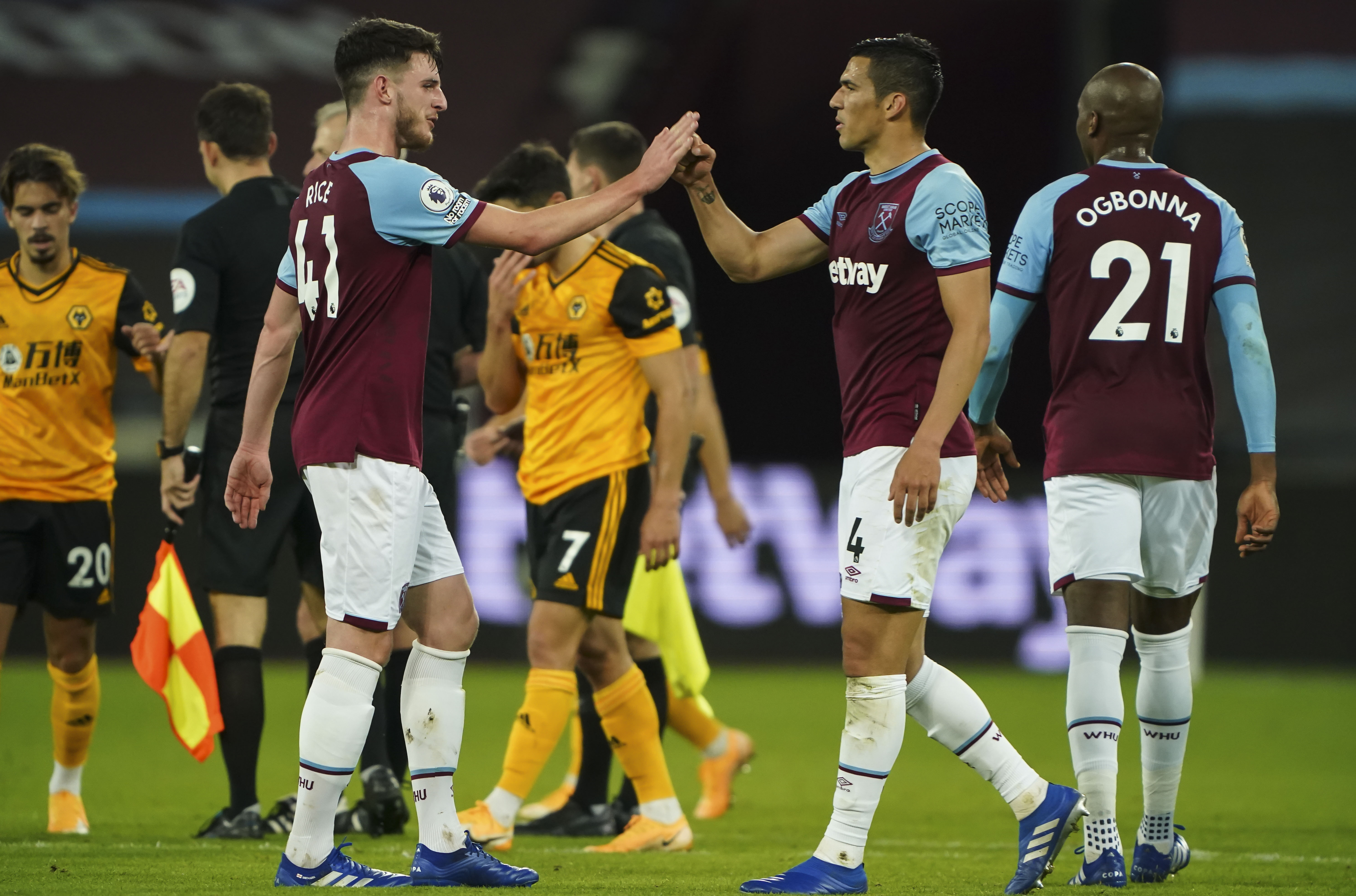 There was a link between David and Pearcy and that got passed on via radio to Paul, who was standing beside me for most of the game.
It seemed to work extremely well. I don't think there was anything that David was saying that didn't get through to me. No doubt he will tell me if that wasn't the case!
It was fine and all the way through we felt it was fairly smooth. Fortunately I've worked with David for many years so I have a good idea about what he wants, but that doesn't mean I was guessing because he has been very much involved all the way through.
I do enjoy being on the touchline and it's great to be the one delivering the messages to the players and on a night like this you can't not enjoy it!
I've been really fortunate. The boys have performed really well in the two games I've taken and I will be taking the next one because of the timings, but hopefully David will be back to take the game at Leicester.