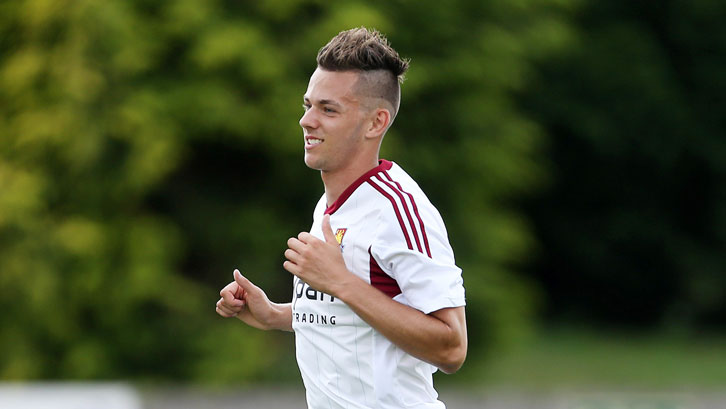 On the eighth anniversary of Dylan Tombides' senior debut for West Ham United, Australian broadcaster and journalist David Davutovic, who got to know Dylan and his family well, tells the young striker's amazing story and pays tribute to a brave young man, and extraordinary talent, whose legacy lives on today...
Eight years ago, on 25 September 2012, a famous and floodlit Upton Park, housing 25,944 boisterous fans, was the scene of a boyhood dream playing out for a talented and determined young Australian footballer.
Attacker Dylan Tombides was 18 years and six months old when he made his senior West Ham debut in a League Cup match against Wigan Athletic.
Impressive as a standalone feat. Extraordinary when factoring in he was in the midst of chemotherapy and had just played his first game in 15 months due to a testicular cancer battle.
West Ham manager Sam Allardyce was concerned about putting Tombides' health at risk and called chief medical officer Dr Richard Weiler in for a meeting several days out at the then Chadwell Heath training base.
"People were asking was he fit to play? I went to chat privately with Sam Allardyce. It was not a chat I'd usually have, one that I won't forget and hope I won't have again," Dr Weiler told Optus Sport.
"I said Dylan is fit and if he figures in your plans, I'd support him playing medically and from a performance point of view. He asked me what the risks were of him playing.
"I said to him that if he thought from performance point of view that Dylan was up to it, it would be a really great thing for him and his family and a fair reward for all his hard work. I left the room and the manager decided to pick him.
"Dylan was in a phase where he'd had lots of rounds of major surgery and chemo. The disease was aggressive. It responded well each time, but kept coming back.
"Each major round of treatment or surgery was a blow and should have been major physically and mentally. I rarely saw any mental chinks in Dylan's armour and on the physical side he worked so hard and refused to accept he was unwell or feeling unwell, when most other people would have preferred to rest.
"The chemotherapy drugs were strong to attack the cancer but also make people feel very unwell. Dylan would always go into the training ground and do whatever he could every day.
"He'd more than earnt the right to be on pitch from a medical and physical viewpoint."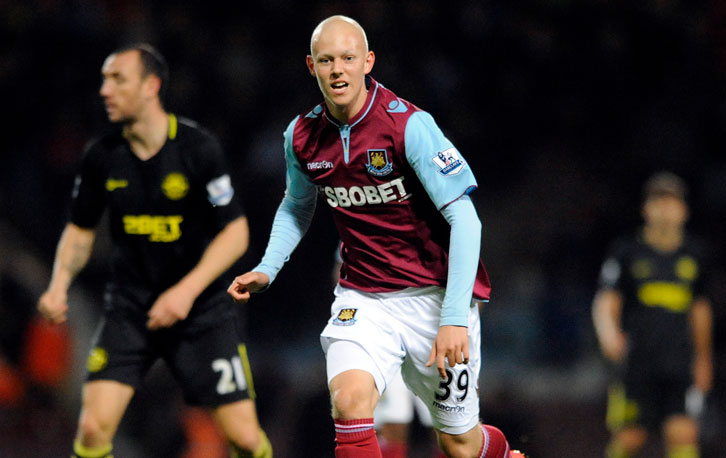 Cancer delayed his Hammers debut by at least a year, and tragically meant that the Boleyn Ground appearance would remain his solitary official senior match for the club.
Tombides was a late substitute for Hammers midfielder Gary O'Neil in the 4-1 loss to Wigan Athletic, but the result was irrelevant.
The occasion said everything about the budding Perth-born star, and presumably played a huge role in West Ham making him just the second player in the club's proud 125-year history to have their shirt retired, along with England's 1966 World Cup captain Sir Bobby Moore.
"I remember Jim (Dylan's dad) being in Iran with Taylor (Dylan's brother) for the Australian Under-17s. I went to Upton Park with Dylan's physio Jon Urwin. We were both immensely proud when he came on," Dylan's mum Tracy Tombides said.
"I remember a young boy behind me asking his mum why the boy that just came and had no hair and his mother said she didn't know. So I turned around and said that the medicine that he was having was making his hair fall out and the mother asked me what medicine it was. I told her chemotherapy."
Allardyce later reflected on one of the youngest players he's handed a debut to.
"He was one of the bravest characters I have ever met. Football was his life and he didn't miss a day's training even when he wasn't fit enough to train because of his treatment," Allardyce said.
"He had an incredible hunger for life and put up such a great fight to try and live and continue to play football."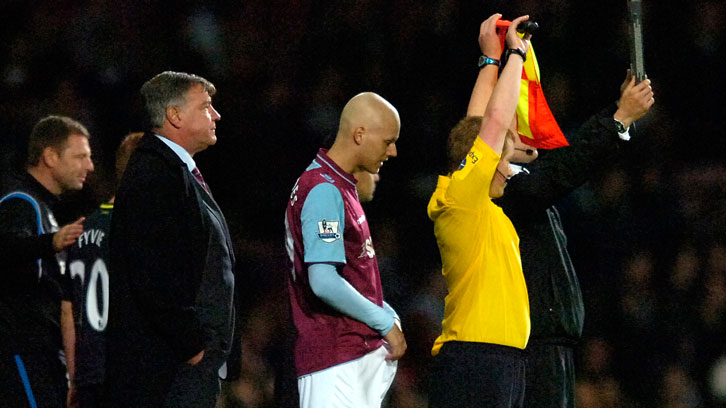 "It meant a lot to Dylan. It meant that he was a professional footballer, not a cancer patient – something that he refused to be defined by or referred to," Tracy said.
"He thought that he would be a cancer patient for a short time and a professional athlete for many years to come.
"Initially Dylan didn't display any emotions at all. He came home from training and said that he'd be involved in the Cup match. I'm sure inside he was beaming, but took in his stride as this is what he'd been gearing up to before cancer hit.
"After the game he was just as matter of fact, as if it was something that he expected to be doing for the rest of his professional life."
'You could see he was a special talent'
Sixteen months earlier, Tombides was on the bench in West Ham's final game of the 2010/11 season against Sunderland, age 17 years and 75 days.
Had Tombides come on against the Black Cats, he would have broken Harry Kewell's record as the youngest Australian to debut in the Premier League and No3 on West Ham's list and the No2 outfield player (Reece Oxford has since broken the record, debuting at 16 years and 236 days in 2015) behind Joe Cole (17 years, 62 days).
Tombides would have beaten famed Academy products Rio Ferdinand (17 years, 179 days), Frank Lampard (17 years, 224 days), Michael Carrick (18 years, 30 days) and Mark Noble (18 years, 97 days) while Declan Rice has since made his debut age 18 years, 127 days.
Tombides' League Cup debut was sandwiched by Glen Johnson (18 years, 151 days) and Jermain Defoe's (18 years, 224 days) Premier League debuts.
Tony Carr coached all the aforementioned products during his 41-year tenure and the legendary Hammers academy coach said Tombides was the real deal.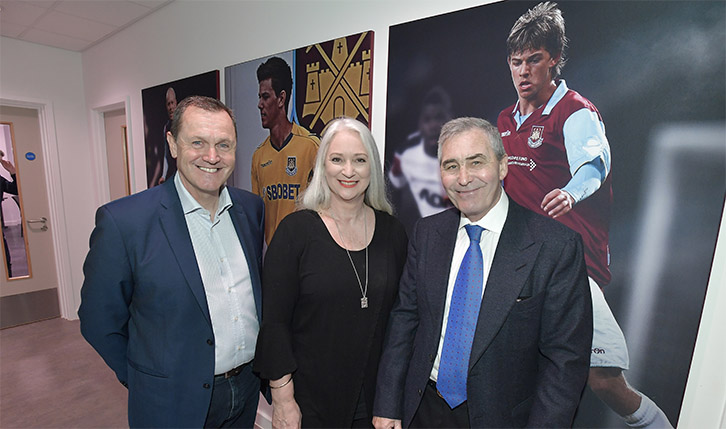 "From the very first time Dylan came to us (age 14), the thing that really shone out was his love and enthusiasm for the game, his desire to get better," Carr said.
"It caught my eye that this young kid from Australia, new to the English game, had settled in so quickly, and very quickly was on a par, if not better than some of the players we had. Not many trialists come in and show immediately they've got potential.
"You could see he was a special talent and could go all the way. He would've been an Australian international, without question. He certainly would've played first team games (at West Ham).
"We might have been talking about an Australian playing in regularly in the Premier League and breaking records. Dylan had the potential to do that. We expected him to score regularly – when chances came, he was very calm and scored regularly."
The world stage
His appearance on the West Ham teamsheet was the ideal prelude to the FIFA Under-17 World Cup, kicking off a month later.
Tombides looked every bit the star, as Australia went pound for pound with Brazilian team featuring Marquinhos (PSG, 47 senior caps) and Emerson (Chelsea) and a Denmark side that included Pierre-Emile Hojbjerg (Tottenham) and Yussuf Poulsen (RB Leipzig).
The Joeys lost in the Round of 16, Tombides finished with one goal (the winner against Ivory Coast), where he pulled out his shinpad with a birthday message for mum.
The Joeys' 2011 World Cup coach Jan Versleijen said Tombides was a special footballer.
"But if you compare, I'd say he was more a type like (Zlatan) Ibrahimovic. The same style, and also a bit in his attitude, in a positive way.
"Tall, technically good, held the ball, left and right-footed, could make runs in behind the defence and came into midfield to setup attacks and make combinations. He was very complete.
"Very self-confident. I will not say arrogant, but positive arrogant. That kind of quality you need to be a striker. He may have failed on three actions, but doesn't matter, the fourth time he'd succeed.
"He had all the characteristics of a striker that was very confident in himself and he showed it on the field. The goal he scored was fantastic – any other player would've shot, but he pulled back the ball with his right and shot with his left.
"He was versatile, could play any position. Nowadays if you look at the style of number nine's (strikers) he would be very good – he wasn't only a scorer, he could link up, dribble. And he was quite tall but also had speed."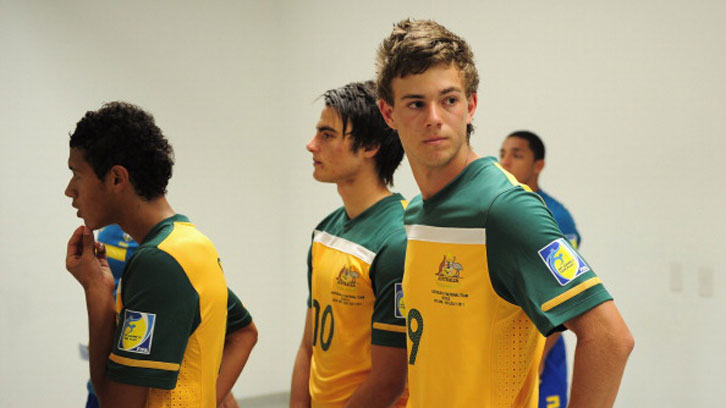 Adelaide United midfielder Stefan Mauk was among the 2011 Joeys that kicked on (Milos Degenek, Nick Ansell, Connor Chapman, Paul Izzo, Jacob Melling and Corey Brown were also in the squad), and recalled the Tombides justifying the hype.
"Everyone was talking about this player ahead of the Under-17 World Cup and how much better can he be than everyone else. He stood out from the rest of us – he was mature, there was a reason he played for West Ham," Mauk said.
"At training he was good. In games he stood out from everyone else. He was by far our best player and best on the field against Ivory Coast and Brazil. It was not a one-man team but he was our main threat.
Versleijen admitted Tombides was challenging at times, but was always focused on bringing out the best in those around him.
"He could be annoying when you had training or games and things didn't work out like he wanted," he said. "It was not disrespectful towards his teammates, it was because he wanted to be the best and he expected the best from others. That's a very positive attitude for a professional footballer.
"I remember that and appreciated about him, and even towards the coach he has an opinion. I don't mind if players have an opinion if they can justify it. You could have a really good chat about football and situations with him. Compared to the others, he was already a few steps ahead.
"He was very mature in his way of playing, had very good skill. Also with his personality he had the right characteristics to be a professional. He could thrive in a professional world."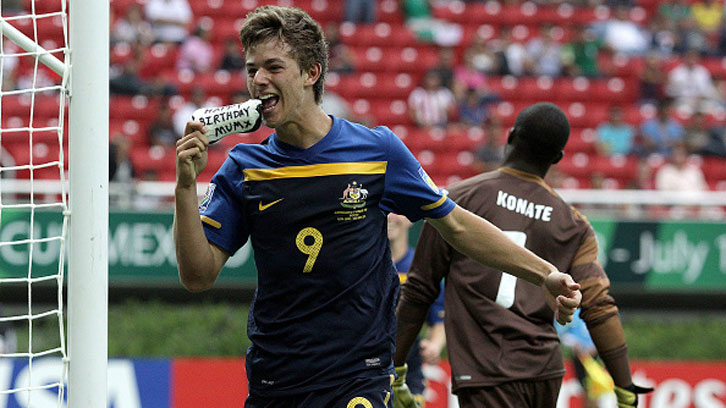 While the Under-17 World Cup is not always foolproof when it comes to projecting careers, the England side included Raheem Sterling, Nathan Redmond and Nathaniel Chalobah, along with Brad Smith who went on to play for the Socceroos.
Sterling made his senior Liverpool debut months later, in March 2012 (17 years and 107 days) and made three substitute appearances that season.
Chalobah debuted in September 2012, for Championship side Watford.
Unbeknown to Tombides, he had played the World Cup with cancer, and he was notified of the diagnosis after the tournament.
Until that stage, Tombides had not contemplated the grave scenario at all, and was focusing on establishing himself in the first-team of a West Ham side that would feature in the Championship and bounced back up under Allardyce.
National team dreams
Internationally, a seductive path was being paved for Australia's generation next.
A Socceroos transition was nigh, as Harry Kewell was among the last of the golden generation exiting the international stage – his last game was June 2012 – before the Ange Postecoglou era began in 2013.
Featuring for the Young Socceroos at the FIFA U20 World Cup in Turkey and the senior 2014 World Cup in Brazil then the 2015 Asian Cup was feasible for Tombides, with Postecoglou eager to blood youngsters at every opportunity.
But his health battles continued and the U20 World Cup setback hit a usually resilient Tombides hard.
"I've never seen him breakdown as much as when the cancer came back to his liver (March 2013). It wasn't the cancer, but the fact that he couldn't do anything for three months," Tracy said. "It meant he couldn't go to the Under 20 World Cup. He was inconsolable.
"To represent his country was something he looked forward to, it meant a lot to Dylan. Pulling on that Aussie shirt was a big deal for him. He saw himself as a leader and he wanted to grow into that role at every opportunity."
Later that year, Tombides was up and about.
Speaking to me in September 2013, after doing his first pre-season in two years, Tombides thought he'd beaten cancer.
"When I was 17 and on the bench in the Premier League against Sunderland, that's all I could think of. I wanted to be there, wanted to play football. Being young you want to break records, you want to be the youngest player out there, etcetera," Tombides said.
"Going through what I have over the past two years, I'm only 19 now, I look at it thinking I'm still young and there's plenty of time. It's a massive mental statement in my head, to say there's no rush. Your time will come – you get over this part now and the rest will fall in line for you.
"I'd always come down to training and tried to train, even going through chemotherapy because I love the game and wanted to be around the club."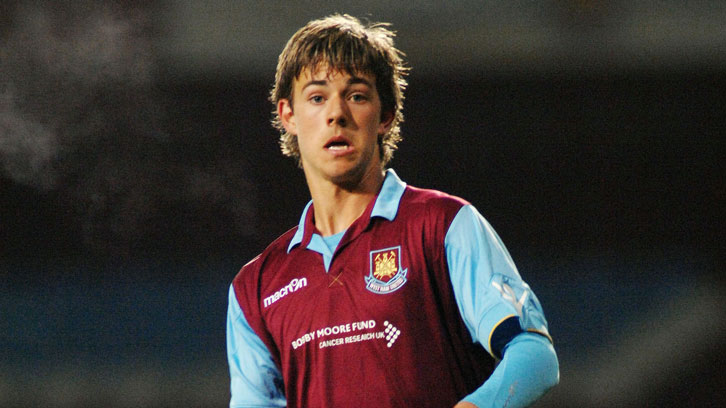 In November he was even more confident, and was open to a loan move.
"Physically I'm back up to where I was at the World Cup in 2011, I'm 83 kg (he was 84kg then) and I dropped right down to 68kg at one point," Tombides said. "I knew I'd get through it eventually, but it made me realise how helpless I was. I needed mum, dad, my brother (Taylor), it wasn't pleasant feeling. I could barely keep my eyes, I hardly moved and getting out of bed was a rarity.
"It's been a stop-start, I had to go through my cancer and operations but now it's just the radio frequency ablation (RFA) that put me out for a couple of days.
"But I don't feel like it's holding me back, and I feel I'm ready to play now and I want to look at things as though nothing has changed, I want to push for the first team. I not as sharp as I was, but I'm not far off."
"We've spoken about (a loan). Andy Carroll's on his way back, Carlton Cole, Mladen Petric, so it may be a case of going out on loan and getting experience."
Tombides, who was self-assured on and off the pitch, expressed disappointment that FFA hadn't kept tabs on him and perhaps given him a chance to join the Socceroos at the London camp in October, the window in which Holger Osieck was sacked ahead of Postecoglou's arrival.
"I went and saw them, they weren't quite aware of where I was at and couldn't believe how I was looking," Tombides said. "Last time they saw me I was a ghost and they didn't know I was back playing, which was upsetting because they were in my backyard and it would've been nice to be a part of it and even to get a run out against Canada.
"It would be nice to get into the Socceroos. I've had a such a detrimental time and the fact that I had such a big reputation would be nice to be out there and get a game for Australia."
The ongoing battle
Tombides' mental strength astounded those closest to him, as the cancer kept rearing its ugly head.
"I remember attending lots of specialist consultations with Dylan and his family… He would not accept or hear any negativity from oncologists. If I ever used words that implied he was a patient he would tell me off," Dr Weiler said. "I've never come across an athlete as determined. He couldn't be held back.
"By maintaining his fitness when it was so challenging was an enormous help to him in fight against disease. One of the main things you can do for quality of life, outcomes when being treated with chemo, is to exercise.
"Specialists we would go and see would say to him you'll be 12 weeks until you are back to playing football, and he'd say screw that, and work so hard to be back in eight or nine weeks. He did this so many times."
His last matches were the Asian Football Confederation Under-22 Championships in January 2014, less than three months before his death.
Then Olyroos captain Curtis Good said Tombides' work ethic in the sweltering Muscat conditions was off the charts.
"My lasting memory of him, we were doing a forward press, I knew he had his illness, he was in remission, his workrate up front was unbelievable," then Olyroos captain Good said.
"It was 35 degrees, he was running putting pressure on guys. As a group we were amazed.
"The only time I spoke to him about it (illness), was him saying that he couldn't work as hard as what he used to. I was shocked because from where I was looking from, he was working hard, going 100 per cent all day every day.
"I hadn't known anyone on personal level who'd passed from cancer, it was quite unreal at the time. It was shocking and sad.
"Undeniable he was a quality player, it was a loss for everyone."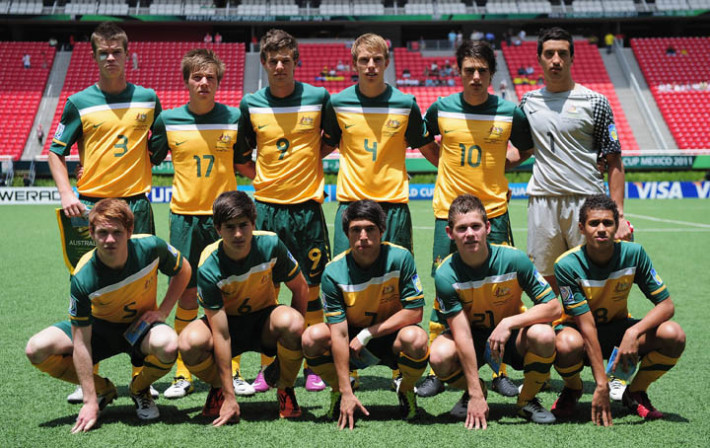 Mauk, who along with Brisbane Roar full-back Brown was the only player to be a teammate of Tombides' at both the 2011 U17 World Cup and AFC tournament in 2014, admitted players were pleasantly surprised by his selection.
"Three years after Mexico (U17 World Cup), many of us were shocked he was coming to Oman. You weren't sure what he was going to be like. He had the same confidence and ability and it was great to play with him again," Mauk said.
"I'm sure he was feeling like shit but he hid that from us and went about it like any other player. Apart from the physical aspects and the hair (loss), you wouldn't have known, he just wanted to be another 19-year-old and he got to live out another brave memory.
"I don't think anyone saw what came shortly after. You thought he was getting better. So sad for him and his family first and foremost, but also for football."
The breakthrough season
As West Ham prepare to travel to Arsenal this weekend, it is worth reflecting on the breakthrough 2010-11 season that set West Ham and Australian pulses racing.
Named academy player of the year after scoring nine goals in 32 games, he excelled in the second half of the season, starring in the FA Youth Cup fourth round loss to eventual champions Manchester United (Paul Pogba and Jesse Lingard featured) in January.
In February, he was named in the first team's extended squad in the FA Cup fifth round clash with Burnley in February.
A subsequent brace in a 3-2 win over Arsenal reserves - with Winston Reid, Zavon Hines and Julian Faubert among the senior players to feature, while with Luis Boa Morte assisted him twice a week out from his 17th birthday – convinced then Hammers boss Avraam Grant he was ready for a senior debut.
"It's difficult with the position we are in but he might even play before the end of the season when we are fighting relegation," Grant said in March 2011.
"I think you can know if you have a good eye, it's not computers. It's our job and his job to maximise his potential. He has the potential to be a good player but the big factor is whether you can maximise that potential."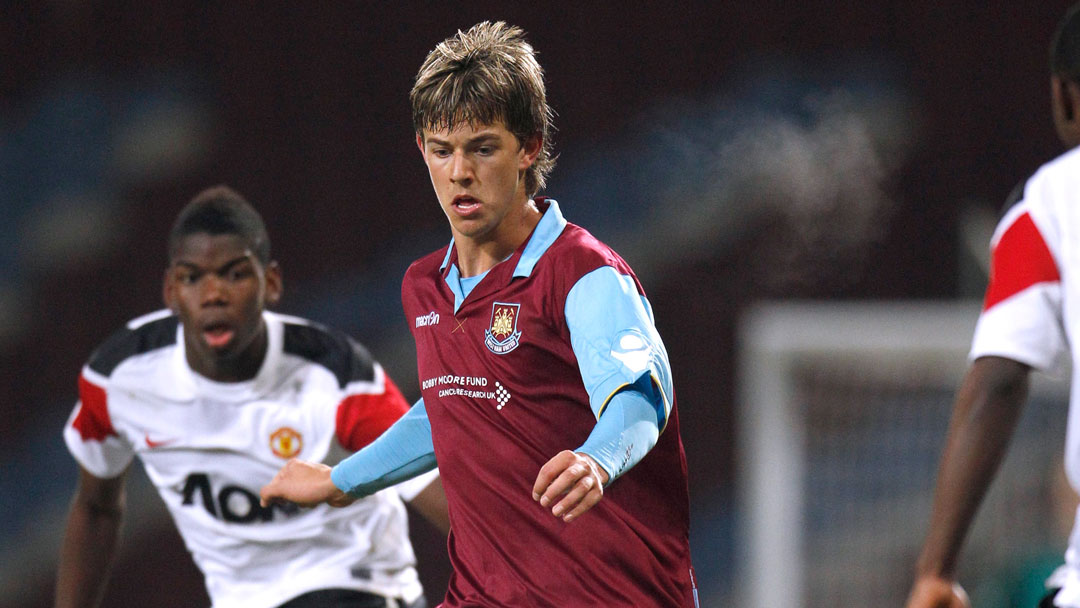 Tombides' steely determination to become a world-class footballer was evident, before cancer was on the radar.
"It was nice to walk out at Upton Park in the FA Youth Cup against Manchester United. Shame we went out, I don't think we deserved to lose," Tombides said upon accepting the award.
"Every game I play is a highlight, but the one I'd probably take is scoring two against Arsenal reserves.
"A lot of hard work has gone in behind the scenes. I spend a lot of time in the gym and when I get home I'm really tired. It's all about going to bed and getting some good sleep and coming back the next morning ready to go.
"I might stay around and do a little extra that could make me a bit quicker or a bit stronger. That's what gets you a little bit further in your life.
"I'm very happy with what I've been gifted, but it's up to me what I do with it. I can't just think 'I've made it'. I've still got a long way to go and to work very hard.
"I'll obviously start with the youth team next season, but as soon as I progress I'll be very happy."
DT38 Foundation
Football was always at the forefront of his mind, to the extent where when he felt discomfort around his testicles, when he was bashing down the selection door training with the first-team, he was worried about becoming an unnecessary distraction for medical staff with the team in the midst of a relegation scrap.
"He first felt pain in April 2011, when West Ham was in a relegation battle and the mood around club really dire. He didn't want to trouble anyone and went to GP instead of West Ham staff. He was told it was just a cyst," Tracy said. "If he had have approached the West Ham medical team, I am almost certain it would have been detected.
"It's tough to discuss, but this is the basis, the driving force behind the DT38 Foundation – educating young men not to rely on GPs, to take destiny into their own hands."
Despite the persistent battles, Tombides' death on April 18, 2014 stunned the football world. His dad and brother Taylor led tributes the next day in an emotional afternoon at the Boleyn Ground, laying a shirt in the centre alongside his No38 shirt.
As fate had it, Socceroos captain Mile Jedinak scored the winning goal for opponents Crystal Palace, and started a strong connection between him and the Tombides'.
"It was coincidence we played that game. There was a lot of emotion," said Jedinak, who led the Socceroos at the Brazil World Cup two months later.
"We won, I scored and I remember afterwards thinking I need to pay respects to the family and wish them all the best and if there was any way I could help out.
"He was a remarkable talent and one that would've excelled in a national team environment. It's not easy (breaking into a Premier league first team) at 21, 22, let alone at 17.
"Dylan's story is never forgotten, the message is out there and particularly with what the Foundation is trying to do and raise awareness for testicular cancer. They don't shy away from what Dylan had to go through."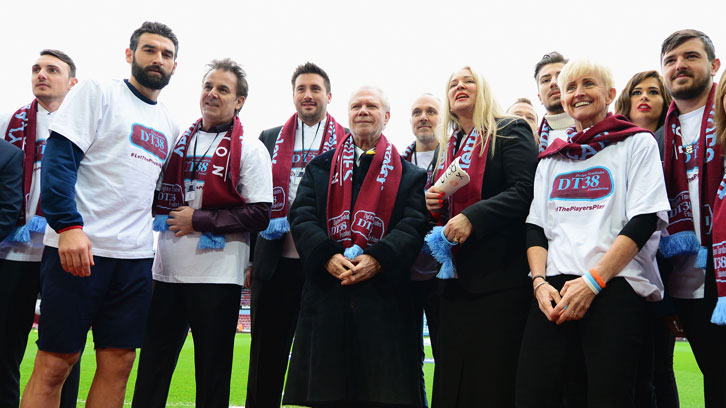 Tracy, the driving force behind DT38, admitted Covid-19 had cast a huge cloud over the Foundation's future.
"DT38 continues to educate and raise awareness around the world via our social media platforms. We have been hit hard by the lack of fundraising opportunities during lockdown and we are hoping to make it through to the sixth anniversary in February," Tracy said. "We need funding and would greatly appreciate any financial support no matter how big or small. We are hoping to resume our events in April 2021."
Tombides never wanted to be defined by cancer or chemotherapy.
"He thought he'd be a patient for a short time, and an athlete for most of his career. He kept going to training and would always say 'I may have cancer now, but it won't define me'," she said.
Sadly, as fate had it, every official game of football Tombides played for West Ham or Australia's youth national team (eight in total for the national teams) he was playing with testicular cancer.
That makes him one of the bravest sportspersons and footballers to have ever graced the professional stage.