With manager David Moyes self-isolating after testing positive for COVID-19 on Tuesday, assistant Alan Irvine took Friday's pre-match press conference via video link at Rush Green.
Irvine revealed he has spoken to the manager, who remains asymptomatic, regularly regarding Sunday's game, looked ahead to facing Wolves and discussed the possibility of new players joining the squad before the transfer window closes on 5 October.
Here is what he had to say...
David Moyes is fine.
I've spoken to him several times this morning. He is not feeling any symptoms and hasn't felt them any way through, so obviously it's a but frustrating for him, but he's fine and he's getting on with other things.
Of course, David will be the manager and everything we do will be run through him, first of all. He will make the decisions on everything that he would make decisions on if he was here.
Nothing has changed as far as that has concerned.
Wolves have had some players leave and some players join, but I don't expect it to unsettle them for sure.
They've got a lot of very good players and looking at their performances in the Premier League games so far, they have shown they'll be a very good team again this year.
From our point of view, we didn't win the game or get a point at Arsenal last year, but there were a lot of pleasing things, as there have been in the Carabao Cup games as well.
We were disappointed with how we played in the game against Newcastle, but we're happy with how we've played since then.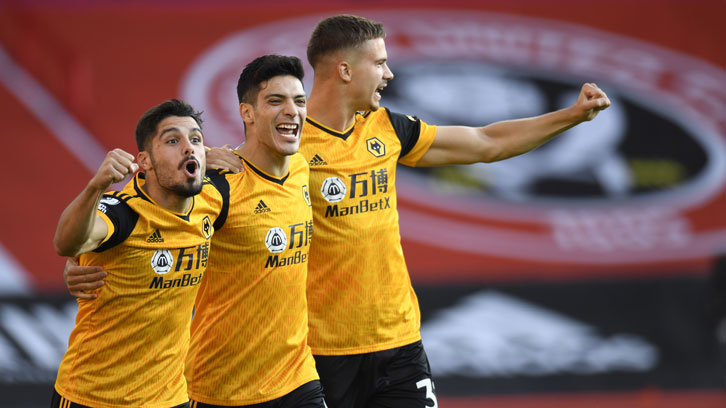 Wolves is another huge game.
Obviously, every team wants to get some points on the board as quickly as possible. We're disappointed that we haven't got any in the previous two games. We felt we should have got something out of the Arsenal game.
On the other hand, we were disappointed with our performance in the Newcastle game, so we need a good performance against a what will be a very good team and we have to try and get some points on the board as soon as possible.
The fixture list hasn't been kind in the way it's come out for us at the beginning and we probably all knew that from the moment we saw it.
We have to play everybody through the season, so what would be regarded as a kinder run of fixtures at another point of the season is obviously going to come.
We need to get points wherever we can. The thing about this league is that you're never quite sure where you'll get your points from.
If you looked at our games post-lockdown, I don't think many people would have had us getting points against Chelsea, and of course that was a really important game for us.
From a coach's point of view, you work with the players that you've got so, with the group we have got, we have to do the best you can with them.
If we get new players in, we'll have to find out very quickly about them and find the best way of working with them as individuals and in the group.
Until such time as we get new players, we just carry on with the job as we are trying to do at the moment.
If we get new ones in, then hopefully they'll be new ones who prove to be good signings in the long term and we find them good players to work with.
If we don't get any new players, we are probably a bit light. Like probably every other club, we would have come into this transfer window thinking 'We need to get some players'.
I don't think there is a manager at any club who thinks he has got exactly what he wants, so clearly we are looking at ways we could improve the squad, but we can only do it if the right players are available at the right prices
If we end up being unable to sign those players, I don't think it would be wise to sign players who didn't fit or make the squad more unbalanced.
Everyone [apart from the three individuals self-isolating] has been tested for COVID-19 again [since Tuesday's game] and everybody is clear, which has put everybody's mind at rest, which is really good.
The Premier League are doing everything they can and clubs doing everything they can as well and that's put everybody's mind at rest.
The priority was restarting last season and a lot of people were very nervous about how things would go, but players and staff all feel everything has been done that can be done.
We see what's happening outside of football and I suppose it's inevitable that some of it would spread into football as well.
We're in a very fortunate position in that we get tested regularly and we get well looked after and we're able to avoid circumstances that a lot of other people can't avoid, so we're still in a very fortunate position.