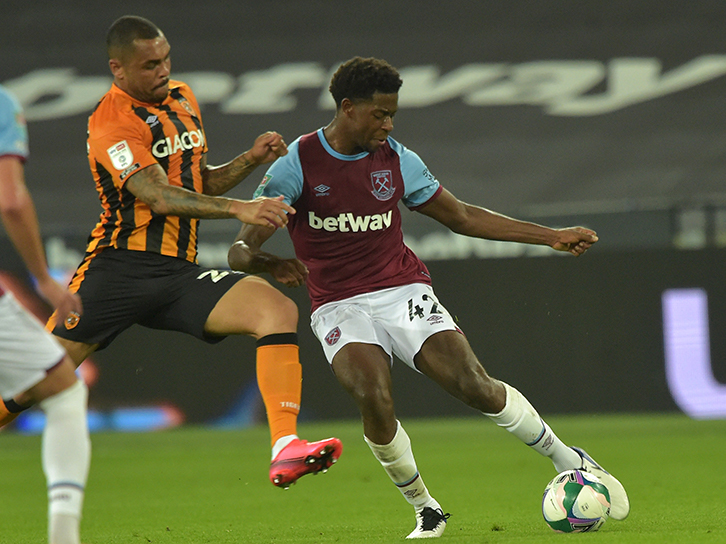 For 19-year-old Ajibola Alese, Tuesday evening was the culmination of over a decade's graft, dedication and drive.
Having joined the Academy of Football in the Under-8s age group, the defender – impressive throughout his time at Chadwell Heath – made his West Ham United debut, playing the full 90 minutes of the Irons' 5-1 win over Hull City at London Stadium.
The centre-back was impressive on his maiden West Ham appearance, completing two tackles, two clearances and three interceptions, while also winning three out of four ground duels, up against the League One side.
Having spent last campaign on loan at Accrington Stanley, the season after winning the Dylan Tombides Award, England youth international Alese was delighted to make the next step in his fledgling – but hugely promising – footballing career.
He told the West Ham United supporters: "Thank you for your kind messages about the game on Tuesday.
"I've been at the Club since the age of eight or so, and it's always been a dream to play for West Ham United. This is what I've been working towards for the whole of my career – a lot of hard work went into Tuesday night.
"This is definitely my biggest achievement so far. Now I can say I've played for West Ham – and no one can take that away from me. It's the first thing on my list of achievements now!
"Obviously, I want to work just as hard moving forwards, and build on it."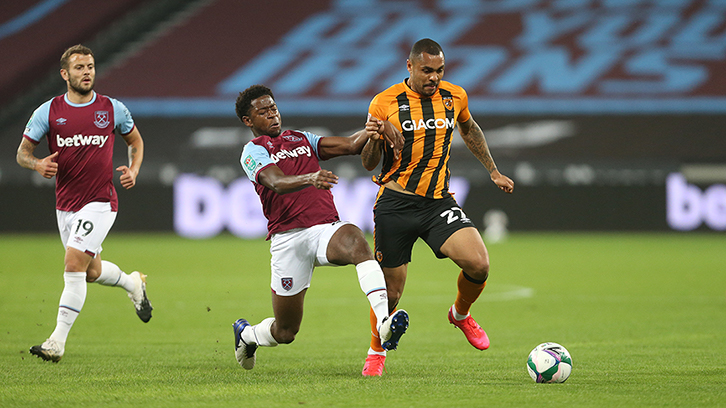 The centre-back's first competitive match in Claret and Blue arrived in tandem with the full West Ham United debut of 18-year-old full-back Harrison Ashby, who was later replaced by fellow Academy product and debutant Emmanuel Longelo.
That the match finished with three of the back four hailing from the hallways of Chadwell Heath – completed by experienced internationals in Republic of Ireland goalkeeper Darren Randolph and Paraguay captain Fabian Balbuena – speaks volumes of manager David Moyes' and the Club's dedication to furthering its youth.
Alese explained: "It one hundred per cent gives us a lot of confidence that the manager is putting his faith in Academy players, because he could have easily played more senior players with Premier League experience.
"For him to put some of the youngsters in like me, Manny and Harrison… just being on the bench the week before shows that he has a lot of faith in us and he's not afraid to put us in when needed. Obviously, our performances then will hopefully make him trust us and be happy to play us more.
"Throughout the game Darren was speaking to me. At half-time, he came up to me and said: 'you're doing well, just keep doing the same thing.' 
"Fabian is very experienced and was just telling me when I had time on the ball, telling me when to drop, when to hold. Just in general play, that constant communication helped.
"As long as the manager has trust in me, I want to play in as many games as possible. That is the goal. I don't just want to play one cup game and never feature again – whether it be in the cup or the league, I want to play as many games as possible for West Ham. That is my goal."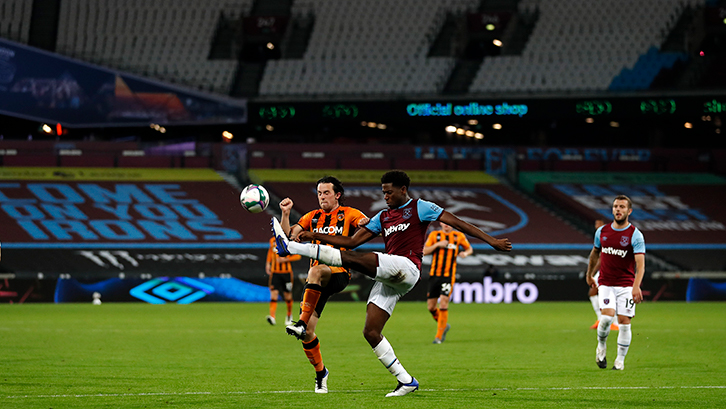 While the behind-closed-doors nature of ongoing matches prevented Alese's family from attending London Stadium on Tuesday to witness his big night, the 19-year-old was keen to express his gratitude to those whose support has taken him thus far.
He said: "First and foremost I'd have to say thank you to my family: my Mum and Dad for letting me play when I was younger, taking me to matches on Sundays, paying the fees, paying for the kits, driving me up and down….
"Thank you to my sisters as well, for always encouraging me, always being there for me and always helping me out. I'm the youngest of three, so they had to look after me at times and almost bring me up when I was younger.
"There are too many coaches at West Ham I'm grateful towards to name. All the coaches I've had since I've been here with the Under-8s have played a massive part in making me the player I am now, so I thank all of them."