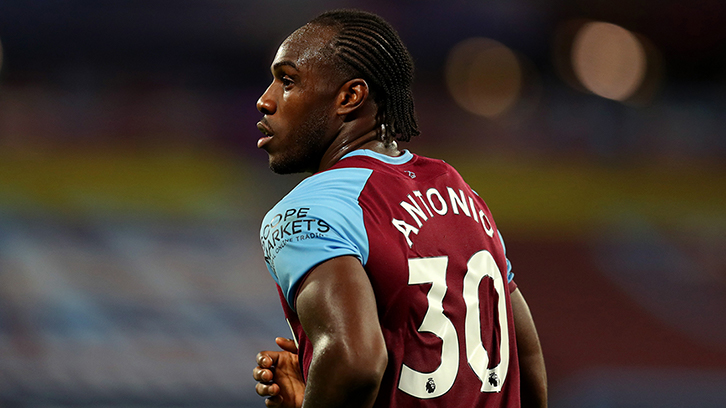 Few footballers have characteristics quite like those of Michail Antonio – but then, few footballers have experienced a journey to the top of English football quite like that of Michail Antonio.
For the Wandsworth-born forward, now a 30-year-old and a modern West Ham United fans' favourite, his path could have turned out very differently from an early age.
"Spurs saw me at school to be fair," Antonio recalled. "There were a couple of players at my school who were quality. 
"Spurs came down to one of our games and they scouted me, but obviously with them being in North London and me being in the South-West, my Mum said education would have to come first because the travel was too much.
"She said there was no guarantee I'd become a footballer, but I could guarantee myself an education. It was a flat no – I was devastated! But what my Mum said was right."
Instead, Antonio received his footballing – as well as his curricular – instruction closer to home, plying his formative teenage years with Tooting & Mitcham Juniors.
While the teenager's talents attracted overtures from much larger academies, particularly when he made the successful step into non-league football with Tooting & Mitcham United, Antonio's focus remained on developing at home.
 
The only thing I did was literally go straight into games. I learned my trade by playing games

Michail Antonio

It was only when the striker joined Championship club Reading as an 18-year-old that his professional pathway resumed a more traditional course up the footballing ladder – albeit one which encompassed spells, via the loan system, at almost every level of English football.
But while Antonio might have risen earlier in prominence in his career, the No30 feels his path was perfect for developing the style of football he wanted to play.
"It could have been negative for me going into a youth system," he reasoned. "There are so many players who are in the system, but it can be as hard in it as the way I rose up it. 
"You've got so many players trying to work their way towards a contract for only a few of them to get it. That's why I feel it's difficult. 
"I didn't really train much because I went straight into a pro contract, went back on loan to Tooting & Mitcham for three months, went back to Reading, played one reserve game, then went on loan to Cheltenham in League One. The only thing I did was literally go straight into games. I learned my trade by playing games."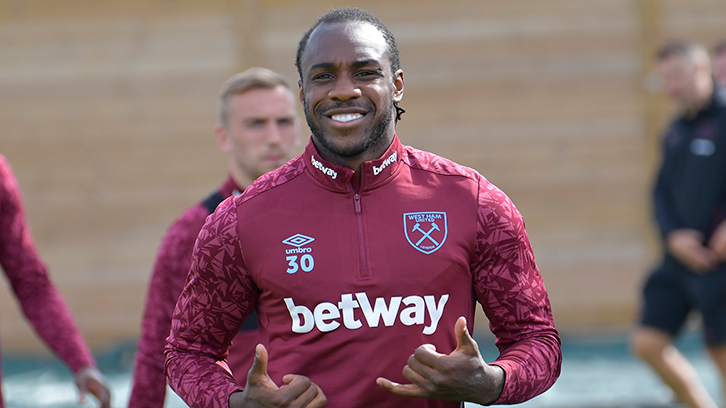 The same could have been said for West Ham United's No30's transition into a clinical striker; a sudden change in his role after the Premier League restart, followed by the dividends pouring forwards.
Eight goals in seven games leading the line in July – including becoming the first ever Hammer to score four times in a single Premier League match – saw him not only fire his team to safety, but also claim the Premier League Player of the Month award.
Antonio's sheer strength of will to be the best he can be, regardless of his new positional surroundings, shone through.
"I've always got a strong mentality," Antonio explained. "Whenever I play or whatever team I go to play against, I always say to myself 'I'm one of the best players here' because I need to believe that for me to go out there and do what I can. 
"For me to compete with the players I've got around me, I need to believe I'm as good as them, if not better.
"It's always been there. When I was younger, in training I would go to the manager to ask the manager what I needed to learn to be better. On the pitch, I go 'there's nothing I need to learn to be better.' 
"I get the ball, I'm going to do this, I'm going to do that - I make decisions like that. It's just that self-belief, knowing I'm going to beat my man – and it works."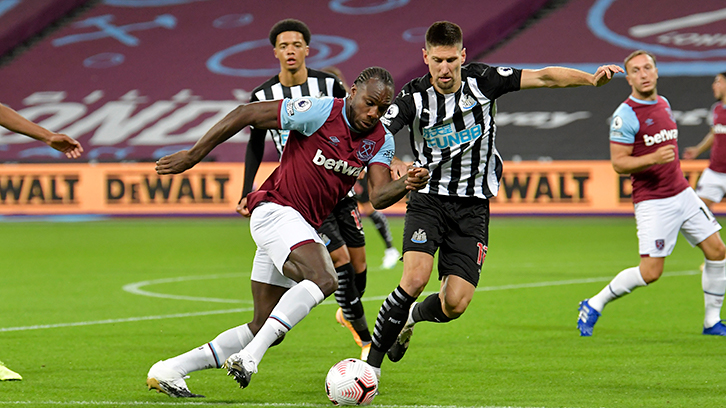 West Ham United could do with further channelling that self-belief this weekend, as they seek to bounce back from defeat to Newcastle United in the Premier League.
The Irons travel to Arsenal's Emirates Stadium on Saturday evening, a ground where they dominated proceedings last season and had much the better of the chances, only to slip to an unfortunate late defeat.
 
We can't concentrate on what happened last year because it's gone now. We just need to concentrate on going into the future

Michail Antonio

But with Antonio's tendency to make a name for himself on the most important of occasions, there's every chance the No30 could rekindle his golden touch in front of goal and spark West Ham's 2020/21 Premier League season.
"I really am enjoying it [playing as a striker] and I've been getting goals there," Antonio reflected.
"I did struggle in the beginning because I was used to getting the ball out wide, and having the space to get at people. Now, I'm playing with my back to goal so it makes it more difficult, but I've adjusted and I'm used to it now.
"Last season's goals were kind of just something that happened! Hopefully I can carry it on to this season.
"We can't concentrate on what happened last year because it's gone now. We just need to concentrate on going into the future and what we're going to do about this year. Our problem isn't playing the top six teams, it's playing the teams who are supposed to be around us, the so-called 'teams we should beat'." 
"When you are underdogs, you've got nothing to lose – everyone believes the big boys are going to win. When it could go either way, it's more pressure, but as professional footballers we need to deal with it.
"You've got to aim as high as you can."
It's been a long road to east London those early days in Wandsworth – but it is in north London on Saturday where Antonio may just showcase the peak of his powers with West Ham United.
He surmised: "Everything happens for a reason.
"The path I had is exactly why I got to where I am now. I could have done something different and I might not be in the situation I am now, so I'm quite happy with my career. 
"I wouldn't change a thing."