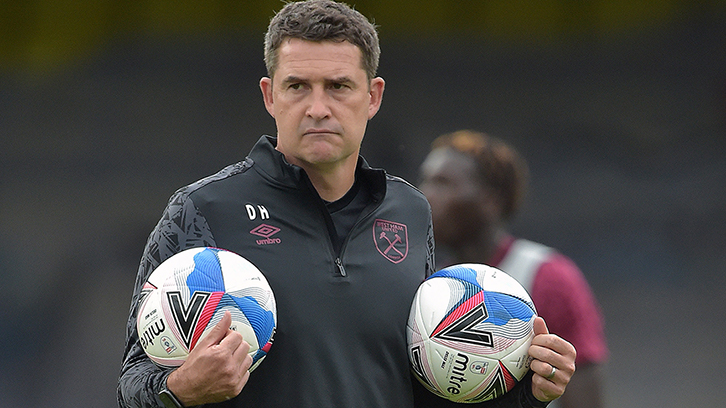 Dmitri Halajko was in ambivalent mood after his first-ever Premier League 2 loss as West Ham United Under-23s lead coach on Monday afternoon.
Having gone the season unbeaten on the way to winning last season's Division 2 title, the Hammers faced the toughest possible test on the opening day of 2020/21: a trip to the home of Division 1 champions Chelsea, also unbeaten last year.
That Halajko's side came away full value for a draw, and arguably a win, at Kingsmeadow was testament to the collective work rate and quality in their performance.
As it was, with West Ham having missed a number of presentable opportunities throughout the 90 minutes, Dion Rankine's 76th-minute finish was enough to win Chelsea the three points on the day.
Halajko reflected: "I think we were confident we could compete in Division 1 before the game, but this reaffirms that this is the level we're at – and these are the type of games we want to play in. 
"It was a tough game and a really good, high level game. The momentum was always going to swing; we'd both have our periods of play, and we would have to capitalise on it when we had ours. 
"Those games are always really tight and there are fine margins in them. Those are the games our lads need to play in, because those are the games our lads learn the most from. The margins are so fine that any mistake or great bit of play could be the deciding factor. 
"That's why we want to be in this league and play in games like this. We showed that we can compete at this level and that it's the kind of level we should be playing at."
Looking past the result, Halajko saw plenty of encouraging signs for the season ahead, as his side stayed true to the attacking and positive principles which yielded their success in the second tier.
 
All in all, we've come up against last year's champions, taken them all the way and shown them we've got as much as them

Dimitri Halajko

He explained: "I think it was a performance that we could be happy with, but a result we're disappointed with. We certainly had enough chances to score, without a shadow of a doubt. 
"I thought we were the better team in the first half and deserved to go into the break ahead, and in the second half they had a spell where they were the better team. After they scored, it was all us, and we were pushing, pushing, pushing for an equaliser. How we didn't quite find one was either wasteful or unlucky, depending on which way you look at it. 
"In terms of the result, I thought we deserved at least a point out of it, if not more. In terms of the performance, we're really happy with 90 per cent of it, apart from being wasteful in the final third and a few little details we can tidy up. 
"All in all, we've come up against last year's champions, taken them all the way and shown them we've got as much as them. We've taken the game to them and just come up a tiny bit short today."
One player who had a particularly outstanding 90 minutes at Kingsmeadow was West Ham goalkeeper Joseph Anang.
The England U20 international was in excellent form against Southend United in the EFL Trophy last week, and built on that display with a number of fine stops against Chelsea, the best of the bunch being a remarkable reflex save to turn Tino Livramento's curling effort onto the post.
"Joe's brilliant in so many ways," Halajko observed. "He's brilliant as a character, first and foremost. His personality breeds confidence and happiness. 
"Then, his distribution is excellent – he builds and sets up our attacks – and his shot-stopping… there were times today we needed him, and you always felt he was going to produce a save. 
"He also had a big moment with a penalty save against Southend when he came up trumps. He's a goalkeeper you can always rely on, and also a young man you love having around the group."