West Ham United manager David Moyes spoke to members of the assembled media over video conference on Friday afternoon, as he and his side prepare to host Newcastle United in their 2020/21 Premier League season opener at London Stadium on Saturday evening. 
In a wide-ranging pre-match press conference, the Hammers manager discussed the Premier League's commitment to No Room For Racism, his intentions for the new season, and the influence of the likes of Declan Rice and Jarrod Bowen...
 
We will take a knee for No Room For Racism
Of course we will. 
We're in solidarity with all everybody who's involved in it. We don't think racism is something which will just go away – we want action towards it. We want to see that everybody gets the same treatment and treated the same way. 
I think the more we can continue with No Room For Racism, the more it'll be challenged at the top end of governments all throughout the world.
 
I want to make strides forward this season
I think we've all taken a little bit of a knock from the COVID-19 situation – we certainly have – so because of that, it makes bringing players in difficult. 
We're trying to get good players. We're trying to bring in players we think will improve the squad. We're not just going to pick willy-nilly, I want to try and pick the ones which I want. 
This season we want to continue to progress, make steps forward, add more consistency and I think just building – trying to build and move on. 
I think West Ham's got an incredible chance for progress to be made. 
I actually think, from coming back in January, we've already made great improvements. It took us a few weeks to get going with difficult games, but certainly the run-in to the end of the season was very good and we're hoping those standards continue.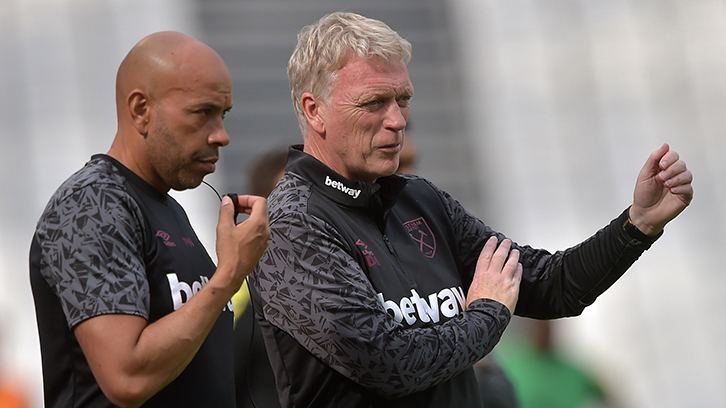 Long may the goals continue
We used a strike partnership a few times last season. Certainly it was done on a couple of occasions before I came in, like at Southampton, and we had it in another game against Southampton as well where we got some joy. 
It was only probably through [Sebastien Haller's] injury that we changed it around a little bit, but that's what happens in football quite often – you get an injury, you stumble upon something and it works. 
When we lost Seb for the majority of the last nine games after we came back from lockdown, the players found a way and Michail Antonio found a great way of getting us goals. Long may that continue.
 
Declan Rice is captain material
It was always the plan that there was no intention to lose Declan Rice. We've had no bids and no enquiries.
There seems to be an awful lot of speculation around it, but I can only tell you what I know: he's a big player for us. He's so important, a big part of the squad, and he's growing into it. 
He's been captain of West Ham already and he's learning a lot about leadership from Mark Noble, so I hope in the future we'll have an incredibly talented footballer who's got good leadership skills and is motivated to be the captain of West Ham.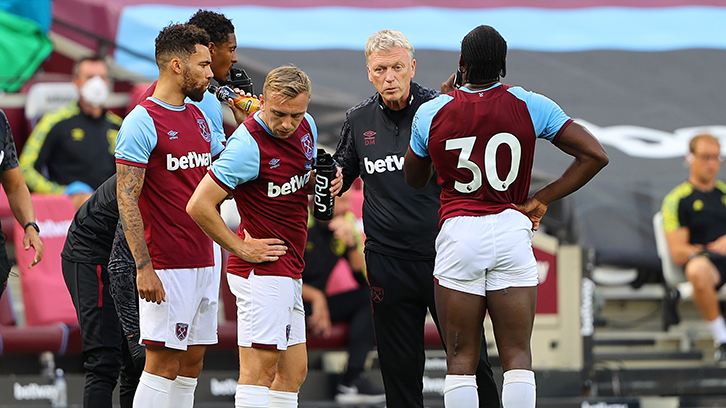 I enjoy working with Jarrod Bowen
Jarrod Bowen coming out of the Championship was always a gamble. I've had loads of boys over my time that I've brought in from the Championship, and most of them take a little time to settle – they don't always hit the ground running. We needed Jarrod to hit the ground running from January, and he did.
If you look at his goalscoring record over the years at Hull, he was always getting around 15 goals every season, and always scoring goals. He made a few, but we want him to add to his goals count in the Premier League.
With his enthusiasm, his speed and his energy, he's been great around the Club. He's been a really terrific signing for us and I hope I can get more out of him because he's hungry, he wants to improve, and he has no ego. For many reasons, I really enjoy working with him.
 
We want to get off to a good start against Newcastle
We would probably argue we were one of the in-form teams at the end of last season. 
I'm looking to do well. I'm looking to finish strong, so I'm looking to start well, and if we can get a good start that'd be great. 
The fixture list we've been given at West Ham has a really difficult start. When I came back in I had an incredibly difficult start, and it wasn't easy winning the games, but we did go on and beat Chelsea, we had a good draw at Manchester United, and I thought we played very well and were unlucky to get something from the game at Anfield. 
We'll try and go into the games and win them this time. We'll set ourselves out to try and make that happen, as we did before, but I'd agree that we have a very difficult opening bout of fixtures.
The couple of years I've been here our start has meant that we've had to do really well [at the end of the season], and the position we took on when we took over, to finish and get out of trouble was incredible, and the way the players turned it around. 
We're in a different mindset now – we want to be looking to try and finish much higher up the table. That's our intention.