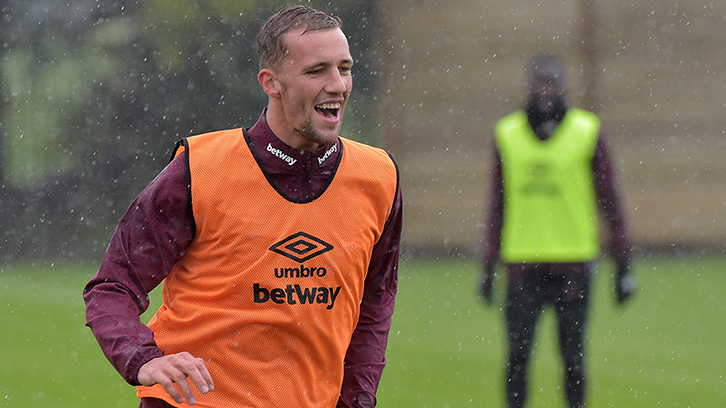 If there is one salient quality which sets the reigning Czech Footballer of the Year apart, it is his desire.
No elite athlete reaches the pinnacle of their game without it and yet the extent to Tomáš Souček yearns to cover every blade of grass in pursuit of positive results for his team cannot be understated.
"Lots of people said that it would be hard [in the Premier League], but I did not think so," he reflected, discussing the initial doubts his frame could handle the division's physicality.
"I believe that my strength comes from inside me. When my body is strong inside, and I am ready to fight on the pitch and in my head, it is not important how I look.
"Even when I was younger, I told myself I wanted to cover every square of the pitch. I wanted to help my guys in every situation."
The 25-year-old is tall at six foot four inches, athletic in the supreme distances he covers – the 13.1km Souček covered in his first away game was a West Ham player's highest total in an individual match for six years – and competitive for every loose ball, aerial or otherwise.
But alongside his on-the-field contributions lies a modest, calm and affable presence – a hugely popular character, whose diligent demeanour has been welcomed by fellow players and supporters alike since making the switch to east London.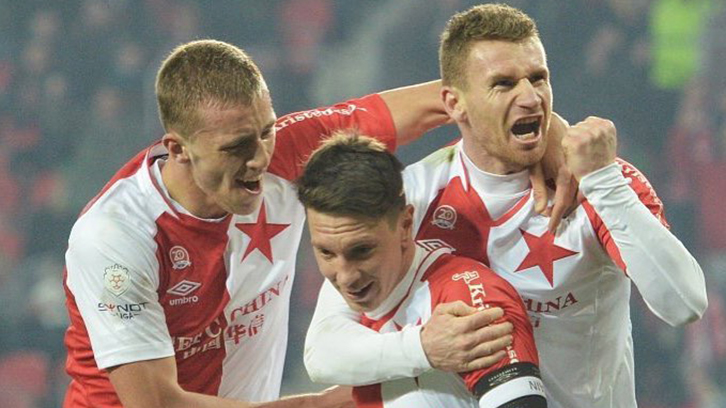 Born in the small town of Havlíčkův Brod to parents Frantisek and Iva, Souček's career ultimately took flight at Slavia Prague – but he is now soaring to new heights in the Premier League.
It is just reward for Souček and his family, that same desire showing through in every word of his story.
Souček recalled: "My journey was very hard. I loved football and I played in a small city of around 10,000 people. My whole family was a sporting family.
"My big inspiration was my family, because my dad took me to my first football training because he was a coach. My mother played handball and my aunt played football, too. I played football from my very early childhood.
"When I was ten, I went to a training camp and there was a coach of Slavia Prague there who picked me to join – but they were 120km from my home. 
"It was hard for my family. For the next four or five years, we went to Prague by car. Initially it was twice a week, but then it was five times a week. It was very hard for my family because they worked as well. They had to ask their work if they could go, and they had to then spend extra time at work [as a result].
"The big change came when I was around 15 and I lived with my team-mates at college. We went only went home at the weekend. It was better, as my parents could stay at home.
"When I started to play in the Czech league, and now while I am here, I want to show them that I am very happy with what they did for me. I want to do the best that I can for them. 
"They hope that I am happy being a footballer and they are happy that I am here now. They are the best support I could have."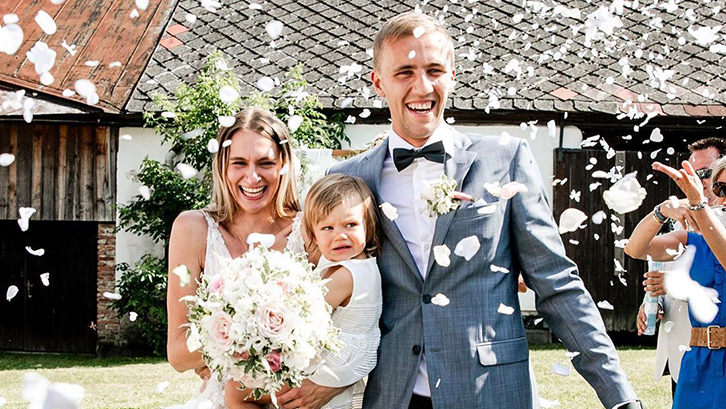 Family clearly plays a key role for the Czech Republic international, who married girlfriend Natalia prior to the beginning of pre-season in August.
Juxtaposed with his seamless adaptation to east London life, the box-to-box midfielder clearly enjoys a sense of belonging – one which has seen West Ham United supporters take to him into their hearts almost immediately.
"I settled in very quickly," he recalled. "I came maybe two or three days before the end of the transfer window and played my first game two or three days later.
"Very soon after, it was lockdown. It was a bit strange because my wife and I have a two-year-old daughter. It was hard for us – but we cannot say anything because it was a hard time for everyone. 
"We wanted to enjoy time with each other and FaceTime with our grandparents and close family. We wanted to show them our daughter and how she was growing. But it was hard – we came from Prague to a new city and, immediately, it was lockdown."
Ever pragmatic, and under the demands an intense remote fitness programme, Souček and his young family took the opportunity to become better acquainted with their local area - and supporters. 
 
I told my agent that my dream was England. When I was young I watched the Premier League and the Champions League with my father, and I told him that I wanted to go to England and show my maximum

Tomáš Souček

"We trained together because my wife likes running too. We went to Hackney Marshes, where there are 50 pitches in one place. It was incredible to me.
"I took a ball and some cones and I did individual training. Sometimes my wife would give me the ball and she helped me enjoy it. I enjoyed training with my daughter and her. It was a nice place, especially with the weather in March and April. 
"Sometimes there were people who would wave to me, and others would cross their arms in front of their chest. We had to keep a two-metre distance, so they did not come up to me, but they were very friendly.
"After lockdown, I felt that I prepared very well and the team took me and helped me to settle in, so I am happy here."
Souček's newfound sense of home in England was also reflected in his lifelong dream of playing in the top-flight, which led to his quick assimilation of the native language. 
Just six months after arriving in the country, initially on loan from Slavia Prague in a move later made permanent in July, the Irons' No28 gave his second West Ham United new signing interview of 2020 – but, this time, fluently in the language of his adopted country.
"I don't think it's too good!" he joked. "I started learning English six months before I came to England. It was hard but I found a teacher, who is now my good friend, and he taught me.
"Before coming to West Ham, I could have gone the last two years before to another league - it was very often Italy, Russia or Germany. But I told my agent that my dream was England. When I was young I watched the Premier League and the Champions League with my father, and I told him that I wanted to go to England and show my maximum.
"When West Ham offered for me, I wanted to come here immediately. It was a nice dream for me."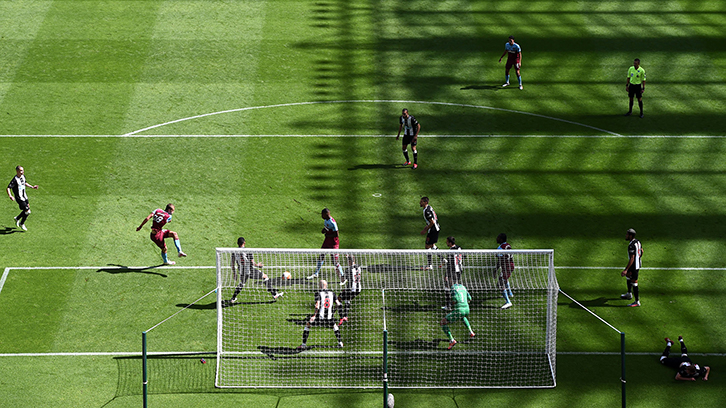 T
omas Soucek volleys in West Ham's second goal against Newcastle

Since arriving in the Premier League, it seems justified to assert that Souček has more than made his mark in Claret and Blue.
Perhaps two performances which best showcased the qualities the midfielder has brought to West Ham United arrived within the space of five days after the 2019/20 Premier League restart: a 3-2 win at home to Chelsea, followed by a 2-2 draw away at Newcastle United.
In the draw on Tyneside, Souček's athletic frame helped him win eight aerial duels – more than any other player on the pitch, and the same total as he attained against the Blues; one of which scored him his first goal as a Hammer, and another which arguably should have.
Combined with impressive tackling, intercepting and clearing statistics, Souček offers defensive solidity and offensive threat in equal measure, bringing balance to his side.
It is a balance which has seen West Ham United begin to flourish in England's top-flight – a trajectory for his new Claret and Blue family which the midfielder hopes to continue to propel.
"I think maybe the big change was after lockdown," he recalled. "We were low down in the table, but after we beat Chelsea improved and improved. When we had pre-season we talked together, saying we are a very strong team and that we want to compete with everyone. 
"We have shown our spirit, our belief, for example against Leicester and Tottenham. It was so difficult with 10 minutes to go, losing by three goals, and we showed our spirit. 
"We want to improve and improve and go up in the table. Our ambition is to be much stronger than last season. 
"We have real belief in our team, and I think we will be better in the future."