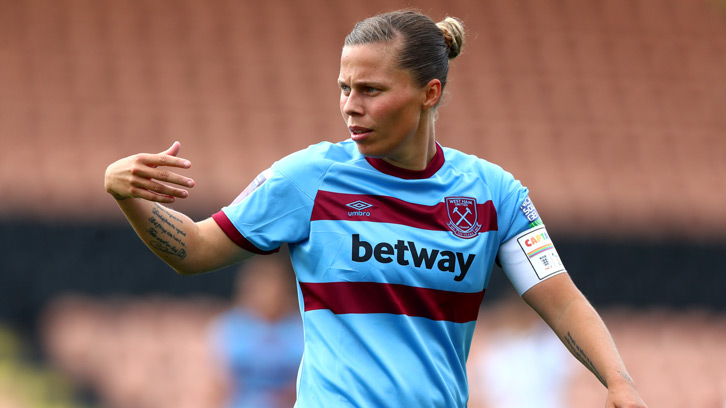 What makes a captain? 
If you could build the perfect captain for your football team, what would they look like? What qualities would they possess? What would they bring to your side? 
Since West Ham United women's team turned professional in the summer of 2018, there have been a number of experienced professionals to wear the Claret and Blue. There have been many vocal personalities and plenty of seasoned veterans. 
But there has only been one captain. 
It was the role Gilly Flaherty was meant to hold.
"I feel like West Ham has pushed me into becoming a real leader. When I was at Chelsea, I was a vice-captain. From minute one, coming to West Ham for that first year, and Beardy mentioning to me about being captain when I was joining the club, I've been given a leadership role at West Ham. I really feel the trust in me to hold that role here."
THE FOOTBALLER
What makes a captain? 
Can captains even be made, or are they born with those qualities already folded into their very fabric? Nature versus nurture?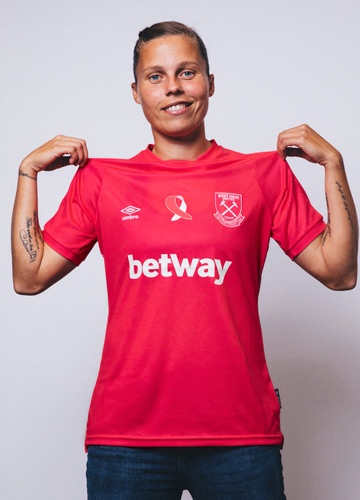 Flaherty has always been this person. She has always been the first to welcome a new signing, the first to lavish praise or voice concerns. It goes back to the very early days of her footballing journey.
"I feel like, since I was young, I've always been that sort of person and been in that sort of role," she reminisced, pausing slightly. "I've always been outgoing, and I'll talk to anyone and everyone. 
"Since I was in the Under-14s at Arsenal, I've done that role. When I went into the Arsenal first-team I floated around that role, and then at Chelsea I was the vice-captain too. I think I've always been that person. 
"When a new player comes in, I'm one of the first to welcome them into the club and the group, because that's who I am. That's not down to whether I'm a captain or not, that's the person I was raised to be. You always make someone feel welcome. You don't realise the impact that can have on people and that's why I've always tried to do it."
Captaincy is a full-time responsibility, both on and off the pitch. 
On the field, it demands consistency, accountability, leadership. It is why Flaherty was one of the first players to reach 50 competitive professional appearances for West Ham, hitting the landmark at the same time as Alisha Lehmann in the recent Barclays FA WSL match with Arsenal. 
"It's really weird in a way, because you always feel like you've played more. You always feel like there's more games that you've played in for this club, particularly now that I'm in my third season with West Ham."
Had it not been for the global COVID-19 pandemic, Flaherty would have likely hit the half-century in late March. The ongoing fight against coronavirus has affected everyone, everywhere, in every way. 
Even the 50th outing in Claret and Blue came with its own sting for Flaherty; a sending-off in a home defeat. But the privilege still stands. 
"That's why I think I feel like it should have happened a lot sooner for me," she muses. "But we all missed a large chunk of games at the end of last season, which robbed a lot of us the chance for more appearances. But to hit 50 West Ham games is an honour for me, something I am proud of.
"Obviously, the 50th game didn't go the way I wanted it to go, but there are plenty more to come, and plenty more good memories to be making in this shirt. I'm focusing now on hitting 100 with this club."
THE INDIVIDUAL
What makes a captain?
For however tough it is to be a captain on the pitch, it is infinitely harder being one away from it. The traits required are almost endless.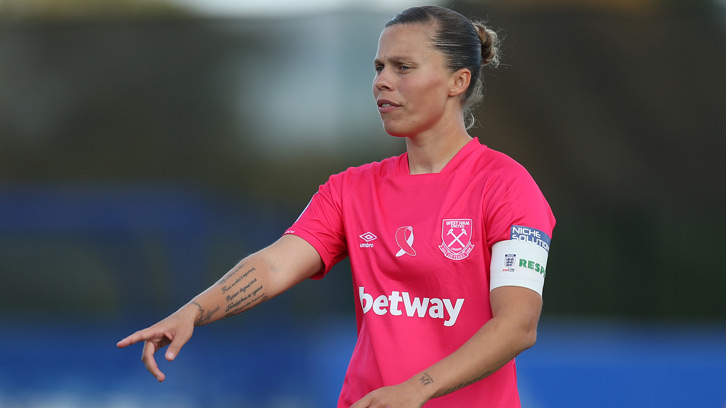 Bravery, honesty, frankness would certainly be in any captain's checklist, and Flaherty more than displayed these qualities – and much more – when she opened her heart to the world earlier this year, discussing her own personal battle with mental health in support of the Time To Talk campaign. 
The recent airing of the Squad Goals documentary showed the behind-the-scenes elements of the centre-back's decision to disclose her most intimate story, once again bringing the conversation front and centre. 
Nine months on from making that decision, Flaherty still cannot believe its impact.
It shows the character of this club that we want to support these campaigns in any way we can. I'm glad we can do that again with Breast Cancer Now in support of Breast Cancer Awareness Month.

Gilly Flaherty
"The response has been incredible. We released the story in support of Time To Talk earlier this year. We had such a great response from that, and then it all died down a bit. But with Squad Goals coming out, it's brought the conversation back and it's had an even greater response again. 
"I've had people I consider celebrities message me on social media and reaching out. One woman sent me a voice-note on Instagram, and she just started crying. She had been going through her own tough time and we got to talking. You don't realise the impact it can have. 
"I just wanted to help one person, but the impact it's had has been incredible."
Having seen her own story turned into a tool for good, for help and for change, Flaherty was thrilled at once again being able to support Breast Cancer Now and Breast Cancer Awareness Month.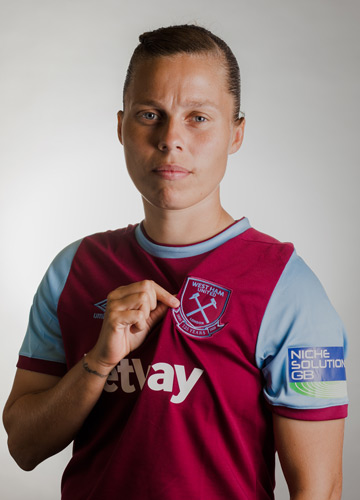 The No5 and her teammates have once again donned special-edition pink shirts throughout October in a bid to raise awareness of the insidious disease. These campaign really do make a difference, as Flaherty knows only too well.
"When we found out we were doing the pink shirt again, I was delighted, because of how great the campaign is. The Club support us to do it and I remember last year, when the shirts got released, they sold out so quickly. 
"It shows the character of this club that we want to support these campaigns in any way we can. I'm glad we can do that again with Breast Cancer Now in support of Breast Cancer Awareness Month."
THE LEADER
What makes a captain? 
Maybe there is no better person to ask than one who has lived their life holding that responsibility.
"I think you either have that in you, or you don't have that in you. I don't think you can learn to be a leader," Flaherty muses. "Being a captain is more than just being vocal or being loud.
"People might see the role and think it's just wearing an armband and lifting trophies, but there is so much more to it. There's a lot of stuff away from the pitch that people perhaps don't see. It's a tough job at times and it's a lonely place sometimes, but I do enjoy it. 
"It's not that a captain does certain things, it's the person doing those things that is a captain. It's down to the person, the individual.
"As I said earlier, it is thanks to West Ham that I've really developed into this captaincy role. I've loved every minute of my time here and it's felt like home since the first time I stepped foot in here." 
What makes a captain? Perhaps there is no definitive formula. But if your captain is anything like Gilly Flaherty, you won't go far wrong.