West Ham Tv
Declan Rice: We're building something together as a team
Manchester City have admittedly had much the better of contests at London Stadium in recent seasons - but in 2020/21, it was a different story.
West Ham United were outstanding in the first half against the Citizens on Saturday – both defensively resilient and offensively menacing – and they got their just rewards when Michail Antonio put them ahead with an athletic overhead kick from Vladimir Coufal's cross.
Manchester City did go up a gear in the second half and struck an equaliser early on through Phil Foden, but the Hammers' heads did not drop, with players digging in to prove full value for an excellent point against Pep Guardiola's side.
The contrast in both end scoreline and overall performance from previous campaigns is testament to the growing momentum behind the Irons, according to midfielder Declan Rice.
Rice observed: "It was a great point. We've been in fantastic form recently. I thought in the first half we were excellent today – they only had one shot on target. We nullified their main players and Mich scored a great goal. 
"In the second half, I think that's something we need to work on: coming out of the blocks a bit quicker. We did it at Spurs but today we started a bit sloppy, a bit heavy-legged after sitting down at half-time, and obviously Phil [Foden] scored a great goal, but from then on it was digging in and giving everything we had for that point.
"I think the last three or four times they [City[ have played us here, they've scored four or five goals every time – but today's result shows that we're building something. 
"The manager's been brilliant. The backroom staff, when they took over for the games, have been outstanding as well. I think we've found a formation that suits our players. We're working hard for each other, we're giving everything for each other, and that's what West Ham fans expect. That's what we demand as players."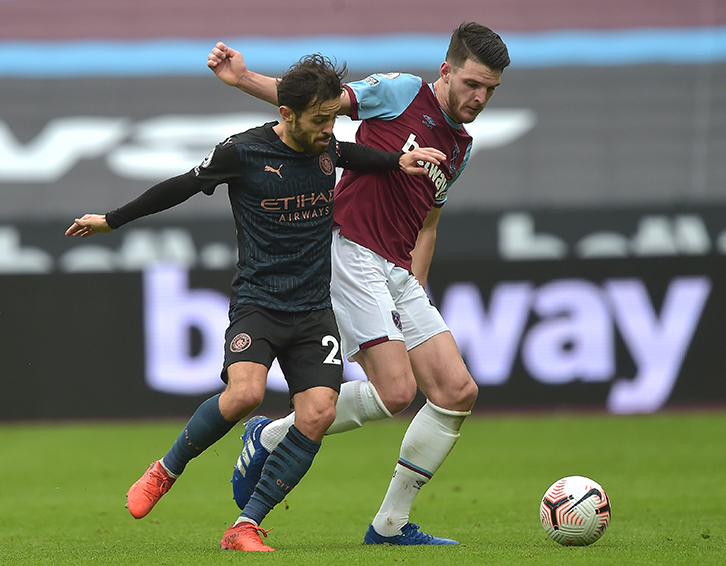 Rice was typically tireless in the 1-1 draw with the Citizens on Saturday, covering every blade of grass in the middle of the park to chase down loose balls, harry the opposition midfielders and drive forwards whenever the chance presented itself.
Making three tackles, two interceptions and a clearance – as well as completing 100 per cent of his passes on the day – the midfielder's performance was a microcosm of a collectively battling side who are now unbeaten in their last four Premier League matches.
"They [Manchester City] have got so many options to pass to," Rice reflected. "We're trying our best to cover the lines and get up to people. It doesn't help when they bring [Kevin] de Bruyne on with 25 minutes to go! 
"I thought the lads were excellent – the way we stay switched on all game, we were brilliant."
Also covering plenty of distance against Manchester City was fellow midfielder Tomáš Souček, whom Rice has struck up a firm partnership with since the Czech Republic midfielder's move to east London in January. 
"He's brilliant to play with," Rice smiled. "He's a player we definitely needed, with some legs to make the box and obviously get back as well. 
"He's added something to the team, which is brilliant. He gives us an out every time and when he's popping up in the box, we've not really had that over the years. It's fantastic to play with him."