Łukasz Fabiański was in typically modest mood after his two late saves thwarted Manchester City and secured a precious Premier League point for West Ham United.
The Hammers had taken a first half lead through Michail Antonio's superb overhead kick at London Stadium, but were on the back foot after conceding an equaliser to Phil Foden shortly after the break.
While the Irons defended resiliently for the most part, City did create two clear-cut chances in the final five minutes, but Fabiański stood tall to win one-on-on battles with forward Raheem Sterling and winger Riyad Mahrez and earn his team a hard-earned draw.
That's my part I have to do on the pitch and I was happy I could help today

Lukasz Fabiański
"I think the first half we were a really good side and put them under a lot of pressure and our gameplan worked perfectly against City," he reflected. "We knew we could expose them and that's what we did in the first half.
"In the second half, with each minute they started to put a lot more pressure on us and we had to defend a lot more than we did in the first half but, in the end, we dug really deep and we got a point from this game.
"What was good in the second half was that we showed pride in defending. We really wanted to make sure we didn't lose the game, so we put our bodies on the line and tried to protect our goal from any clear-cut chances and I think we did that for most of the game.
"Obviously against a team like City you're always going to concede some chances but, at the end of the day, I was lucky and happy to help the team in that situation. That's my part I have to do on the pitch and I was happy I could help today."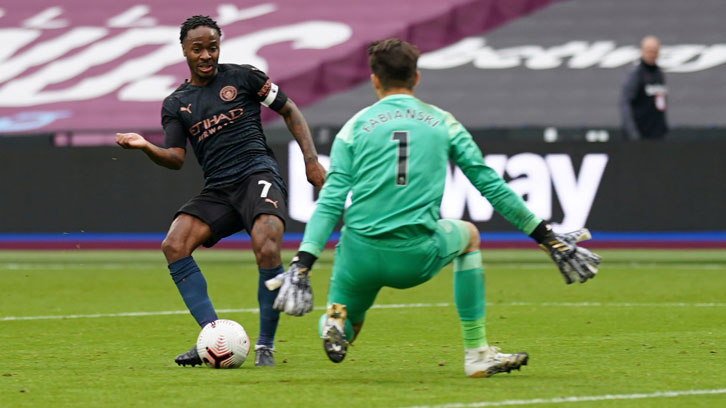 There was nothing lucky about Fabiański's vital saves, as first he narrowed the angle and blocked Sterling's shot with his body five minutes from time, then, in added time, he stood firm at the near post as Mahrez tried to squeeze a shot between him and the upright.
"The first one, what helped me was that Raheem Sterling had a bit of a heavy touch so I could close him down," the Poland international explained.
"The second situation was a lot more difficult to be honest with you, because when Mahrez was going through on goal 1v1 against me from the angle, you always have in mind that there is maybe someone inside for the cut-back, so you have to wait until the end and just hope a little bit for him to make a bad decision or just to hit you.
"I tried to make myself as big as I could and in the end he just hit me and luckily for us the ball went out for a corner, so I was happy I could help."
At the other end, Antonio led the line brilliantly again, occupying the City defence and scoring his eleventh goal in his last 12 Premier League appearances.
Fabiański, like everyone else in the West Ham dressing room, is a huge fan of the centre forward's work and will be hoping the hamstring injury that forced him off early in the second half is not serious.
"He is a big threat for any opposition that we play against and for any defender in this league. He is very strong, his hold-up play is really good, he can finish his chances, he makes good runs, he's strong and he is really good in the air, so I think he is always going to be a threat against any defender in this league and we're really pleased he is performing this way at the moment."