David Moyes hailed the resilience of his West Ham United team after another impressive Premier League performance and result – this time a 1-1 draw with Manchester City at London Stadium.
The Irons extended their unbeaten run to four matches with a display full of determination, particularly after Michail Antonio had given them an 18th-minute lead with an outstanding overhead kick from Vladimir Coufal's right-wing cross.
Unsurprisingly, Pep Guardiola's City came on strong after half-time and equalised just six minutes into the second period through substitute Phil Foden, but West Ham continued to show the application that has made them so hard to beat in recent weeks.
Even when the visitors did fashion two clear-cut chances in the closing stages, goalkeeper Lukasz Fabianski was there to make big saves to deny Raheem Sterling and Riyad Mahrez, leaving his manager feeling proud and happy with another hard-earned point.
We showed brilliant character, stuck at it and were resilient.
Somebody said to me before the game that we've lost to Manchester City 5-0 and 4-0 in our home games recently and I thought 'Oh my goodness, I don't want to hear that' but today was different.
Today we felt more confident and we believed we had a chance. It wasn't a big chance, but the chance there was there for us, we took it, we stuck at it and we kept going, that's for sure.
I've still to see Michail Antonio's goal back on the TV since the game finished, but it's extraordinary to get an overhead kick.
It's sort of thing as a kid you always wanted to score an overhead kick, that's for sure, and I'll get a chance to see it tonight and see what it looks like.
We had to bring him off against Spurs with something a wee bit the same. He's just feeling something a little bit in his hamstring. We think he feels it's just cramping so it's not serious, but we're not too sure.
Obviously, it's worrying me that it's two games in a row that he's felt it. He's really important to us so we're going to have to do the right thing and try and look after him when we can and it might be the odd time we're not able to use him.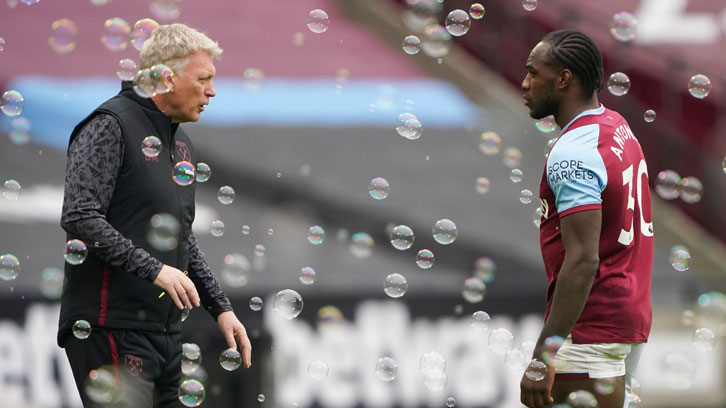 It was a brilliant defensive performance because of the quality Manchester City possess and the goals that they score.
They beat Porto 3-1 in the Champions League in midweek, so it was always going to be really hard for us and I have to say the boys did really well and they stuck at their task.
We don't want to be a team which is conceding lots of goals. We want to be hard to beat, hard to play against and today showed that.
The first thing I had to get when I came back to the Club was energy, players who could run and players who could compete and know their jobs.
From there, we would see what the players bring us and, for example, Tomas Soucek has brought us something different, Jarrod Bowen has come into the team and we've still got Said Benrahma to join us in the coming weeks.
So, we're trying to evolve, we're trying to develop, but we can't take big, big strides right away, but having a team that has character, great team spirit and a never-say-die attitude gives you a start anyway, if you've got that.
At the moment, we're in as good a form as many clubs, so we've got good players and if we can get them playing, we can do well.
The boys in the middle of the park have been very good and we're getting better in all the other areas and the big thing is we've got competition, so there is no guarantee for anyone now and I think that's what we want, that if you don't play well, somebody could take your place.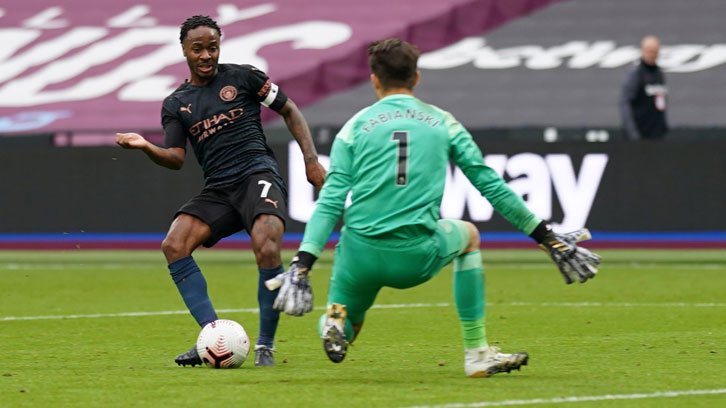 Lukasz Fabianski made two really good saves for us late on.
You hope, at the moments when you need your goalkeeper, that they're going to make the saves if you're going to get results against the big teams.
It's undoubtedly because of the quality and the attacking players they've got, that you're going to your goalkeeper to play well and Lukasz came up with more than a couple of saves. He had a couple of other good moments as well with a couple of shots that were moving all over the place.
So well done, but he's part of the team and that's what we expect that level from him as well.
The plan is to go to Liverpool next Saturday and make it five games in the Premier League.
We've been on a really tough run of games so I don't think many people would have thought we'd take the points that we have, but that's two good victories and two good draws back-to-back and we want to build on it.
We want to play well and I feel the players are in a good place at the moment and we want to keep it going.