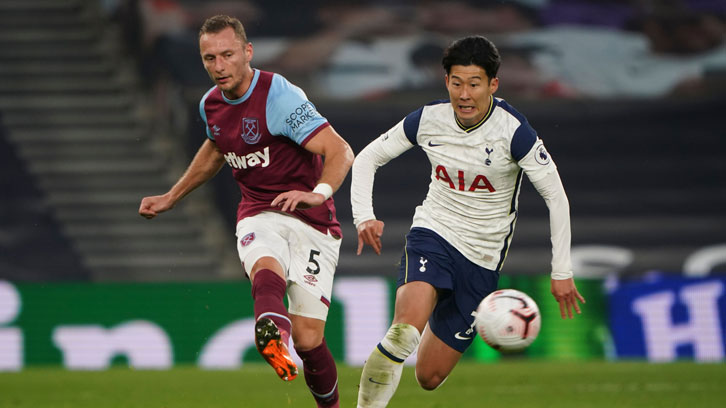 Vladimír Coufal has made an impressive start to his West Ham United career.
The Czech Republic right-back debuted in the 3-0 Premier League win at Leicester City before playing his part in the Hammers' historic comeback to draw 3-3 at Tottenham Hotspur last Sunday.
The big tests keep coming for the No5, who will make his home debut against Manchester City at London Stadium on Saturday afternoon.
Ahead of that game, Coufal sat down to discuss the Spurs game, Manchester City, fellow new boy Said Benrahma and his relationship with teammate, compatriot and close friend Tomáš Souček...
Firstly, let's go back to last Sunday's incredible 3-3 draw at Tottenham Hotspur!
"Against Tottenham it was a very hard match because we were too scared of Kane and Son and we played very badly in the first 15 minutes. But I think after the first 15 minutes we started to play how we wanted to play, keeping the ball more and creating some chances to score [in the first half] but unfortunately we didn't score.
"In the half-time break the manager said some things that we could improve – that we wanted to keep a clean sheet in the second and score some goals. Finally, it was incredible that we scored three goals in the final eight minutes!"
The celebrations were huge after Manuel Lanzini's equaliser!
"The celebrations showed we are a strong team, that we are one for all and all for one. We are teammates."
When did you think 'We can get something here'?
"When we scored to make it 3-2 I started to believe we could reach one point, because Tottenham was very down and we had our heads up. After that, Manu showed his quality and scored an incredible goal."
You face Manchester City at home next on Saturday. What do you make of them?
"I think Manchester City are one of the best teams in the whole world, with top individual players. Raheem Sterling and Sergio Aguero can score whenever they want, I think. It's a very hard game for us but we will do everything to prepare for our team's success."
Have you watched the Premier League before you came to England?
"I watched the Premier League because it the best competition in the world. It's a dream to be here and I am glad I can play here with West Ham."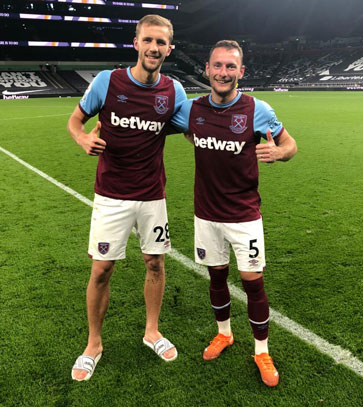 Said Benrahma has been training with you this week and could make his debut on Saturday. Has he looked good?
"Yes, very good. He showed his quality on the ball. Dribbling past two or three players is no problem for him. He has very good finishing and a very good final and pre-final pass. He's a very good player and he's very confident."
How much has Tomáš Souček helped you settle in here at West Ham?
"Tomáš is my right hand! If I don't understand something, he translates it into Czech for me and after that it's very easy for me. When I came to West Ham, he immediately met with me and he showed me the training ground and helped me with everything."
How long have you known each other?
"I think it's five years since he came to Slovan Liberec. At that time he showed his quality and he was very good for our team, for Slovan Liberec, and after that he became a leader for Slavia and the Czech national team. He showed his quality for them and now he is showing it in the Premier League. He can run for 24 hours a day every day!"
Is it right he told David Moyes to sign you?
"I heard about it, but I have known him a long time and it's normal, if I am Czech like Tomáš, that the manager would ask him about my character and my football quality. It's clear and it's the same at other clubs, I think!"