Appointed a first-team coach at West Ham United in February 2020, Paul Nevin brought with him a wealth of innovations, ideas – and a reputation as one of the leading football coaches from a Black or Ethnic Minority (BAME) background.
A vastly experienced figure who has worked across a variety of roles and nations, Nevin's time as a coach includes spells at Fulham, Norwich City, Brighton & Hove Albion and England, as well as in the Australian A-League and Qatar.
With the Premier League united in Black History Month in demonstrating there is No Room For Racism, Nevin has reiterated the value that diversity brings to professional football coaching, on and off the pitch...
What's the mood around the Club like right now after our last three results?
"As you can imagine, there are still a few smiles lingering on. I think those are the moments as players and as staff across the board that you live for and clawing your way back into the game, having had the early setbacks in the first 15 minutes, to believe in yourselves, take that to half-time, to regroup and have in our minds not to concede again, and keep doing the things we had been doing well and to get the reward, it doesn't happen that often in the game, so I think that was a night to remember for us all."
You've been here since February. How have you enjoyed working within the current coaching set-up?
"It's been brilliant and the first thing that struck me coming into the Club was we were in a bit of a predicament still at the end of February with a finite amount of games left and a lot of points that were needed. So, as I walked in the door I expected a bit of tension, but there was a real belief in the group, in the coaching staff and in the players and, as you saw, post-lockdown, they really got their heads down in that period to get themselves in the right physical frame and mindset as well, and I think the end of the season reflected that belief that was there from late February."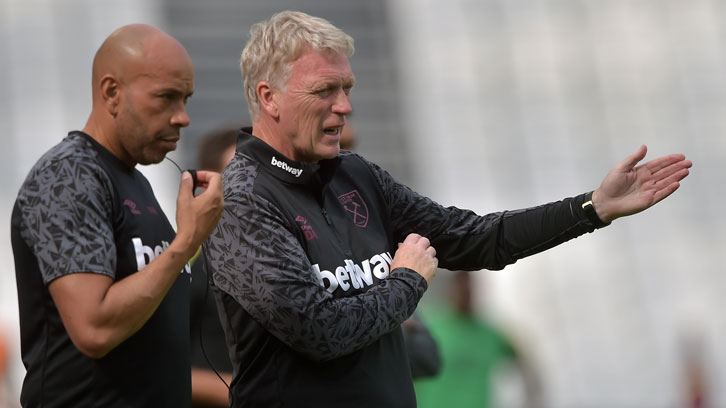 When making your own breakthrough, how aware were you as a young coach of the inequality in representation in coaching positions?
"As a young coach, you're always looking for role models and people at the top of the game who reflect you and give you that aspiration to move forward. I've been looking recently and, out of the 240 managers there have been in the Premier League era, only nine have been from a Black or Ethnic Minority background. Obviously, that reflects a complete under-representation. 
"There are a lot of initiatives that are starting to come into place, but we really need to push forward on that because we need all the players in the game to be able to aspire beyond their playing days to still be involved in the game. When I was coming through, I was looking for role models, but it was my belief that if there wasn't anybody there, then believe in yourself that you can be one of the first few to break through. 
Even in situations today, there will be young black and Asian coaches who will want to make a bigger impact across the whole spectrum."
 
What responsibilities do football clubs and governing bodies have in tackling that disproportion?
"There are a lot of initiatives now to help people enter the game, whether that be at Academy or youth level – there are some bursaries and financial assistance available for FA qualifications, for example.
While that's fantastic and really, really needed, there also needs to be recognition that there is talent in the system already, and it's about profiling them and supporting them so they can from the professional game and get the leadership positions that are available within an Academy or first-team setting."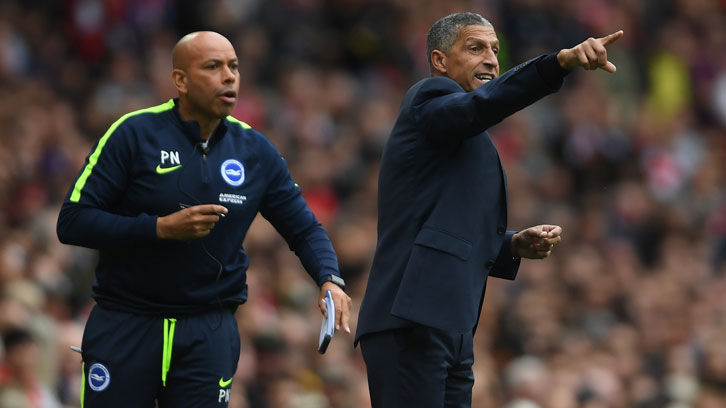 You worked with Chris Hughton at Brighton & Hove Albion. Can you tell us about that experience and how he has inspired you and other BAME coaches?
"I can never speak highly enough of Chris. Firstly, as a coach I think he's fantastic on the pitch. He's a great man manager who appreciates the players as people first, and his leadership qualities away from the pitch are second to none. His record as a coach and a manager speaks for itself. What he did at Birmingham, Newcastle, Norwich and especially Brighton, where I was involved with him, I'm very proud of the work that we've done and I'm sure the Nottingham Forest supporters are looking to a bright future under his tutelage. I can't speak highly enough of him.
Then, when it comes back to role models, he did break ceilings. He's only one of two black coaches who have had two jobs or more within the Premier League.  Whenever jobs become available, he's one of the names that is constantly mentioned because of the understanding of the football community and the qualities he's shown. He's an inspiration for all coaches, from grassroots right the way across the system, and I think the way that he conducts himself should be what every young coach – whatever colour – should aspire to."
 
Can you tell us about your role on the England coaching staff, with both the age-group and senior squads?
"Before my role with England, I'd worked in Qatar with the junior national team development programme, so I was aware of the international youth development scene. I got an opportunity with the England U17s a few years ago, and then with the initiative that the FA had brought into place [the In Pursuit of Progress strategy], I got the opportunity to become the first BAME coach to work with the senior men's national team, which was an unbelievable experience.
"People outside probably thought that was a box-ticking exercise and to an extent it probably was, but the people and the staff at the FA really made you feel genuinely part of the programme. I was involved in matches, training and all the meetings and preparation, so I felt fully integrated into the staff team. Chris Powell has got the role at the moment, and is feeling them same way. 
"We need people to be visible. It's not about me, it's not about Chris, it's about being visible for the next generation, who can see that we have the qualities to work with the very best players at the very highest level. That will hopefully inspire more people to continue in, or enter, the coaching field."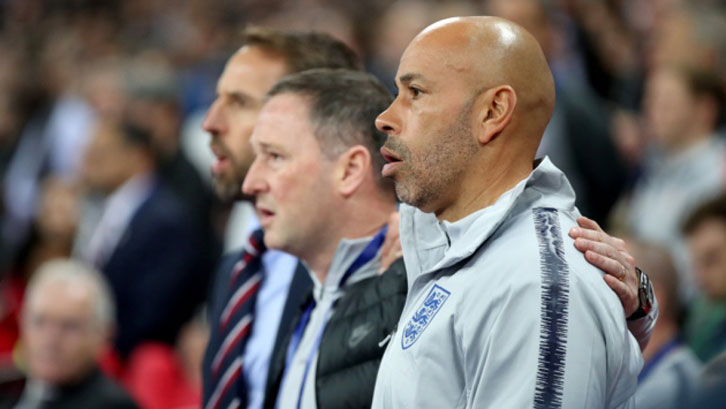 You work closely with the Academy of Football here, who are working towards a diverse workforce to represent the community they are embedded in – how crucial is that?
"I think it's massive – it really is. I look across a lot of other clubs, and as a young, black player, it just feels good to look across at the sidelines at some of the staff, and they look like you, they might have had similar experiences to you – they're someone you can look to, to confide in certain things and certain cultural elements and behavioural elements that are different. 
"Respect for that diversity only improves every working environment. The more that off-the-pitch staff look like on-the-field players, it's great. We can learn from each other and it becomes much more integrated and a much more effective environment."
 
Finally, what would your advice be to young coaches?
"There is an opportunity to work your way to the top. For any coach, regardless of gender, colour, it's an extremely, extremely hard job – it's very demanding. It's not a job, it's a lifestyle, because you commit, you don't switch off to the game, you go home and are thinking about the next session, how players responded, what you can do the next game. It's just an endless cycle – it's a huge amount of work, so you need to be prepared for that.
"I think as I mentioned before the patience – building your repertoire, building your experiences. As I said to you, you will fail – you make mistakes – but that's part of your learning. If you haven't done that there and you accelerate too early, you'll make them at the wrong levels at the crucial times.
"I think it's massive to find mentors and inspirations that can help you on your journey. As far as qualifications go, it's hugely important – whether you've been a professional player or not – fantastic you've got the qualifications, but it's learning that experience. It's hands-on-deck, working with the players, reacting to sudden situations in training and games, having that toolbox you can dip into when it's high-pressure and decisions have to be made quickly.
"That would be my recommendation: take it easy, look for support, don't fear making mistakes – they're part of the learning process – and just continue with your aspirations and don't let anybody tell you no. Work hard and keep striving."