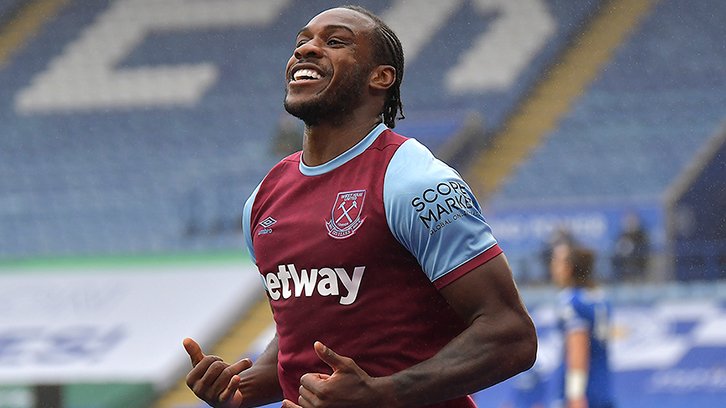 Confidence is an invaluable commodity in football – and there are few players in the Premier League exemplifying that currently like Michail Antonio.
Rightfully so. The West Ham United No30 has been at the point of a well-oiled offensive unit in recent weeks, leading the line with not only his customary pace and power, but a newfound maturity and understanding of maximising the centre-forward role.
It is a common trend across the team; the quality of West Ham's performances in the weeks building up to the recent international break has only been on an upwards trend, culminating in highly impressive and comprehensive 3-0 and 4-0 wins over high-flying Wolverhampton Wanderers and Leicester City respectively.
In the eyes of Antonio – who along with West Ham is set to return to Premier League action against Tottenham Hotspur on Sunday lunchtime – such results have been coming.
"I want to go back before then, to the Newcastle game," Antonio reflected. "I want to go back to the Arsenal game. 
"In the Newcastle game, okay, we understand we were a bit flat, but there were still opportunities there and there were some decisions which didn't go our way which we felt should have. Maybe the game would have been different. 
"In the Arsenal game, I think we were all over them. We had more opportunities, more shots on target, and if another decision went our way, I think things would have been different. 
"In the last two games [against Wolves and Leicester], everything just came together and everything's just gelled. It's just fallen right for us and hopefully, if everyone stays fit, we can keep this run going, keep scoring the goals we're scoring and keep the goals out of our net.
"Off the back of the last two games, our confidence is high and we believe in ourselves. Hopefully we can go to Tottenham and get the result we feel we deserve, and feel like we can do it, we can achieve it. 
"From the results we've seen so far, we believe that we can go anywhere and get a result."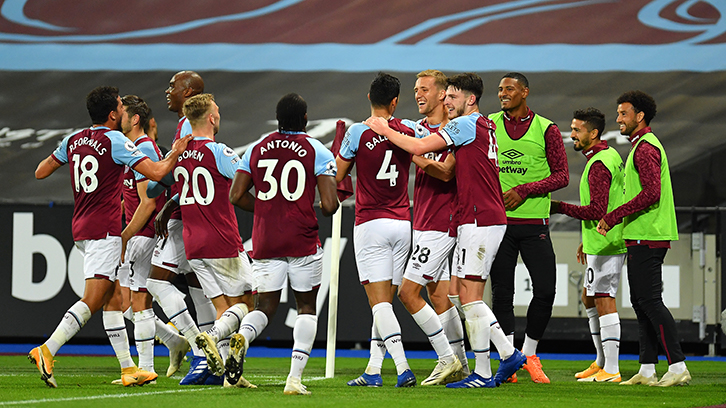 For Antonio, the recent run has seen a resumption of the emphatic goalscoring form which won him the first-ever Premier League Player of the Month award for July.
After coming to the fore in the lone striker role after last season's Premier League restart, Antonio has netted ten goals in his last eleven Premier League games – including eight in seven at the tail end of the campaign.
 
I can't put it down to myself; I put it down to the team, who are giving me opportunities to score the goals

Michail Antonio

Having opened the scoring at the King Power Stadium last time around, the No30 became the first West Ham United player to score in five consecutive top-flight away games since Mike Small in 1991.
"Obviously I didn't want anyone thinking it was just that one month in which I'd done it," he explained. "I wanted to prove the point that I could come back and still score the goals I was scoring before. 
"If you think about it, as a winger, right-back and left-back, No9 or No10, centre mid – maybe even goalkeeper! - I've always scored goals, whatever position I've played in! 
"Naturally, as a striker, you're going to get more opportunities. People are trying to feed you the ball, so I can't put it down to myself; I put it down to the team, who are giving me opportunities to score the goals."
As a result, Antonio feels he will only continue to go from strength-to-strength as West Ham United's chief goalscorer.
Discussing his adaptation to the role, he explained: "I've just put it down to more of learning as I'm playing – learning what positions I need to be in, learning from the wrong decisions that I make in the game, because the next time I'm like 'oh, okay, you've done that wrong, next time make sure you're here for this one.' 
"As the game goes by, I learn. I'm naturally more of a learn-as-you-play [character] – I'm not a person where you can sit me down and tell me 'do this, do that'! As things happen, I'll react – and I'll do it."