History
Back to the '90s - Paulo Futre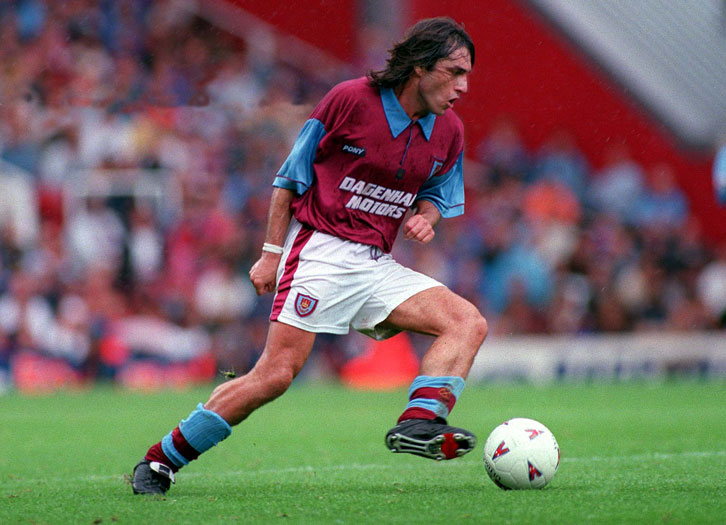 Sid Lambert kicks-off a new series by remembering the short tenure of The Portuguese Maradona in Claret and Blue
July 1996. The Euros had brought football home. Britpop was booming. You could buy a pint for less than two quid. And it was perfectly acceptable to wear white jeans. What a time to be alive.
And whilst the nation enjoyed the collective feel-good factor, spirits were high too in east London. Having seen a host of exotic names grace our stadiums that summer, West Ham fans were excited to welcome some overseas stars to Upton Park for the new season.
In came two of Romania's finest-ever players in the shape of Ilie Dumitrescu and Florin Raducioiu, and the man once dubbed as The Portuguese Maradona – Paulo Futre. A genuine great of the game, a man who had played at Porto, Benfica, Atletico Madrid, Marseille and AC Milan was going to wear Claret and Blue. What's more, he was going to do it in the same team as Iain Dowie.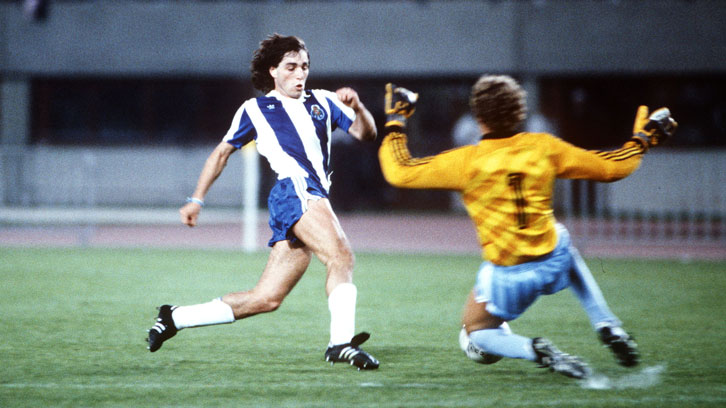 Hero to zero
How the Portuguese passed the medical remains one of mankind's greatest mysteries. Hundreds of years from now, historians will ponder images of Bigfoot, the Loch Ness Monster and Paulo Futre's X-ray. 
In the days before the internet and Wikipedia, information on overseas leagues was limited to five minutes on TransWorld Sport in-between Kabbadi and windsurfing. Thus, unbeknownst to Hammers fans, the Paulo Futre on his way to the Premier League was not the Paulo Futre of old. After a decade of being crippled by some of Europe's most feared hatchet men, the playmaker's joints had all the structural resilience of a packet of Quavers.
He'd barely played football for two years. His spell in Milan had taken a tragi-comic turn due to his catalogue of injuries. To put it bluntly, you were more likely to see James Richardson in the San Siro on a Sunday afternoon than you were Paulo Futre. He made one single appearance, as a substitute, in the final game of the season. And then he was gone.
By now the game was up. He was a crock. A journeyman. On his way to football's scrapheap. Until Harry Redknapp came calling.
Paulo gets shirty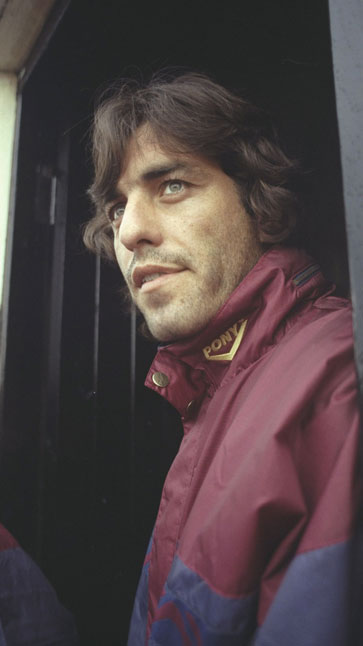 Remarkably, Futre made it through pre-season unscathed and was set for his debut in the opening game of the new campaign at Highbury. Thousands of fans massed in the away end in glorious summer sunshine, ready to witness the brave new dawn of Harry's Hammers.
As it was, the new dawn looked suspiciously like the old one. Raducioiu and Dumitrescu didn't even make the matchday squad, their places going to Dowie and Keith Rowland.
Still, at least Futre was playing. The teamsheets had been submitted and Portuguese superstar was down in the changing room readying himself for one final crack at top-flight football.
What happened next remains the stuff of West Ham legend, and may or may not be 100 per cent accurate!
The story goes that, at about 2.15pm, West Ham chairman Peter Storrie was tucking into his lunch when he was summoned by a member of Redknapp's backroom staff into the changing room. There was a problem. A big problem. The Portuguese Maradona had packed his bags and was about to jump into a black cab. 
By the time Storrie made his way downstairs, Redknapp and Futre were unleashing a furious stream of expletives that might make Quentin Tarantino wince. The problem lay with his shirt. Erstwhile kitman Eddie Gillam had handed him his new strip with FUTRE 16 on it. 
This was a man third only to the likes of Maradona and Platini in his era. And now here he was, being asked to give up his beloved number 10 to… John Moncur? 
The chairman's arrival had done little to ease the situation. With 45 minutes to go, there was no time to print something new, despite Futre's protestations. So he grabbed his bag and headed for the taxi rank.
As if things couldn't get any worse, a new challenge arose. The teams had already been submitted to the referee and by the letter of the law they couldn't be changed. West Ham would start the season with ten men unless Redknapp could find a solution or, even better, a scapegoat. So he marched into the referee's office and did the decent thing: blamed it on his coaching staff, who had forgotten his glasses and mistaken Paulo Futre, one of the most famous names in world football, for Stevie Jones, our centre forward from Billericay. It could have happened to anyone, Ref.
The match official, unaware that Futre was now halfway to his hotel in Canary Wharf, accepted the excuse. After all the drama, thankfully, the game was on. West Ham's eleven men duly rolled over and lost 2-0. So much for that brave new dawn.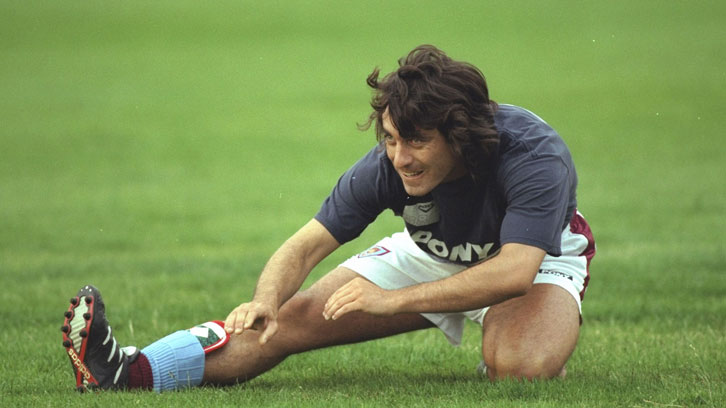 Back in business
The following week the shirt situation was resolved when Futre's legal team arrived under strict instruction to thrash out an agreement for their client's beloved number 10 shirt at all costs. Moncur, hardy a student of the law, knew a good deal when he saw one. A wad of cash and a golf weekend at Futre's beachside villa in Madeira was too good to be true.
Hammers fans got their first glimpse of the new No10 during a midweek home fixture against perennial strugglers Coventry City. Again, there was no sign of our Romanian duo, but there was an Australian (Robbie Slater), a Welshman (Mark Bowen), and a Northern Irishman (Michael Hughes) in midfield. It sounds like the setup for a joke, but there was nothing remotely funny about West Ham's first-half display. It was absolutely appalling. Coventry were dreadful, but somehow we made them look like Real Madrid and were far worse than the one-goal deficit suggested.
A desperate Redknapp turned to Futre from the bench. It was soon clear that the man didn't fit the legend. He could barely sprint ten yards and hit the deck quicker than Jurgen Klinsmann during an air raid. But all was not lost. His left peg could still peel an orange. For the entirety of the second half, he coaxed and cajoled West Ham back into the game. What he lacked in fitness, he made up for in incisive passing and speed of thought. Despite the injuries and inactivity, he was a level above anyone on the pitch and helped earn his new side an unlikely point.
The promising display against the Sky Blues earned him a start against Southampton. It was one of the featured fixtures on Match of the Day and you can still find footage on YouTube of what was undoubtedly Futre's finest hour during his tenure in Claret and Blue. And a microcosm of his entire career.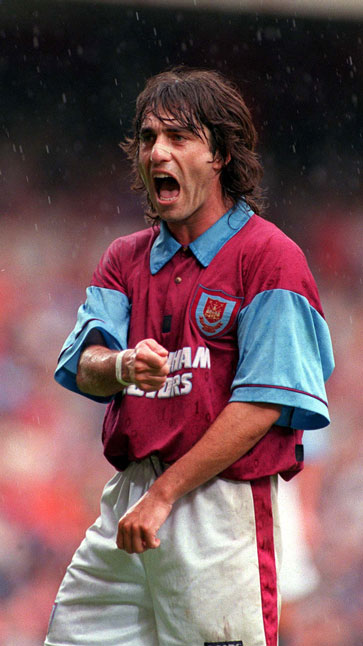 Noticeably sharper, for one fine day in the east London sunshine the Portuguese playmaker looked like the legend of old. He ran the Saints ragged from the first minute. Even with one functioning kneecap, he was miles above anyone else on the field. There were backheels, nutmegs, and driving runs from midfield. He carved out chance after unmissable chance, that somehow West Ham's forward line managed to shank into the stands.
The Saints couldn't get near him. And when they did, they often resorted to violence. With moments left on the clock, substitute Francis Benali kicked him into the advertising boards and earned a red card. The fans held their breath, but Futre returned cautiously to his feet as he had done so many times over the years.
The mood after the game was euphoric. In the commentary box, John Motson lauded one of the best individual performances at Upton Park in years. After the final whistle Futre held both arms aloft as the West Stand saluted a new hero. There was life in the old genius yet.
West Ham fans dared to dream.
Fade and Die
The dream lasted a mere 34 minutes. On Saturday 14 September 1996 at 3.34pm Paulo Futre lay prone on the Upton Park turf having received a kicking all afternoon from Wimbledon's midfield enforcers. He hobbled off, and with it went West Ham's chances. Shorn of their creative spark, they capitulated to a predictable defeat.
Meanwhile Futre wore the grimace of a man who knew his bubble had finally burst. He'd played his last meaningful game as a professional footballer. And to make matters worse, he'd been upstaged by Efan Ekoku.
The Portuguese made a couple of fleeting appearances, hobbling on from the bench to little effect, before his contract was cancelled by mutual consent. His absence highlighted a lack of quality in Harry Redknapp's squad. His summer transfers had been a disaster. Dumitrescu and Raducioiu had failed to settle, and by January we were bottom of the league with on-loan Mike Newell scratching around up front alongside Dowie, who was in the midst of a 32-game goalless streak. It was desperate stuff. 
With one last throw of the dice, the West Ham boss entered the transfer market again. This time, he decided to buy British. In came John Hartson and Paul Kitson to save our season in spectacular style.
As for Futre, he made aborted attempts to come back again in Spain and Japan before giving in to the ravages of Old Father Time. He's still feted in his homeland as one of their greatest ever players and even hosted his own primetime chat show. And thankfully, his body has shown signs of resistance against the wear and tear of his playing career, albeit with some medical assistance. He made the headlines again in 2015 by starring in a Japanese TV commercial for Viagra.
It's a funny old game.
*For more West Ham United and '90s football nostalgia, follow Sid Lambert on Twitter @sid_lambert