Interviews
Declan Rice: I want to take on more responsibility for Club and country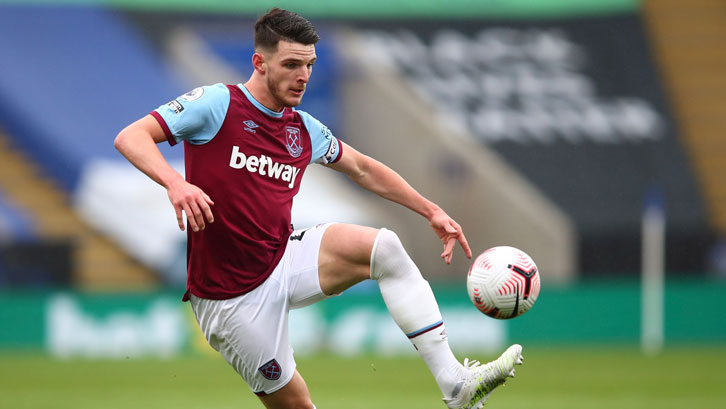 Declan Rice is determined to continue taking on more responsibility for both Club and country after excelling for both West Ham United and England in recent weeks.
First, the 21-year-old captained the Hammers to Premier League victories over Wolverhampton Wanderers and Leicester City, scoring seven goals without reply. Next, he produced an impressive all-round performance to help England defeat the world's number one-ranked team, Belgium, in the UEFA Nations League at Wembley on Sunday.
With ten caps to his name, Rice is the second most-experienced midfielder in Gareth Southgate's Three Lions squad behind Liverpool's Jordan Henderson, and the Hammers star is relishing his central role at the hub of a bright, young England team.
"I definitely feel like a settled member of the group now," he confirmed. "When I first came in, my first ever camp [in March 2019], I was a bit nervous, but Sunday night was my tenth cap so I'm feeling more and more at home every time. 
"The lads, every time I come here, they make me feel so welcome. The lads have got such a close-knit bond and even on the pitch they make me feel so confident, so comfortable. 
"I've got ten caps so I'm just aiming for many, many more, so, yeah, I'm really happy."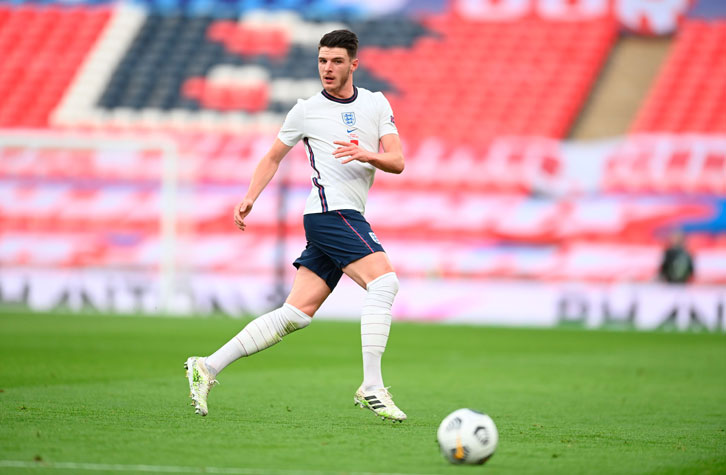 Forward thinking
Rice's growing influence on the England team was illustrated by his willingness to bring the ball forward from his starting position in front of the back three, drawing opposition players and creating space for his teammates before finding them with his ever-improving range of passing or having his own shot at goal.
One such run almost ended in a memorable West Ham goal at Leicester, where Rice ran 50 yards before thumping a shot against the underside of the crossbar, while another driving run down the left flank during England's win over Belgium almost led a goal for Marcus Rashford.
"I think it's happened a couple of times at West Ham where I've intercepted the ball and obviously the space is in front of me to go and I believe in my ability to go," he recalled. "For England, I saw the space and I've seen Marcus on the inside and I thought 'Do you know what, keep going, there's no point turning back' and Marcus had a great shot out of it and was unlucky not to score. 
"It's definitely something I've been trying to add to my game, breaking forward. Definitely."
While he is thinking forward when the opportunity presents itself, Rice is also acutely aware that his defensive contribution is vital to both West Ham and England's chances of continued success.
And he was rightly proud of the way he and his teammates all but shut down a potent Belgium attack led by Romelu Lukaku and Kevin De Bruyne, and has vowed to take the experience into England's next Nations League fixture with Denmark at Wembley on Wednesday evening, and West Ham's Premier League fixture at Tottenham Hotspur on Sunday.
"These games are massive," he said. "Obviously before the game we knew we were facing Belgium and, for me, I knew I had to have a big game and the lads knew they had to have a big game.
"At all times you have to stay switched on and I think that's the thing I learn the most. Sunday was probably the biggest game that I've played in for England so far other than Holland [in the 2019 Nations League semi-finals]
"For me personally, you just have to stay so switched on at all times – positionally, defensively, always offering myself off the ball. Obviously with players like De Bruyne on the pitch, he's always causing your mind some problems because he picks up some positions holding midfielders hate. 
"For me, it's always focusing about where I am on the pitch and if I can do that and get the team going in attacks then all good."
It's definitely something I've been trying to add to my game, breaking forward. Definitely

Declan Rice
Man in the middle
Rice's abilities mean he can also play as a centre-back, but the man himself believes holding midfielder is now his strongest and preferred position.
"I've now had two full seasons there at West Ham and obviously the start of the season playing in the middle," he observed. "In every game that I've played so far for England I've played in the middle. So, for sure, my short-term future, of course, I see myself playing in the middle. I love playing there.
"It's always an honour to come here and be picked by Gareth to play in that position. Obviously I've still got so much to learn as at my club we have a different style of play and when I come here I have to adapt to the way that Gareth wants to play.
"I'm always needing to improve on stuff, for sure. When I come here that means building up from the back, offering myself off the ball, like the top players do – little angles off the ball to play bounce passes.
"There are definitely things I need to work on but, for sure, I see myself as a holding midfielder for the near future, but I'll never rule myself out of me going back either in back three or a back four. I'm confident to go back there and slot in, for sure."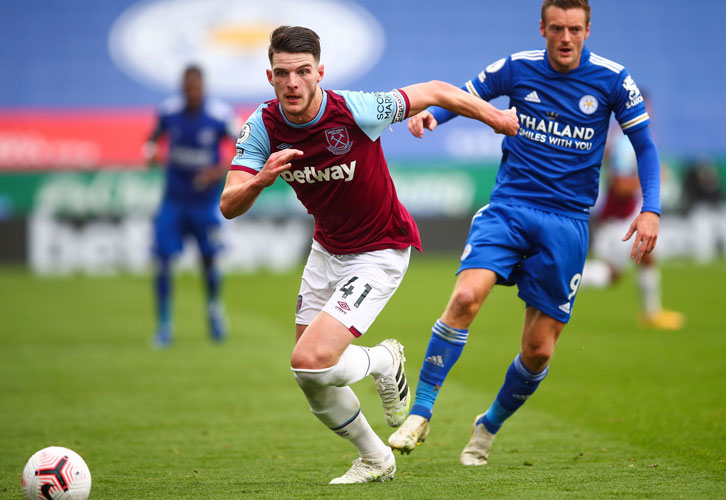 A safe return
England's meeting with Denmark and West Ham's trip to Tottenham will both be played without supporters present due to COVID-19 guidelines in place.
Plans to allow a restricted number of fans to return to elite level English stadia in October have been put on hold, but Rice would dearly love to see them return, in a safe and secure manner, as soon as possible.
"Look, I have seen the campaign, #LetFansIn, and I'm all for it," he confirmed. "I think if you asked half the Premier League players – probably all of them – if they wanted fans back, they'd all tell you 100 per cent.
"Obviously the circumstances we're in that's not happening, but I think there has to be a time now where we can start letting fans back in.
"I think the other I saw a game at Dortmund where they let 12,000 in and I think that's the way we've got to start going, to let them back in gradually.
"It's really odd playing without fans. Obviously on the pitch you don't feel the atmosphere as much. You feel it yourself that you've got to perform well but from the fans it gives you that extra edge.
"Without them here, it's really hard so hopefully by the time the Euro comes everyone's back in, we're back to normal and we can get the fans back on our side because it's really odd not having them here [at Wembley] and in the Premier League."