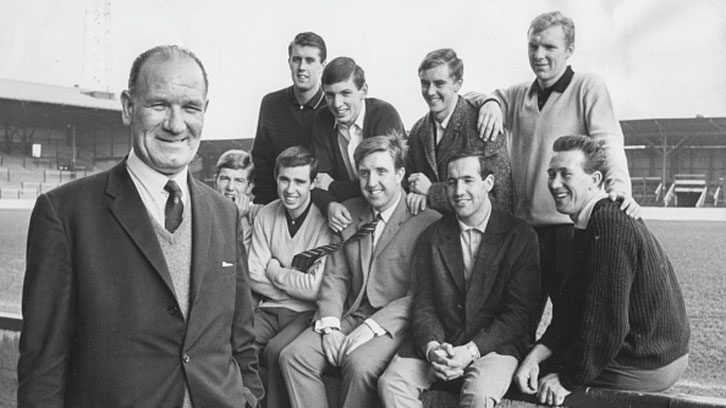 One of the most-influential figures in West Ham United history was born on this day 116 years ago – 8 October 1904.
Stanley Walter 'Wally' St Pier joined the Irons at the age of 24 in 1929, going on to make 24 first-team appearances before retiring at the relatively young age of 30 in 1934 to become the Club's chief scout at the behest of manager Charlie Paynter.
And so began a second career that would grant him far greater fame and notoriety, as the Becontree Heath-born St Pier set about identifying the very best young footballers from the local area.
The Second World War halted St Pier's work for a number of years but, when hostilities ended in 1945, he returned to the Club to pick up where he left off.
St Pier and his network of scouts scoured east London and Essex, watching hundreds of matches, advertising in local newspapers and acting upon tip-offs from schoolteachers and West Ham fans alike, with the most-promising players being invited for trials with the Hammers.
The Academy of Football is born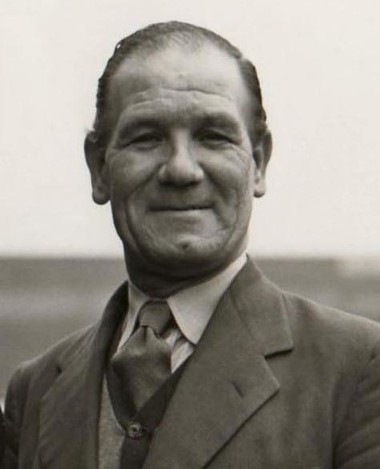 In 1950, Paynter's assistant and St Pier's one-time teammate Ted Fenton was appointed as manager.
A former wing-half who was passionate about the development of young English footballers for the benefit of both the country's club sides and national team, Fenton is the man who oversaw the establishment of what has become universally known as The Academy of Football.
But while Fenton was the Academy's founder and figurehead, he did not act alone.
The manager was assisted by Bill Robinson, a prolific forward who scored 61 goals in just 105 appearances before retiring in 1952 to take up the role of youth-team manager.
While County Durham-born Robinson concentrated mainly on coaching, managing and developing players, it was his Dagenham-born talent scout St Pier who had already begun providing the Club with the raw ingredients, namely outstanding teenagers who could be moulded into top-class footballers.
As early as 1950, hundreds of would-be Hammers were identified and invited to take part in trial matches, auditions watched keenly by manager Fenton and his staff.
The best of the bunch were identified, background checks were made, discussions were held with parents and, if every box was ticked, the boys were formally signed and became part of the Hammers' colts, youth or reserve teams.
There, they were mentored by senior players like Malcolm Allison, Noel Cantwell and John Bond, who Fenton had encouraged to expand their own footballing education as coaches.
A conveyor belt of talent
The tireless work done by Fenton, Robinson, St Pier and his scouts paid off as West Ham recruited a steady stream of future first-teamers – a must in a time long before clubs could spend millions on signing the next big thing from anywhere on the planet.
Under their guidance, first under Fenton and then under his successor Ron Greenwood, a succession of future stars twinkled for the first time in a West Ham shirt: Moore, Hurst, future manager John Lyall, wing-half John Smith, future Academy Director Tony Carr and 1964 FA Cup winners Joe Kirkup, Ronnie Boyce and Peters, to name but a few.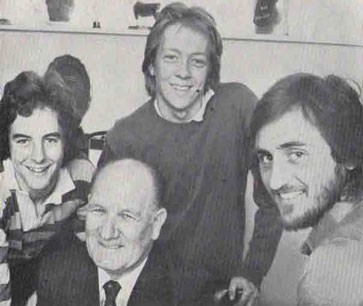 "I knew Wally St Pier through my father, who edited the Programme and served as the Club's press liaison back in the 1950s and 1960s, and he was the one who signed all the big names," Club historian John Helliar confirmed.
"Wally was a very personable man. He was straight as a die, very honest and was a good footballer himself in his playing days, which meant he knew what he was looking for.
"Wally was the chief scout and had a number of other people under him who often went out on Saturday mornings to watch local matches and spot players. Wally would then go along and have a look at them and invite them to come along to training sessions run by the senior players on Tuesday or Thursday evenings."
It was not all plain sailing, though, as Chelsea, under the similarly progressive management of former Arsenal and England striker Ted Drake, themselves scouted far and wide across the entire capital and beyond.
Where West Ham had St Pier, Chelsea had Jimmy Thompson, who scouted and signed the likes of East End-born Terry Venables and Jimmy Greaves – as well as 1964 FA Cup winner Peter Brabrook – from under the Hammers' noses!
Success and silverware
Despite missing out on a few future stars, the Hammers reached their first FA Youth Cup final in 1957, losing to Manchester United, before being edged out by Blackburn Rovers in their second two years later.
A first title arrived in 1963, when a side containing 1964 FA Cup final hero John Sissons, four-goal Martin Britt and future manager Harry Redknapp defeated Liverpool in thrilling fashion over two legs.
The St Pier production line did not stop there, though, but continued to roll for another decade, attracting the likes of five-time Hammer of the Year Trevor Brooking, 1975 FA Cup winners Frank Lampard and Mervyn Day and future manager Alan Curbishley to the Club.
The long-serving scout put away his notepad and pen for a final time after 47 years' service in 1976 but not before, the previous year, dozens of his former proteges had honoured the man who discovered them at a star-studded Testimonial at the Boleyn Ground.
There, he held the FA Cup won by many of the players he had scouted the previous year, before watching two matches filled with his Academy products - a 3-1 win for the 1963 FA Youth Cup winners over the 1975 runners-up, followed by a goalless draw between the 1964 FA Cup winners and 1975 FA Cup winners.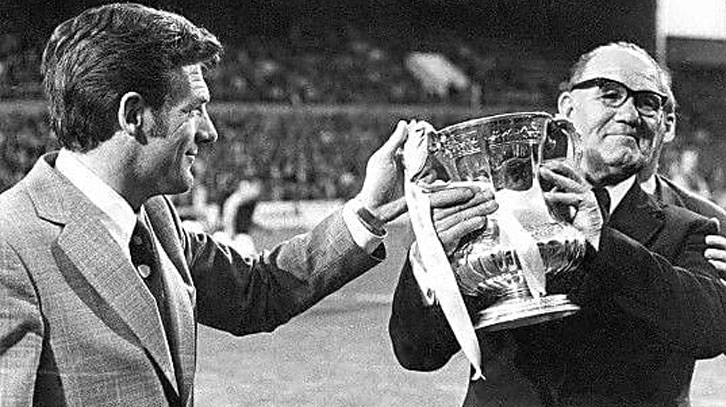 "Wally brought in a lot of the players who went on to play for and then themselves oversee what has become known as the Academy of Football, the likes of Tony Carr and Ron Boyce among them," Helliar confirmed.
"He ranks alongside the likes of Ernie Gregory, Eddie Chapman and Tony Carr as one of those long-serving individuals who were undoubtedly among the most-influential figures in the history of West Ham United."
Wally St Pier passed away in 1989, aged 84.