West Ham United manager David Moyes has returned to training this week following a period of self-isolation, after receiving a positive COVID-19 test last month. 
In an exclusive interview with West Ham TV, the manager reflected on the events of the past two weeks, the contributions of Club and backroom staff, Vladimír Coufal's debut – and his delight at being back at Rush Green…
 
The Club were prepared for the scenario
I'm feeling better – much better. 
Certainly, it was a shock when it first happened [the positive test result] before the Hull City game, but I think it's part of life now. I think we're all accepting that COVID's out there. 
We've always had provisions if this did happen. When it all started back in March time, we had agreed exactly what we would do if any one of us – me, for example – went into this situation. 
I never hoped it would happen, but the minute it did, we kicked in right away. Alan [Irvine] immediately took over, and we just got on with the job.
The Club were prepared. You have to remember we'd all had about 30 tests – we're all getting tested regularly. We were getting to the stage where every test was coming back negative, and then suddenly we were shocked by it.
I think we're seeing that there has been a rise recently in people picking it up. We're seeing it quite a lot more at football clubs as well actually, so we were prepared that this could happen.
Thankfully everybody around the Club's done really well.
 
I've remained heavily involved
We've got cameras here [at Rush Green], so I've watched all the training sessions. I was very heavily involved in deciding what we were going to do and how we were going to do it.
I've got to say that the staff put on amazing training sessions, and it was great to watch. Their training was very good. It was correct for the lead-in to the games they had, and the way we needed to go about things, so I was really pleased with the work we'd done.
I couldn't praise the backroom staff – Alan, [Stuart] Pearcey, Kevin [Nolan], Paul [Nevin] or Xavi Valero – enough. They've been great. 
When I was bringing them in, I always wanted to have a strong staff. I wanted people I knew I could trust and rely on. If ever there were a period where I had to do that, it was this time, and they haven't half delivered.
They're all experienced, they've all had jobs in management at some time, and I knew that having them meant we'd be able to deal with the situation when it arose.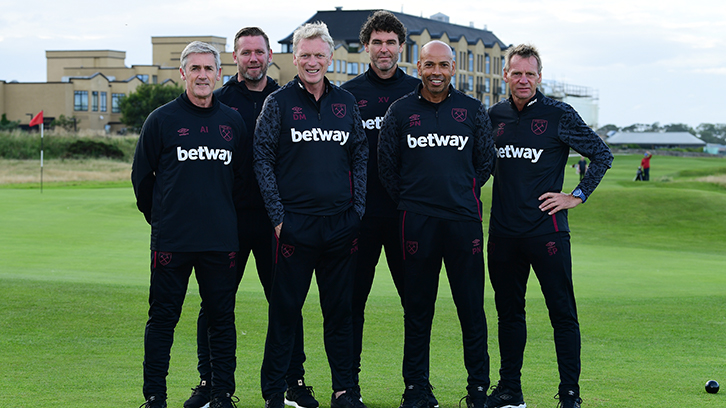 We've always believed in ourselves
There was a massive belief before we started the season – we finished last season so well. 
After coming out of lockdown, our performances were good. We avoided relegation from what was a really difficult situation, and we'd gone into this season feeling that we played as well as anybody last year in the run-in – so why could we not pick it up again?
What threw us back was the Newcastle game, but apart from that, in all the other games we've been happy with the players' performances. The players have done really well. 
We finished off last season scoring a lot of goals, and I think we've started this season again very similarly.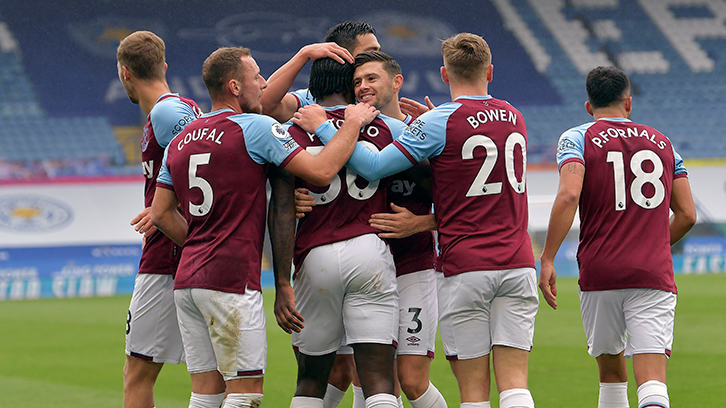 Vladimír Coufal had a brilliant West Ham United debut
I thought Vladimír was brilliant [against Leicester City]. 
To come in, having played in Denmark in midweek… I was watching his Champions League results and everything going on, and I was saying 'I hope he comes through with no injuries', because we had agreed to get him.
He got on a plane first thing in the morning to get his medical done. To come in and then try to be ready to go into a [weekend] game was incredible.
The biggest thing about him is his experience, his knowledge. That was the reason we thought he would be helpful for us at this time. We saw someone who had played in a lot of big games – Champions League games – and who plays for his country. He also came really highly recommended from Tomas [Soucek], so that helped us make our minds up. 
I don't think he disappointed anybody on his debut, that was for sure.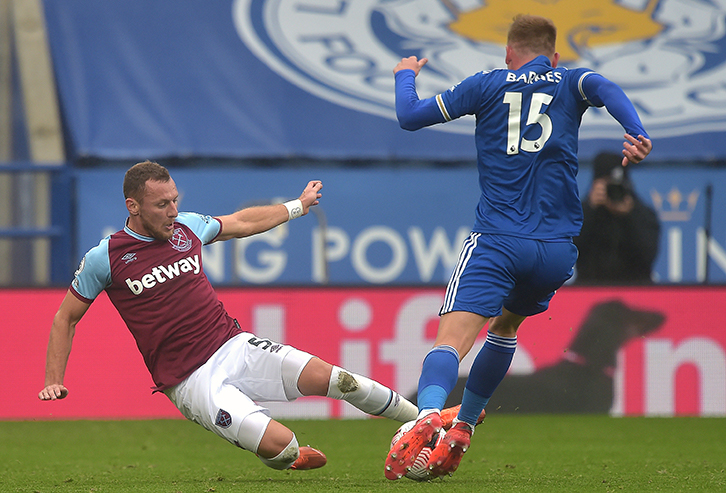 Our young squad will only get better
I'd rather work with a small squad than a big squad. It's always easy to bring somebody out of the Academy when there are spaces, and I've always wanted to have a Club where those young boys feel there's a chance to break through.
We've let a couple of players go, and we thank them for all the work they've done, but what we do have is a bit of room now to bring players in if we need to.
I have to praise the Club. The Club have tried really hard to get the players in, but obviously on some occasions we've just not quite got there or have been let down a little bit at the end.
We've tried to bring in the right players. We've tried to bring in players who I think will be here for the future. Of course, I need players for just now, like Vladimir, but I'm trying to build a young team, a new team which can keep developing. 
If you look at the people playing in midfield for us at the moment – Jarrod Bowen, Tomas Soucek, Declan Rice, Pablo Fornals – they're all young players. They can all improve. They've all got more ahead of them to come – they've only just started their careers really, so I'm looking forward to them all getting better.
Ideally, that's what I want: I want young players, I want hungry players, and I think the way the players are playing at the moment, they're showing great desire to score the goals we're talking about.