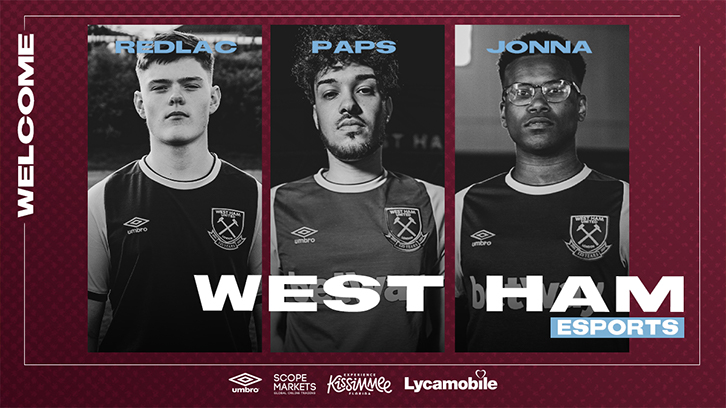 West Ham United are delighted to announce the arrival of three new Esports players from Team Bundled for the start of the new 2020/21 FIFA season, as part of the two teams' ongoing partnership.
Last season's eDivisie finalists Curtis 'Paps' Poole and Jonas 'Jonna' Ghebrehiwot – last season representatives of AFC Ajax and PEC Zwolle respectively, with Jonna's side winning on penalty kicks – will both don Claret and Blue ahead of the new campaign.
Both world-class FIFA players in their own right, PS4 competitor Paps claimed the M.V.P. award for his contributions to AFC Ajax's eDivisie season, while Jonna went on to clinch the title for underdogs PEC Zwolle in front of thousands of live spectators in Amsterdam.
The duo are joined by 17-year-old rising star Alfie 'RedLac' Calder, an Xbox player who ranked 18th in the United Kingdom last season on a self-funded budget, and who recently took Mansfield Town into the last 16 of popular friendly tournament Ultimate QuaranTeam.
The announcement sees 'Yago' Gabriel Fawaz and Jamie 'Jamboo' Rigden depart West Ham Esports after successful spells with the side. The Club would like to thank them both for their service and wish them well for the future.
Of his new side, Paps said: "It feels great to be here. It's a privilege to play for a Premier League club, especially one as big as West Ham United. I'm really excited to see what I can do here."
 
New season, new game, new Club – he's ready.

Transferring from @teamBundled … welcome to West Ham Esports, @Papssity! ? #COYI pic.twitter.com/OYX02LWFtr

— West Ham Esports (@WestHamEsports) October 2, 2020

Jonna added: "I never thought I would play for a big Premier League team like West Ham. I'm the first Dutch player to play in the Premier League, so it actually feels amazing. It's an honour, actually."
 
An eDivisie story – an eDivisie champion – like no other.

Arriving from @teambundled… welcome to West Ham Esports, @jonnaghebiii! ? #COYI #FUT21 pic.twitter.com/G7O52gAdjS

— West Ham Esports (@WestHamEsports) October 2, 2020

RedLac told whufc.com: "It feels great to be a West Ham Esporter. It's what kids dream of, representing a Premier League team. It's surreal, really. I'm looking forward to the added pressure as well – pressure makes diamonds, so hopefully I can use it that way!"
 
A rising star, set to make his mark.

Also joining from @teamBundled… welcome to West Ham Esports, @AC_RedLac! ⚒️ #COYI #FUT21 pic.twitter.com/77f557tzY8

— West Ham Esports (@WestHamEsports) October 2, 2020

West Ham United have long been pioneers in the Esports market, having become the first Premier League club to sign a professional player in Sean 'Dragonn' Allen four years ago.
As FIFA Esports continues to grow as a professional outlet, the new player line-up represents another positive step forwards for West Ham United in the digital arena.
West Ham United's Esports channels will continue to work with Team Bundled, the Club's official Esports agency, to offer innovative FIFA 21 – and wider gaming – content, as well as regular live streams, tips, tricks, competitions and opportunities to win exciting prizes.
Looking to get your hands on the ultimate FIFA 21 start-up package? Enter our competition here.
For more exciting FIFA 21 and gaming content, follow the official @WestHamEsports accounts on Twitter, Instagram and Twitch.