Interviews
Vladimír Coufal: I hope I can be as a good as Tomáš Souček!
Vladimír Coufal is looking forward to linking up with Tomáš Souček again after following his long-time teammate and close friend to West Ham United.
The Hammers' new No5 played alongside Souček previously 71 times at Slovan Liberec, Slavia Prague and the Czech Republic, sharing a pitch with the midfielder for more than 6,000 minutes and finishing on the losing side on just 13 occasions.
The dynamic duo won two Czech First League titles and one Czech Cup together at Slavia, appearing regularly in the UEFA Champions League and Europa Leage, and helped their country defeat England on their way to qualifying for the delayed UEFA Euro 2020 finals.
Off the pitch, the two are close, and Souček said he and his wife and child are looking forward to being reunited with Coufal and his family and helping them settle in London.
The No28 has made a hugely positive impact since arriving at West Ham in January and the defender is hoping to emulate his compatriot by impressing in Claret and Blue
"Tomáš told me on the best things, that it's a good stadium with good fans and perfect teammates and staff," he told West Ham TV. "Tomáš is my very good friend and I hope he will help me here.
"We want to play good for West Ham together and get good results. I am very happy that Tomáš helped me [in my career] and I hope I will be good [for West Ham] like him!
"My two years in Slavia were unbelievable because we won everything that we could win [domestically], but the Champions League is the best."
Coufal will become the eighth Czech to play for West Ham when he makes his debut, following Luděk Mikloško (1990-98), Tomáš Řepka (2001-06), Pavel Srníček (2004), Marek Štěch (2006-12), Jan Laštůvka (2008-09), his former Slovan Liberec teammate Radoslav Kováč (2008-11) and Souček.
Řepka became the Club's record signing when he signed from Italian club Fiorentina in 2001, before his aggressive, all-action approach at both right-back and centre-back made him a cult hero with West Ham supporters.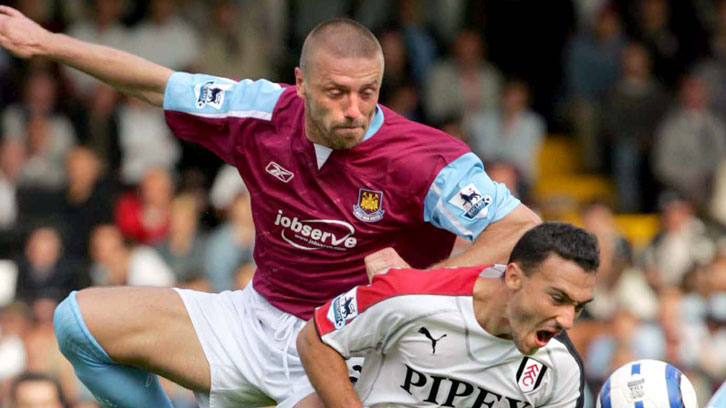 Nearly two decades on, Coufal says he is a different type of player, but he would love to have a similar relationship with the Claret and Blue Army.
"I didn't know that Řepka played as a right-back," he revealed. "That's news to me as I thought he played as a central defender. He's harder than me! I like attacking more and I think that I have better control of the ball than Tomas!
"I like an attacking game and I hope that West Ham will be attacking all match!"