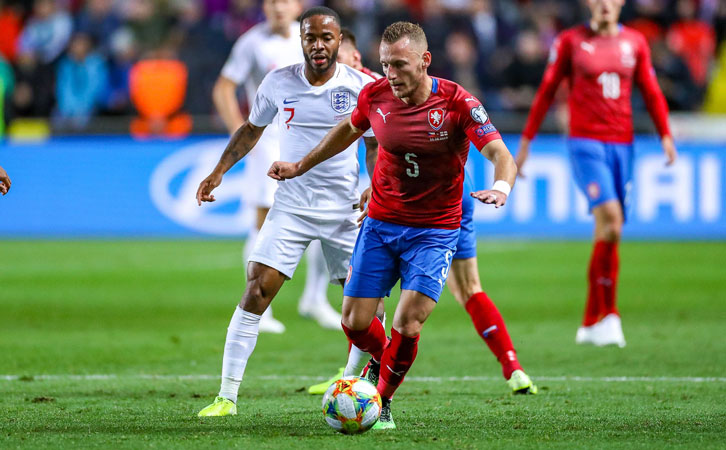 Czech football writer Tomáš Daníček profiles West Ham United's new signing Vladimír Coufal...
Vladimír Coufal is a right-back who has been an outstanding player for Slavia Prague in recent seasons and is now the first-choice for the Czech Republic national team.
A lot of what Coufal does is done in constant motion. He harasses opponents, bites without much overcommitment, is a speedster, and encourages one-twos.
Like Tomáš Souček, I believe he will prove to be a bargain for West Ham United and do well in the Premier League.
Tactical and positional play
To my knowledge, Coufal has been a right-back for almost his entire career, and he has only ever been a right wing-back on paper once, for Slavia in a 2019/20 dead rubber with the title already sealed.
He loves to position himself high up the pitch, though, and be part of passing triangles. A quick knock down the line to release the right winger or right midfielder is his specialty. Ideally then, you'd have someone who runs the flank in front of him regularly as Coufal can weight a long pass forward to perfection – be it the inside or outside channel.
He's an elite progressive passer, somehow averaging 88% accuracy with 20-40m passes over the last year, so you can expect to see him link-up regularly with Jarrod Bowen, Andriy Yarmolenko or whoever is playing wide on the right for West Ham.
One more important thing to note: at Slavia, fullbacks are key to the build-up while also having free-ish platform to get into the box to finish attacks off. Coufal does more of the former, while left-back Jan Bořil does more of the latter, but they're both involved heavily in all phases of the game.
Since the start of the 2019/20 season, Coufal averages 35.7 passes received per 90 minutes, which is higher than any of West Ham's other right-backs, but that may be to do with the team's different styles of play
To sum up, if you're not ready to run attacks through wide areas, through Coufal, you're seriously missing out.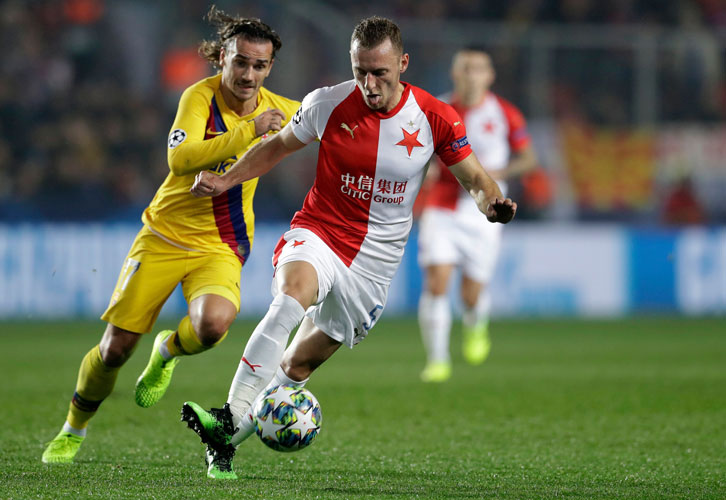 Movement and endurance
In Tomáš Souček, West Ham got the greatest marathon runner of the 2019/20 UEFA Champions League group stages, as he covered more ground than any other player, and in in Coufal they're getting the fourth greatest one!
He's got at least two extra lungs and genuinely covers the entire flank, never dropping below 11km run per game.
Coufal boasts great top speed and was the main 'chaser' in the Slavia backline, making up ground on attackers rather easily at times. 
Coufal also comes with a reputation for counter-pressing. He harries the opposition and, over the last year, only four players in the Czech league made more recoveries in final third, with four of those recoveries led to a goal scored.
Passing and crossing
One thing to look forward to with Coufal is the variety he brings with the ball at his feet.
He has perfected two types of pass in particular. The first is a whipped, sharp, slightly lower cross towards the front post or six-yard box, while the second is what I call a 'falling leaf' directed towards the far post, of ideal pace to hit on the volley.
Coufal doesn't necessarily see a cross as the means to end an attack with one touch. Every so often he sets up a finish indirectly, looking for the other full-back or a midfielder making a late run into the penalty area.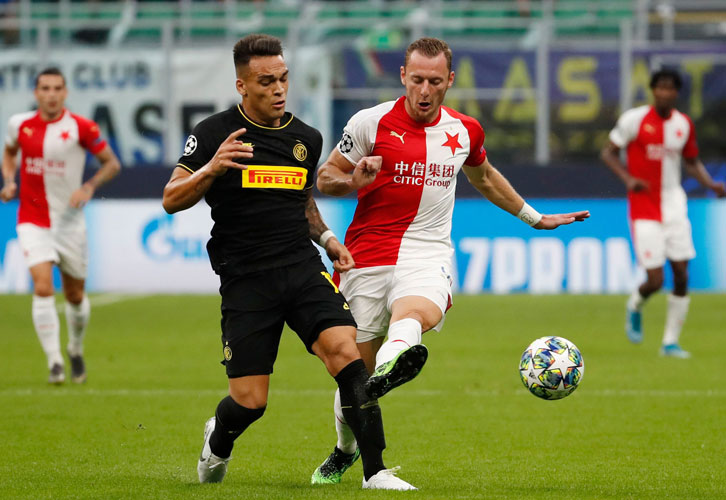 Defending
After picking up a few yellow cards during Slavia's run to the UEFA Europa League semi-finals in 2018/19 for impatient tackles, he has worked on the defensive side of his game tremendously, growing into a defensive duels-winning stud – he had a 60% success rate even in the UEFA Champions League group of death with Barcelona, Borussia Dortmund and Inter Milan last season, and was shown just one yellow card in the final group game.
While left-back Bořil committed 56 fouls in 28 league appearances last season, Coufal committed only 15 across 32 starts, going 18 full games in a row without seeing a card at one stage.
International pedigree
Coufal scored one goal and assisted another in his last international game for Czech Republic, which was a 3-1 UEFA Nations League win over Slovakia in September.
He was also stunning in the Czech's 2-1 UEFA Euro 2020 qualifying win over England in Prague last year. He did a great defensive job in the first place, often helping out in the box as a de facto third centre-back. He's also very competitive and did not give England's players a moment's peace.
Verdict
I think Vladimír Coufal will do a decent job in the Premier League and, like Tomáš Souček, he will prove to be a bargain. He's got the physical tools, he's combative enough and has the positional nous and two-way presence managers value.